There is something about hearing lobster on the menu; it seems to carry a certain gravitas.  Whether it be for its succulent tail submerged in butter or its shell scenting a blushing bisque, people seem immediately drawn to the noble crustacean.  Here are some of our favorite incarnations for the true lobster lover.
1) Royal Lobster
If you must have a lobster roll, one of our favorites is the unadulterated version at Royal Lobster, a hidden eatery tucked away under the Waikiki Shopping Plaza.  Flown in from New England weekly, a Maine lobster complete with the knuckle, claw, and entire tail is enveloped in a buttery brioche bun and drizzled with melted Irish butter.  A spicy aioli and Old Bay seasoning is available on the side for those who prefer to add some kick to their sandwich, but the the naturally sweet cold water lobster expresses such a beautiful flavor, it really needs nothing more…well, maybe just the accompaniments that come along with every order–house-made coleslaw and potato chips.  There is a salad version for those who prefer a little healthier option but for those who do not, get the lobster bisque as well.
Royal Lobster
2230 Kalakaua Avenue, LL102 (entrance to the lower level is along Royal Hawaiian Avenue), Honolulu, HI
(808) 888-0332
Sun-Sat, 11:30 am – 6:00 pm, or until they run out
2) Lobster King
Another flavorful expression of lobster is through one of the numerous Chinese-style wok-fried presentations at Lobster King.  The crustacean may be prepared with butter garlic, ginger and green onion, salt and pepper, black bean sauce, or just steamed, which enables the seafood's optimal expression.  If you want to taste a lobster uncooked, consider doing a lobster sashimi-style.  The restaurant prides itself on its affordable prices, especially for the whole lobster which goes for $26.95 but if you order another entree from its menu, you can order the lobster for $24.95.  Bring the family along and turn the meal into a party!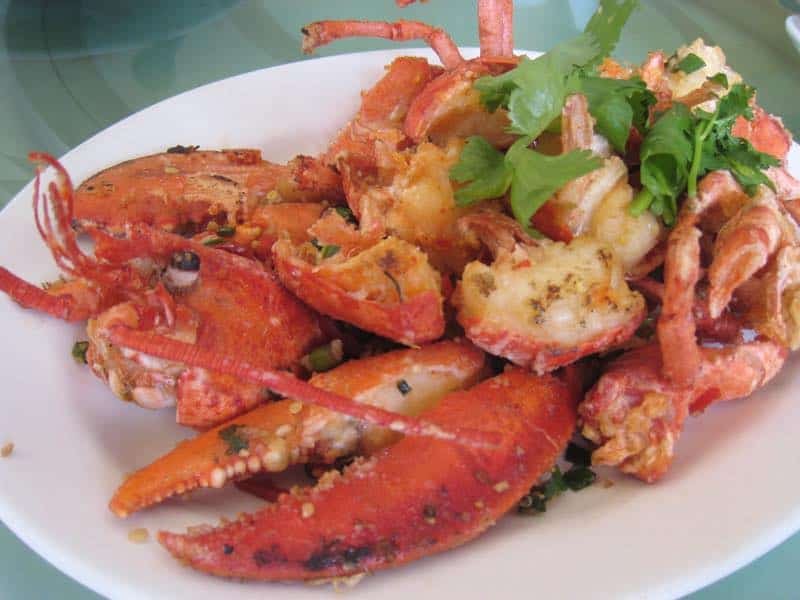 Lobster King
1380 South King Street, Honolulu, HI
(808) 944-8288
Sun-Sat, 11:00 am – 10:00 pm
3) Kickin' Kajun
Up for a seafood boil?  Then make it over to Kickin' Kajun, which has three locations–one in town, one in Kaneohe, and another on the West side in Kapolei.  The restaurant's Cajun-inspired, New Orleans-style seafood bathed in a garlicky butter.  Lobster lovers should have the lobster combo, which adds a lobster to the bag filled with ½ lb of shrimp, ½ lb of clams, ½ lb of mussels, two cobbs of corn, two potatoes, and two Andouille sausages swimming in a choice sauces among the signature Kickin Sauce, Louisiana Style, DA Mix, or plain & simple.  Determine a spice level between mild, medium, spicy, and extreme which can go as high as 15x the spice level and get your aprons and gloves on for a lobster feast.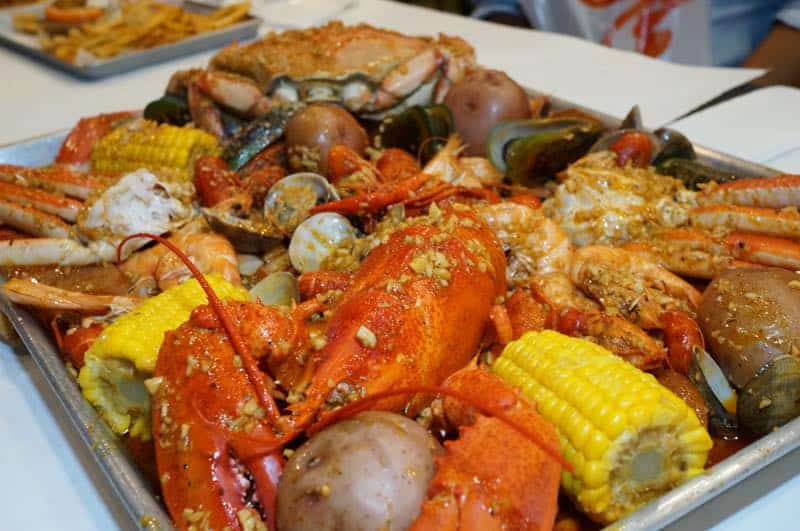 Kickin' Kajun
655 Keeaumoku Street, #101, Honolulu, HI
(808) 744-2599
Mon-Sun, 11:00 am – 10:00 pm
Ka Makana Ali'i, 91-5431 Kapolei Parkway, #426, Kapolei, HI
(808) 784-3993
Mon-Thu, 11:00 am – 9:00 pm; Fri & Sat, 11:00 am – 10:00 pm; Sun, 11:00 am – 8:00 pm
Windward Mall, 46-056 Kamehameha Highway, #197, Kaneohe, HI
(808) 744-1408
Mon-Thu, 11:00 am – 8:00 pm; Fri & Sat, 11:00 am – 9:00 pm; Sun, 11:00 am – 8:00 pm
4) Okonomiyaki Chibo
Lobster can also come in a Japanese okonomiyaki, which is similar to a pancake stuffed with different ingredients.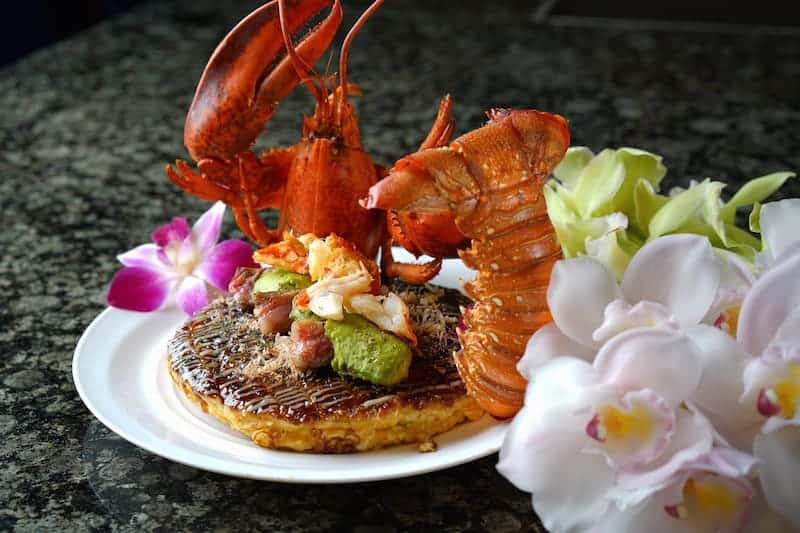 The batter is comprised of flour, egg, chopped cabbage, and grated mountain yam.  Simply choose the desired ingredients to add into the dough, and the chef will cook it on a teppanyaki grill before drizzling the dish with a special Japanese version of a plum sauce, a drizzle of mayonnaise, some laver powder, and dried bonito flakes.  While you are more than welcome to opt for a teppanyaki grilled lobster tail, we recommend you to consider the uber-luxurious "Nui Aloha," which is the ultimate form of okonomiyaki, which adds live lobster, prime ribeye steak, scallops, and pineapple all cooked on the teppanyaki grill–a perfect synthesis of Hawaiian/American and Japanese flavors.
Okonomiyaki Chibo
280 Beach Walk Avenue, Suite L-106, Honolulu, HI
(808) 922-9722
Mon-Tue, Thu-Sat, 11:30 am – 2:00 pm; Sun-Wed, 5:00 – 8:00 pm; Thu-Sat, 5:00 – 8:30 pm
5) Michel's at the Colony Surf
One of Hawaii's most revered fine dining establishments is Michel's at the Colony Surf.  With an idyllic view of Sans Souci Beach, patrons savor the fine classical French cuisine prepared by Executive Chef Eberhard "Hardy" Kintscher.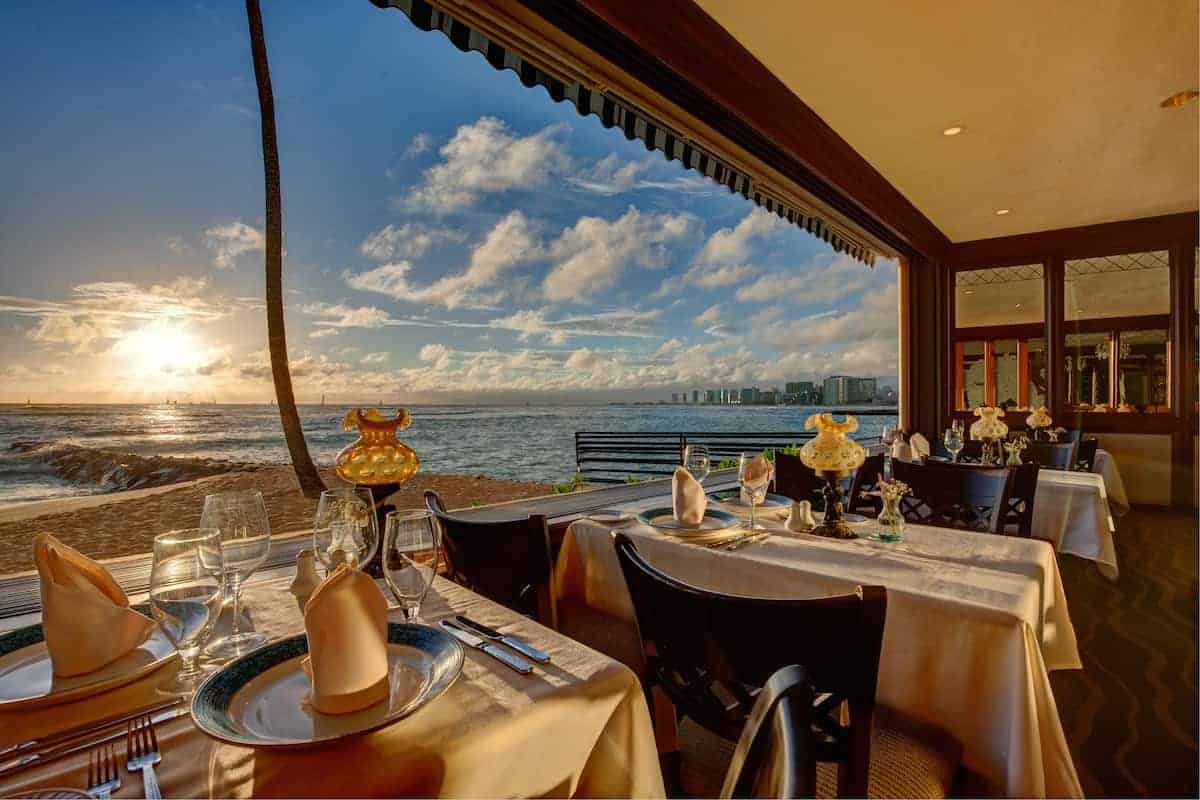 Among the signature dishes is the lobster bisque, an original recipe featuring morsels of lobster flambeed with De Luze VS Cognac before being placed into bowls of rosy soup comprised of velvety cream scented with crustacean shells.  This is almost a must order for those dining at what many consider among most romantic restaurants in Hawaii.
Michel's at the Colony Surf
The Colony Surf, 2895 Kalakaua Avenue
(808) 923-6552
Sun-Thu, 5:00-9:00 pm; Fri & Sat, 5:00 – 9:30 pm
Whether you want to enjoy lobster for a special occasion or just because it's a Wednesday night, these eateries will be sure to please.  You may just have to claw your way through the crowds occasionally, though.