That single cup of coffee that wakes you up each day is foundational.  The right coffee will start you off on the right path for that day, and many feel as they cannot function unless they have their morning brew.  Here are some of the hottest cafes in Honolulu right now.
1) Kona Coffee Purveyors
Don't mind waiting 15 to 30 minutes for a latte, Americano, or cortado?  Or perhaps something a little different, such as an espresso tonic?  Well, if you don't, then you are part of a large group of people who have a discerning palate.  Droves of patrons line up each morning at Kona Coffee Purveyors in the International Market Place before the cafe even opens its doors for a taste of its craft-roasted Hawaiian coffees.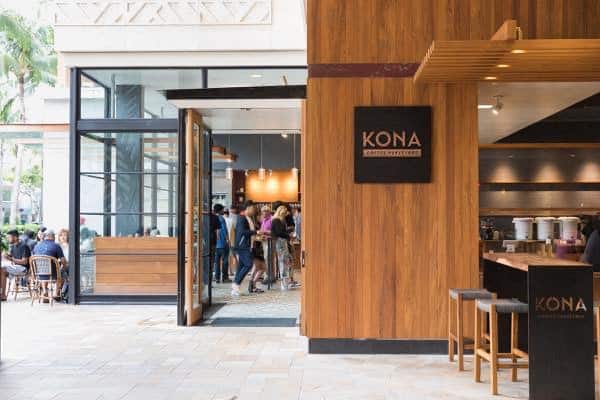 Sourcing from different regions in Hawaii, such as Maui, as well as Ka'u and of course, Kona on the Big Island of Hawaii, Kona Coffee Purveyors works closely with its farmers to cull the finest beans roasted meticulously with care.  And it certainly does not hurt to pair the beverage with a Kouign-Amann, croissant, bostock, or any of the alluring pastries from James Beard Award-winning b. patisserie from San Francisco.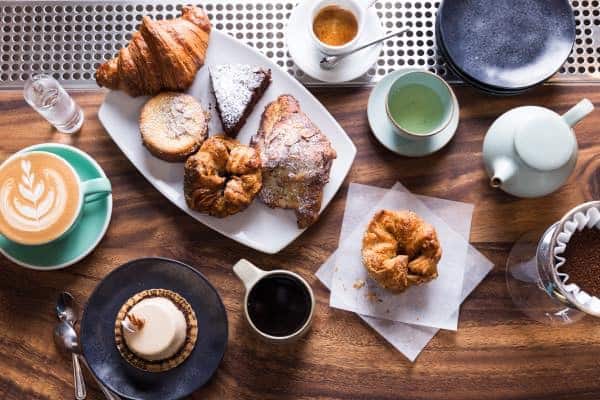 Kona Coffee Purveyors 
International Market Place, 2330 Kalakaua Avenue (at the Kuhio Avenue entrance), Honolulu, HI
(808) 450-2364
Sun-Sat, 7:00 am – 4:00 pm
2) Island Vintage Coffee
Serving some of Hawaii's finest gourmet coffee since 1996, Island Vintage Coffee has multiple locations, including at the Royal Hawaiian Center in Waikiki, at Ala Moana Center, on the North Shore in Haleiwa, and on the West side in the Ko Olina resort destination.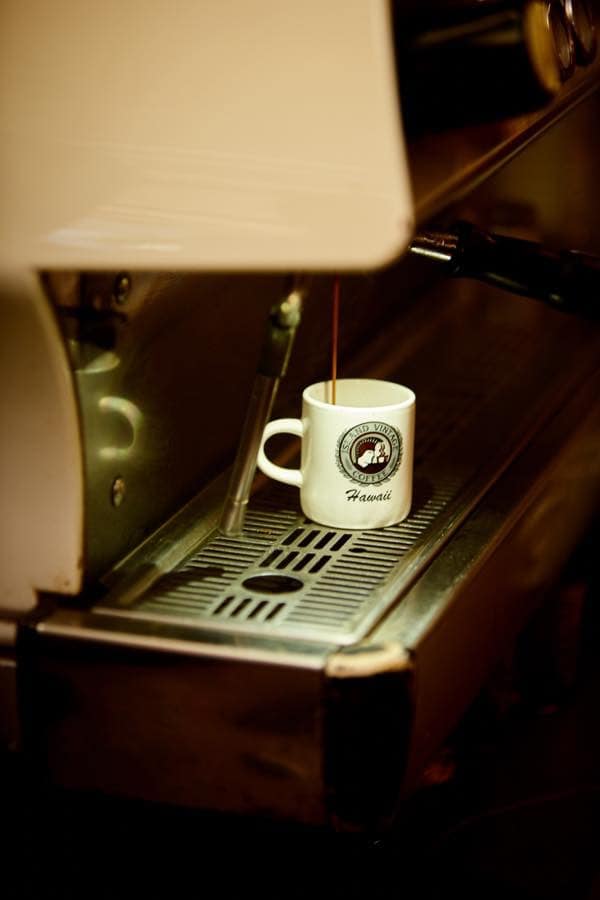 People line up all day long for a taste of the Island Latte with macadamia nut and a hint of coconut, the Lava Mocha with dark chocolate and caramel notes, and the Hawaiian Honey Latte with a hint of cinnamon.  And not to mention, the acai bowls are also some of the best in town.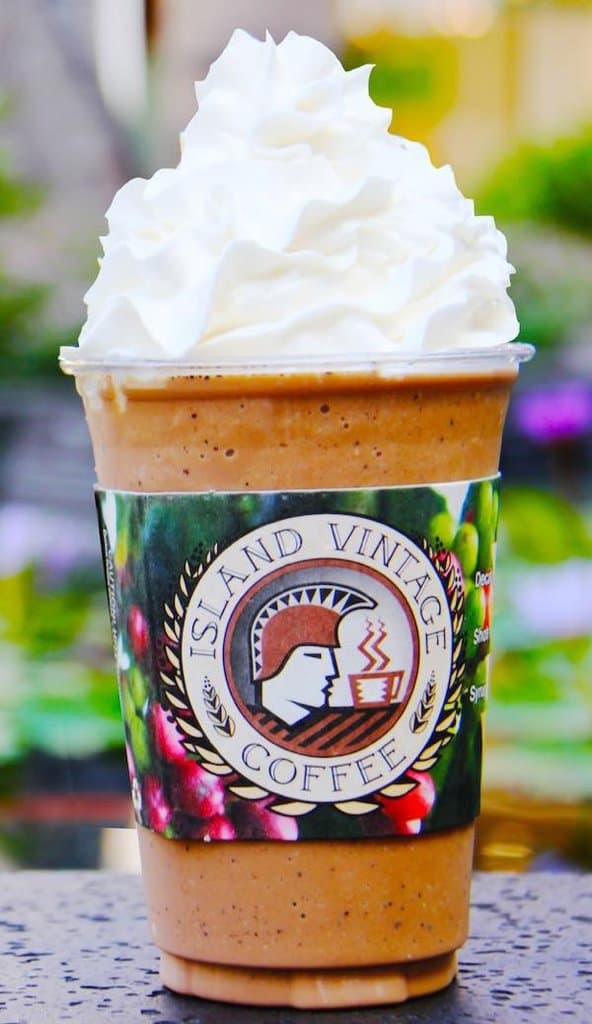 Island Vintage Coffee
Royal Hawaiian Center, 2301 Kalakaua Avenue, C-2301, Honolulu, HI
(808) 926-5662
Sun-Sat, 6:00 am – 10:00 pm
Ala Moana Center, 1450 Ala Moana Blvd., #1128, Honolulu, HI
(808) 941-9300
Mon-Sat, 8:00 am – 8:00 pm; Sun, 8:00 am – 7:00 pm
3) Kai Coffee Hawaii
Located in the Hyatt Regency Waikiki and at the 'Alohilani Resort, Kai Coffee Hawaii prides itself in its expert baristas that brew each cup by hand with passion, earning it the reputation for what it states in its mantra, Aloha in Every Cup®.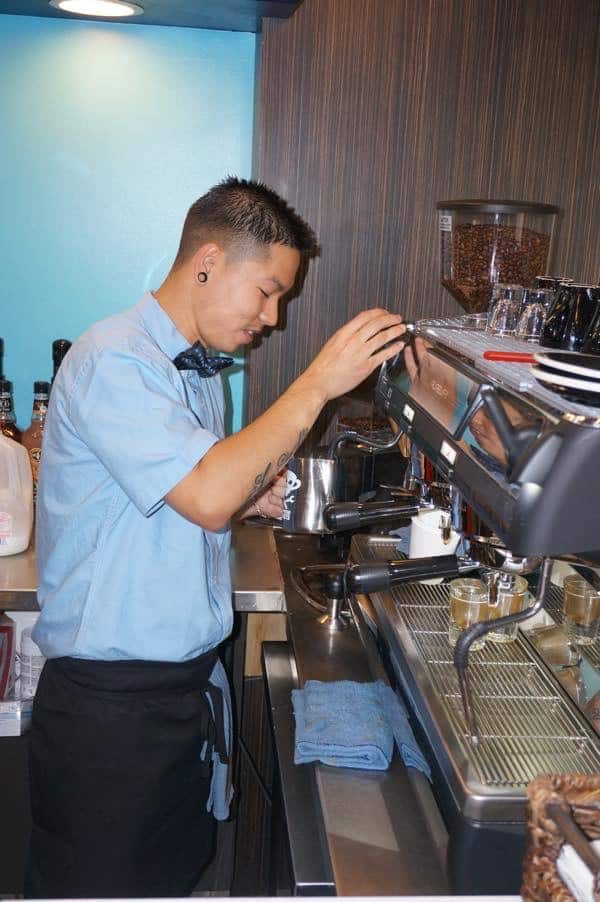 Serving exclusive signature blends using the finest coffee beans grown right in Hawaii, Kai Coffee Hawaii witnesses lines inside its cafes for patrons who cannot get enough of the flat white, long black, macchiato, piccolo, and signature Kai Latte with nutty aromatics of macadamia.  Also, keep an eye out for the new roasting facility which will open up along Kapahulu Avenue in October.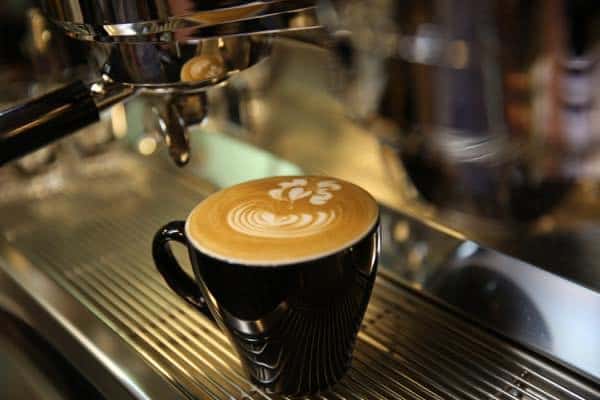 Kai Coffee Hawaii
Hyatt Regency Waikiki, 2424 Kalakaua Avenue, #130, Honolulu, HI
(808) 923-1700
Sun-Sat, 6:00 am – 5:00 pm
Alohilani Resort (2 locations)
2490 Kalakaua Avenue, Suite #131 and in the Lobby, Honolulu, HI
(808) 926-1131
Cafe:  Sun-Sat, 6:00 am – 5:00 pm
Lobby Bar:  Sun-Sat, 6:00 am – 11:00 am
4) Cafe Morey's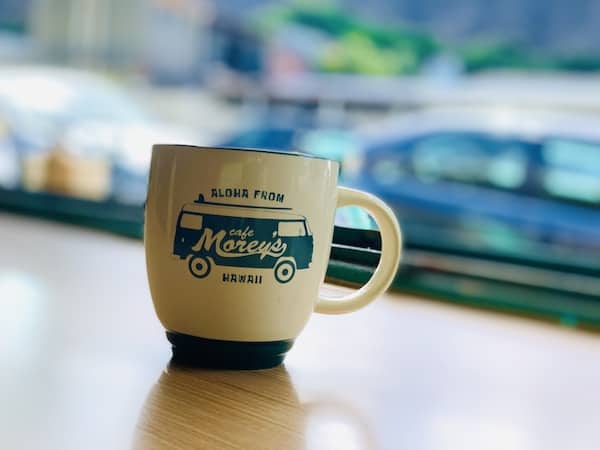 One of three hotspots at the Diamond Head end of Waikiki is Cafe Morey's, a casual cafe with restaurant serving a signature Morey's blend coffee, cafe latte, caramel latte, and cafe mocha.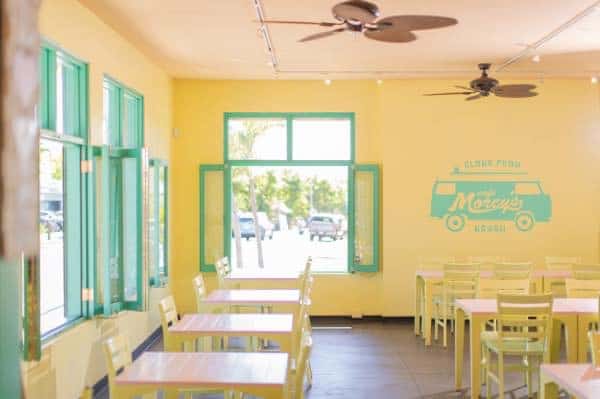 Whether you are on the go, or have time to spare to enjoy the comfort of its breezy eatery, consider getting an acai bowl, some eggs Benedict, one of its amazing egg scrambles, or French toast made with baguettes and topped with banana, macadamia nuts, or berries.  The cafe serves breakfast and lunch, so it is perfect for the late riser as well.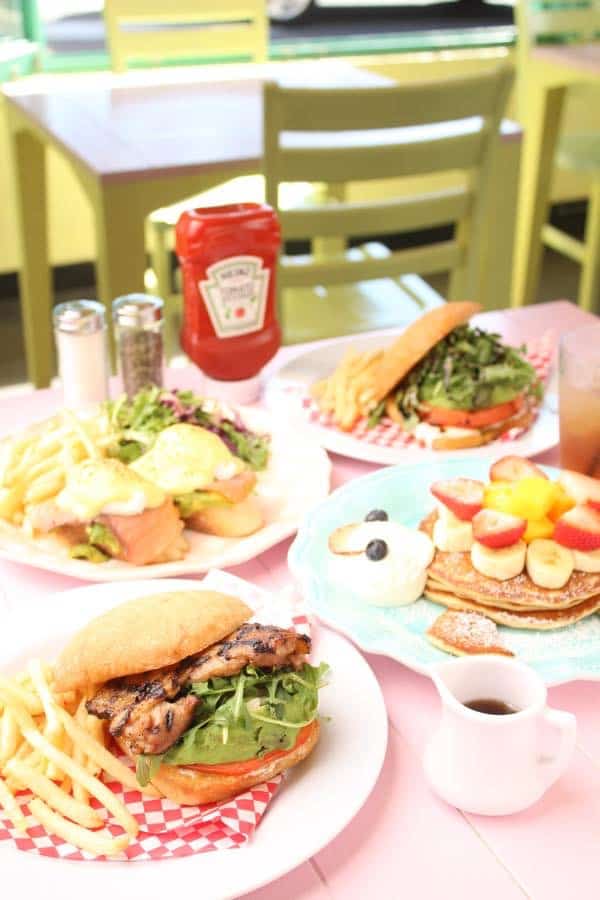 Cafe Morey's >> Get a special offer!
3106 Monsarrat Avenue, Honolulu, HI
(808) 200-1995
Sun-Sat, 8:00 am – 2:45 pm
5) Bogart's Cafe
What started out as an ice cream and shave ice parlor, Bogart's Cafe transformed into a cafe and espresso bar known for its all-day breakfasts.  This second eatery near Diamond Head offers a wide variety of coffee drinks, ranging from the conventional espresso and cappuccino to the less frequently found Cafe Vienna, Viennese Mocha, Breve, Thai Latte made with condensed and steamed milk, and Krakatoa Steamer, a concoction with espresso, chocolate, creamed cacao, caramel, and milk topped with whipped cream.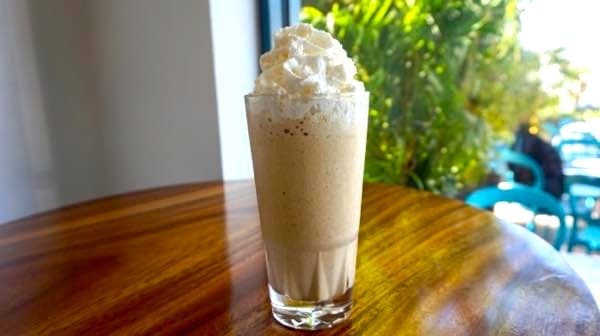 Those who frequent the eatery know better and order an irresistible Hawaiian waffles with haupia and seasonal fruit, taro pancakes with bananas and haupia, Mama's Fried Rice with a variety of veggies, or signature acai bowl.  Lunch plates such as sandwiches, salads, and pastas are also available.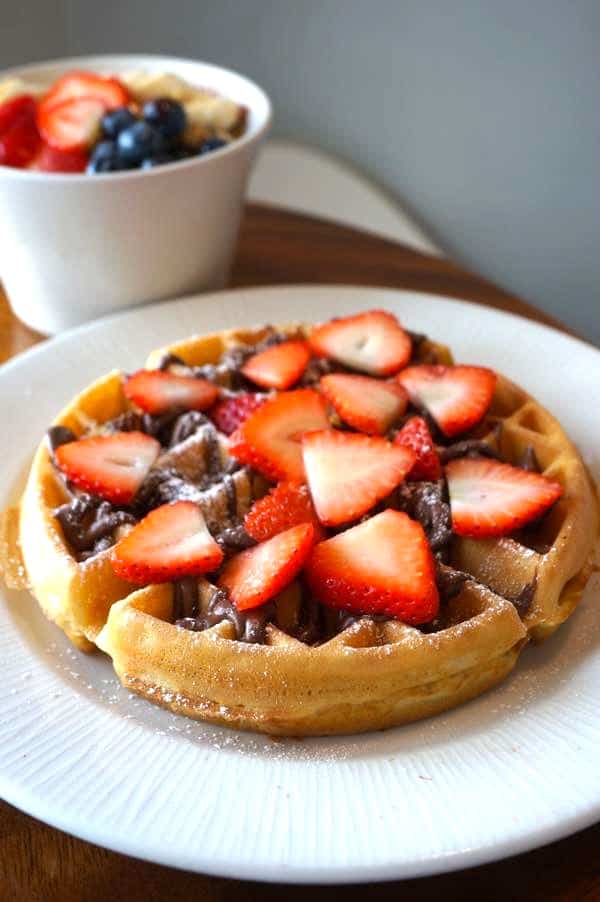 Bogart's Cafe
3045 Monsarrat Avenue, Honolulu, HI 
(808) 739-0999
Sun-Sat, 6:00 am – 3:00 pm
6) Waikiki Leia
A wedding venue that became a restaurant, Waikiki Leia is the third hotspot near Diamond Head worth the hike.  Whether you sit at a patio table or in the dining room at the elegant estate, you are able to enjoy the sights and sounds of the immediate surrounding–a trickling waterfall, swaying branches from the lush garden surrounding the property, and the chirps of songbirds going about their day.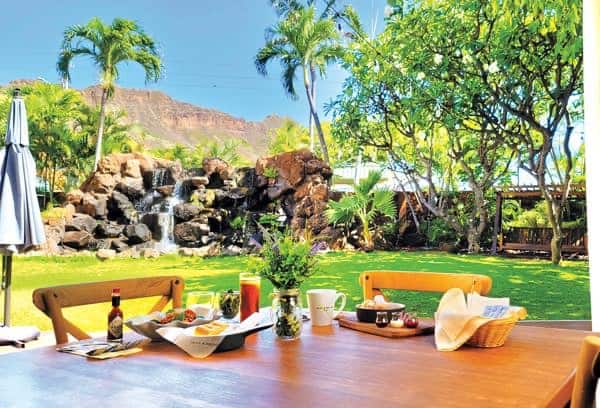 Open for breakfast and lunch, or dinner with advanced reservations, the restaurant serves island-style fusion French cuisine using fresh organic ingredients.  And while coffee is served, it is not necessarily the focal point of the restaurant.  However, consider ordering the Japanese-style coffee jelly dessert to end your meal.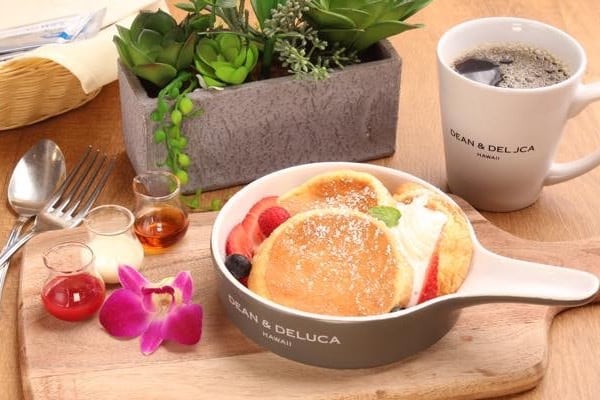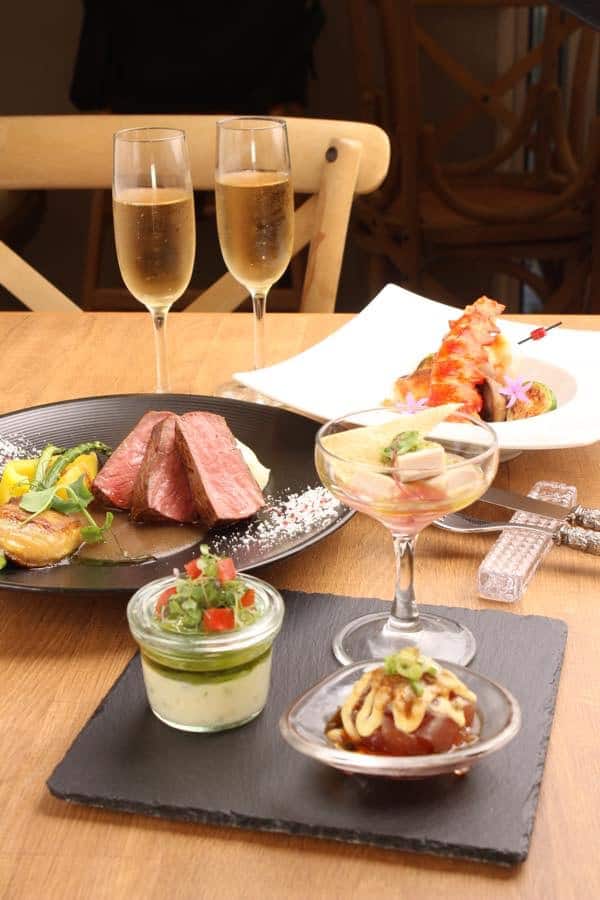 Waikiki Leia >> Get a special offer until Oct 2nd 2022!
3050 Monsarrat Avenue, Honolulu, HI
(808) 735-5500
Thu-Mon, 8:00 am – 11:00 am; 11:00 am – 2:00 pm; Fri & Sat, 5:30 – 8:30 pm (closed Tue & Wed)
7) Holey Grail Donuts
One of the hottest treats in the news lately is Holey Grail Donuts.  The donut business that started out of a hamburger trailer in Hanalei, Kauai expanded to two locations on Oahu–a food truck in Waikiki and a new flagship store at Ward Village next to Whole Foods Market Queen–as well as two locations in Los Angeles.  Boasting a celebrity-studded investor group with the likes of professional skateboarder Tony Hawk, Stephan Jenkins of Third Eye Blind, and Zach Braff of the TV show "Scrubs," among others, Holey Grail Donuts is known for its taro-based donuts deep-fried in coconut oil.  It is also known for its non-dairy coffees, which include the iced Draft Latte made with cashew coconut milk, the iced Cacao Latte featuring Manoa Chocolate with the cashew coconut milk, and an Ube Latte showcasing a beautiful purple Hawaiian ube.  For the seven days spanning September 29 to October 5, Holey Grail Donuts is offering a Weekly Pairing Special comprised of the Black Sabbath donut topped with black sesame and a bruleed banana, with a Draft Coffee, a Coava Coffee custom blend that has been snap-chilled.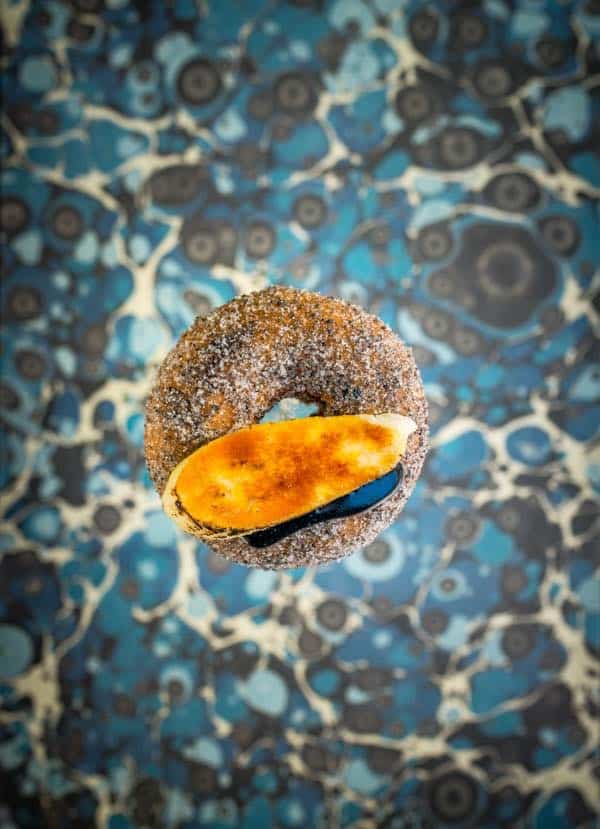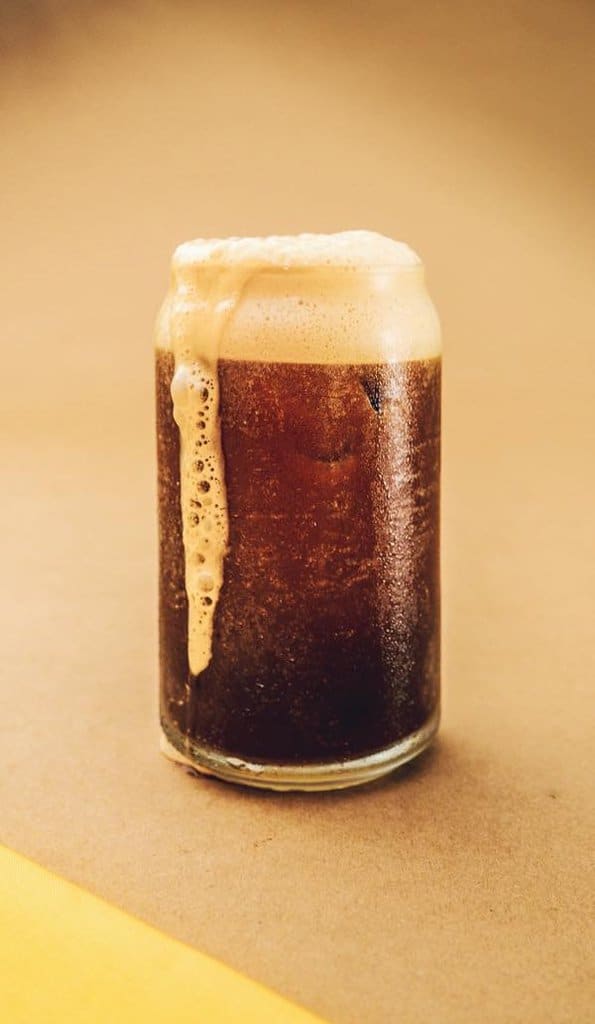 Give the quintessential Hawaiian donut a try with a vegan-friendly approach to coffee.
Holey Grail Donuts
Ward Village, 1001 Queen Street, #101, Honolulu, HI
(808) 482-0311
Sun-Thu, 7:00 am – 7:00 pm; Fri & Sat, 7:00 am – 9:00 pm
325 Seaside Avenue, Honolulu, HI
(808) 634-8838
Sun-Sat, 7:00 am – 2:00 pm
So start your day with a fine cup of coffee from one of these fine Hawaiian cafes and restaurants.  Whether you have some time to relax and enjoy the aromas and flavors of the Hawaiian coffee or have to grab a cup on the go to start your day, enjoy the fine quality of the local coffees brewed fresh and hot.