Among the most popular souvenir items from Hawaii include chocolate covered macadamia nuts, Kona coffee, shortbread cookies, and Hawaiian honey.  While these classics are always well-received, here are a few original recommendations to consider for your next souvenir shopping session.
Banan's Macadamia Nut Butter & Spread
Banan is a popular eatery known for its creamy soft serve "ice cream" made without dairy but rather with frozen bananas.  After introducing their new macadamia nut butter and chocolate macadamia spread in June 2020, Banan has witnessed a surprising spur in sales, boasting orders from every state in America.  It was good enough for Sarah Jessica Parker of Sex and the City fame, who even posted about it on her Instagram account.
Macadamia Nut Honey Butter $15.00/7.5oz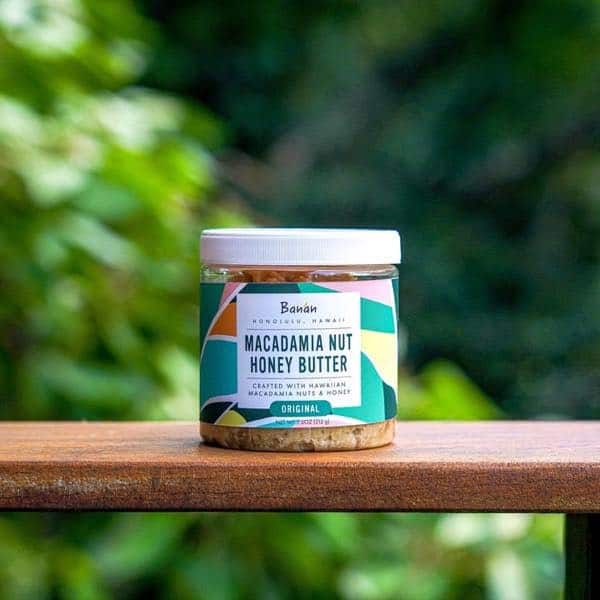 Chocolate Macadamia Spread $15.00/8oz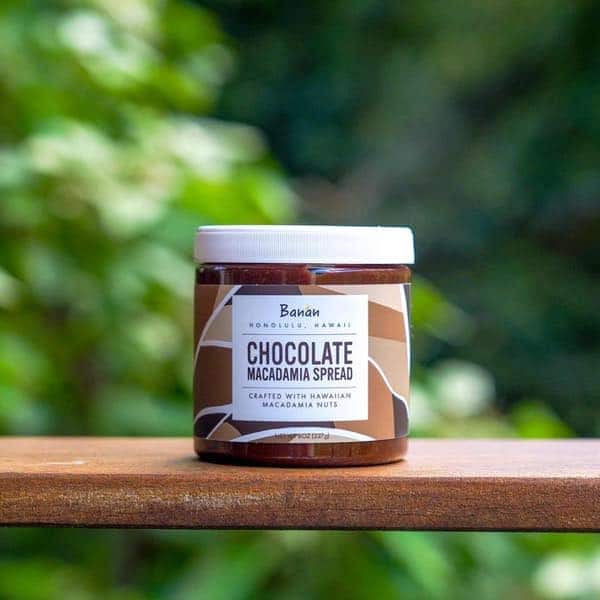 While it makes perfect sense to slather them on toast or crackers, they are just as amazing as a dip for apples, flavor swirl for yogurt, or even as an accent to zhuzh up cookie dough before being baked.  The only ingredients in the butter and spread are roasted macadamia nuts from the Big Island of Hawaii, and honey from Oahu.  There are no preservatives or sugar, making these a healthy treat.
Banan
2301 Kalakaua Ave. Honolulu
(808)517-3072
9am – 8pm
https://www.bananbowls.com/
KOHO Chocolate
Iconic confectionary Hawaiian Host, most notably recognized for their chocolate covered macadamia nuts, recently introduced a pop-up store at Ala Moana Center that puts the spotlight on its sister brand, KOHO.  KOHO is the new premier line of artisanal chocolate bonbons inspired by the flavors of the islands.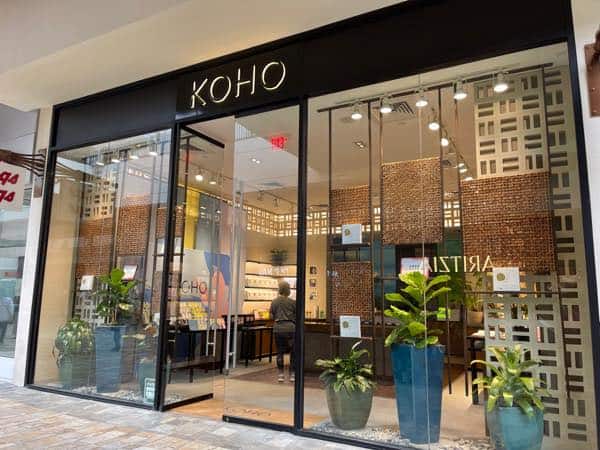 Voyager Blue 18-piece $45.00
The Voyager Blue Assorted Chocolate Collection includes 18 artisan chocolate bonbons infused with Lilikoi Caramel, Hawaiian Sea Salt Caramel, Macadamia Praline, Guava Caramel, Macadamia Blossom Honey Caramel, and Kona Coffee Caramel.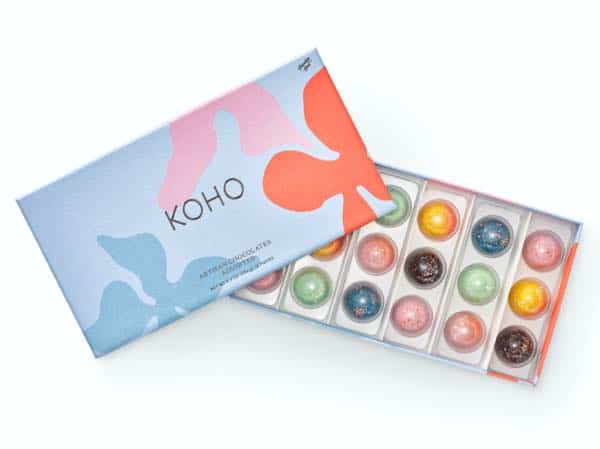 Hawaiian Sea Salt Caramel 6-piece $15.00
Crafted with the finest and freshest local ingredients, this confection folds Hawaiian sea salt into luscious caramel to create a harmonious balance between sweet and savory.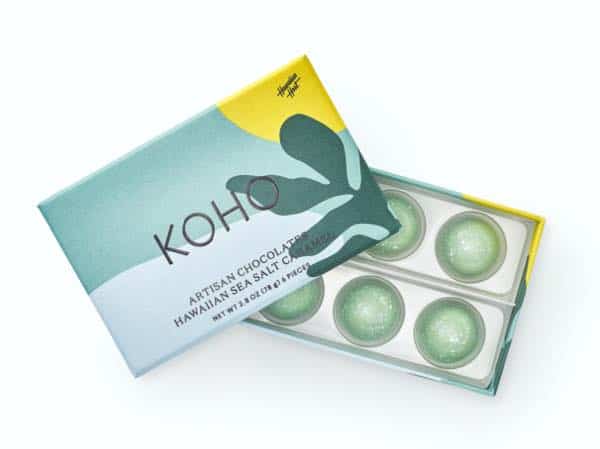 Lilikoi Caramel 6-piece $15.00
The lilikoi caramel expresses the brightly acidic flavors of the aromatic passionfruit as the perfect accent for its creamy caramel filling.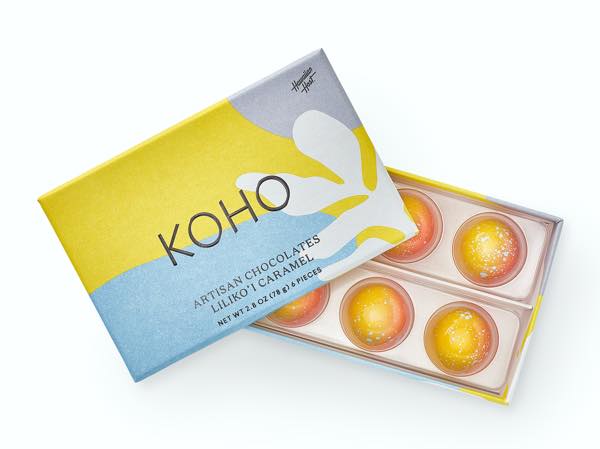 The pop-up store which opened last November is scheduled to be open until April 2022.
KOHO
1450 Ala Moana Blvd. Honolulu
Monday-Thursday 11am-7pm, Friday and Saturday 10am-8pm, Sunday 11am-6pm
https://hawaiianhost.com/pages/koho
Polu Gallery Chocolate
The art gallery located in the Sheraton Waikiki Beach is seeking to share high quality cocoa from Hawaii to the world via its "Polu Gallery Pure Cacao Project."  Teaming up with Honokaa Chocolate Company from the Big Island of Hawaii since July 2021, Polu Gallery wraps each bar with an elegant package tastefully designed by some of the most talented Hawaiian artists.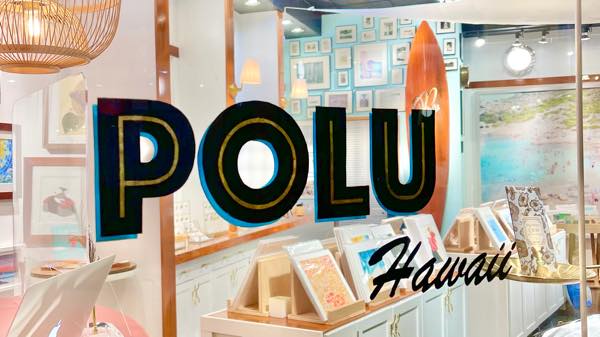 Honokaa Goat Milk Chocolate $13.95
This chocolate won the Silver Medal at the 2020-2021 Chocolate Alliance Awards.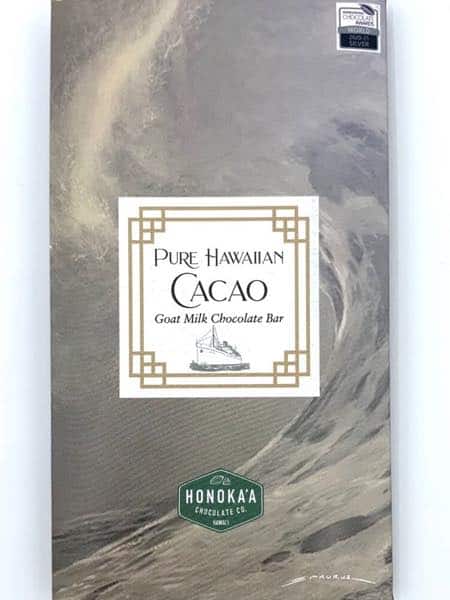 Honokaa 70% Cacao Chocolate Bar $12.95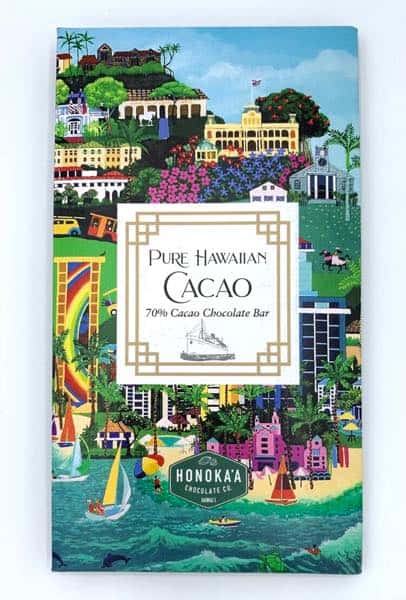 Honokaa 85% Cacao Chocolate Bar $13.95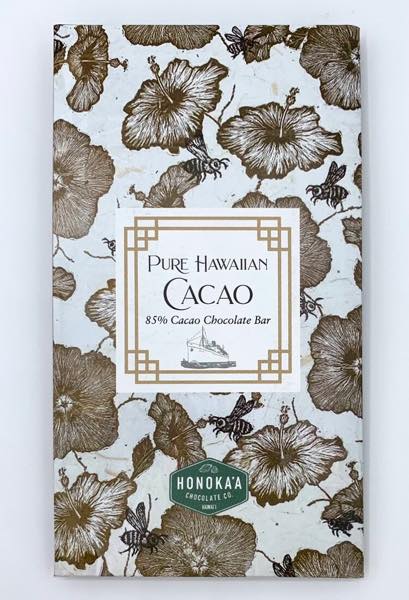 A souvenir made with premium Hawaiian cacao and packaged with designs by some of Hawaii's most talented artists is sure to be the ideal gift for the most discriminating recipient.
Polu Gallery
2255 Kalakaua Ave. Honolulu
(808)931-8901
https://www.polugallery.com/
Honey from Oahu Honey Company
The locally owned and operated Oahu Honey Co. opened its store on Waikiki Beach Walk in May 2021, specializing in honey and related products essentially made by rescued and rehomed bees.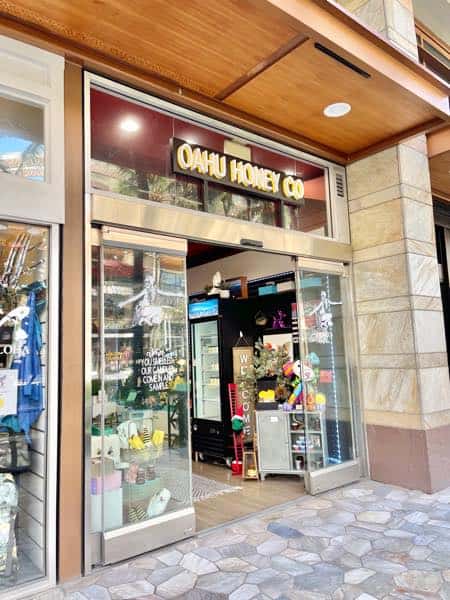 Among the various products available in the shop are honey butter, honey garlic jam, bee pollen, and six types of honey.  The raw honey from local farms varies in color and appearance depending on the season and the type of flowers, enabling patrons to enjoy a wide gamut of Hawaiian honey flavors.
Bear honey $60.00〜
These unique yet adorable bear bottles best feature some of Oahu Honey Company's exclusive packaging.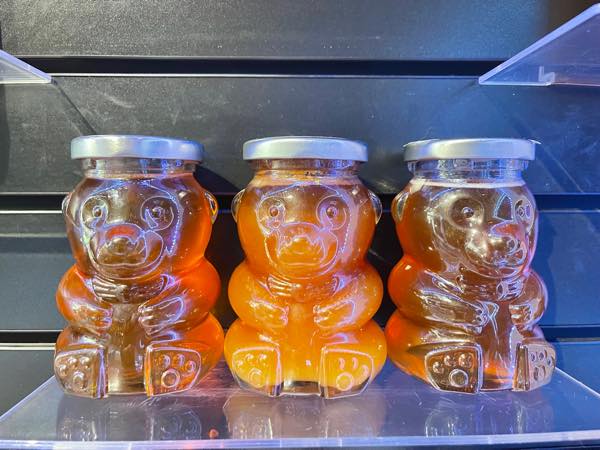 Hawaiian Bee Pollen $34.50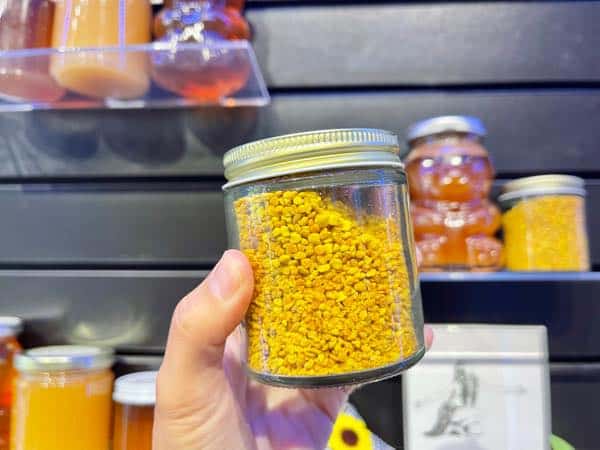 Garlic Honey Jam $20.00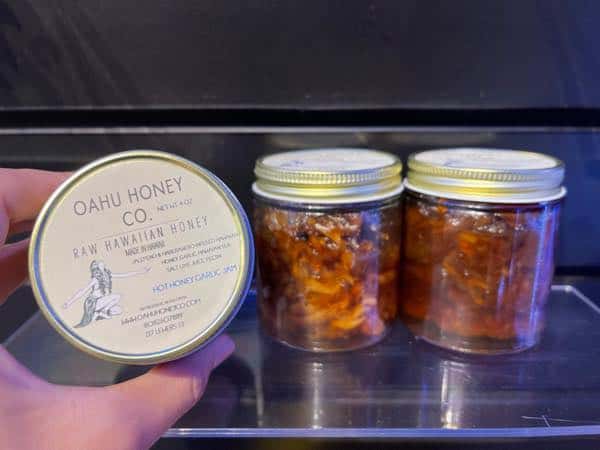 Other artisanal yet natural products incorporating the honey, beeswax, and pollen include soaps, candles, lotions, fruit spreads, and flavored honey, which make for great souvenirs.
Oahu Honey Company
227 Lewers St. Honolulu
10am – 9pm
(808)260-7889
https://www.oahubees.com/
Manoa Honey Mead
During the pandemic, Manoa Honey had to pivot its honey sales strategy to counter sluggish revenues as a result of lockdowns and quarantines.  So owners Yuki and Erika Uzuhashi developed a honey mead that has locals talking.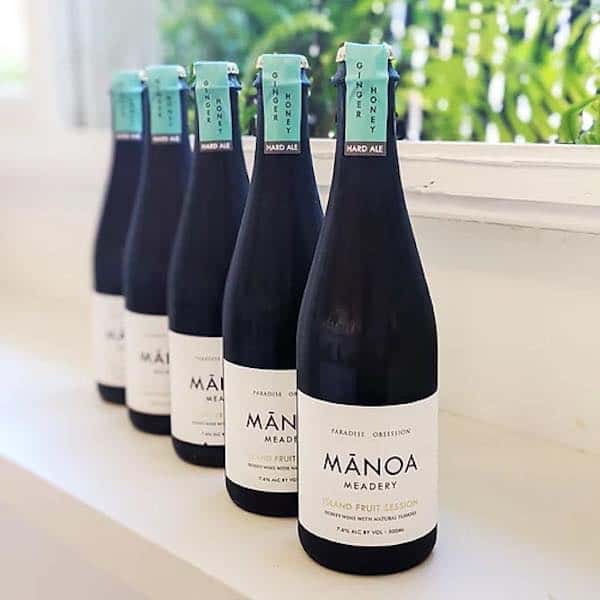 Mead, also known as fermented honey water, is an alcoholic brew made from the sweet, viscous derivative.  Blending honey and tropical fruits, Manoa Honey produces a delectable liquor boasting crisp, fruity, yet refreshing notes with light effervescence and beautiful aromatics.
Bottles are available at Island Vintage Wine Bar in Waikiki, Village Bottle Shop on Salt in Kaka'ako, Whole Foods Market, Fujioka's Wine, and Grace in Growlers in Kailua, among other restaurants and retailers.
There are a variety of flavors crafted throughout the year, so you are sure to discover your favorite flavor among inspired concoctions as Lilikoi Session Mead, Pineapple Sour Mead, Yuzu Blanc, Ginger Hopper Honey, and Hawaiian Fruit Punch.
Manoa Honey Company
930 Palm Pl. Wahiawa
(808)927-0501
https://ja.manoahoney.com/
Vanilla Extracts Kit from Laie Vanilla Company
Laie Vanilla Company on the North Shore of Oahu puts a new twist on do-it-yourself items with their kits that enabling people to craft their own vanilla extracts.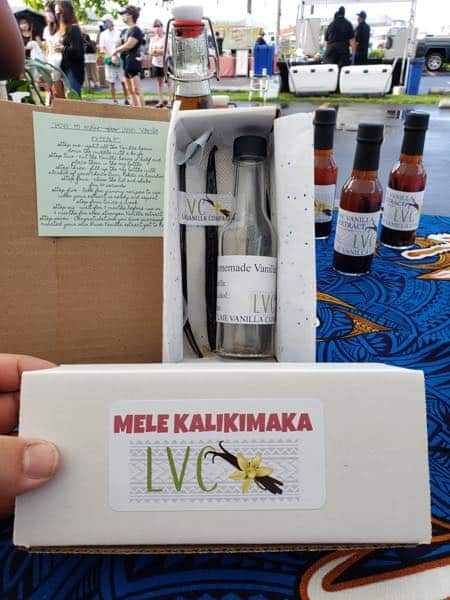 The process is quite simple.  Simply cut the vanilla bean in half and scrape out the seeds inside the bean.  Then place the seeds and the vacant vanilla bean pod into the provided bottle before pouring in a choice of alcohol such as vodka, rum, or bourbon.  Shake the bottle once a week as the beautiful creamy flavors permeat the liquid, and after one month, the vanilla extract is ready to be added to your favorite baking recipe.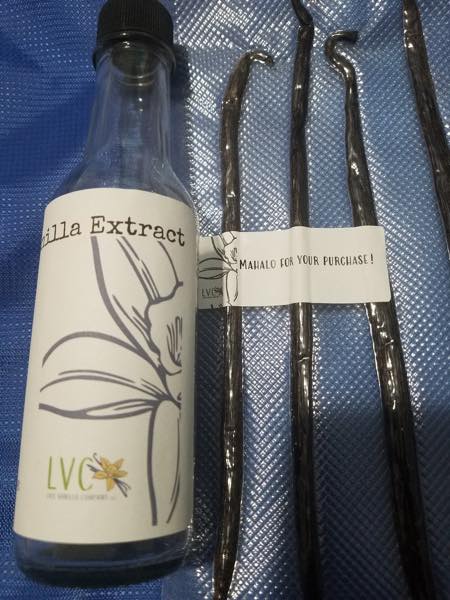 The kits are available at the Saturday Kaka'ako Farmer's Market on Ward Avenue.
Laie Vanilla Company
Kaka'ako Farmers Market
Every Saturday from 8am – 12pm
https://laievanilla.com/
So table those thoughts of buying the hackneyed souvenir items for your family and friends and consider finding something that expresses your profound knowledge of Hawaii gift items—even if it's secretly just for yourself.