The restaurant and café openings and announcements continue.  There are a dozen new spots to check out, including the fifth location of Kai Coffee Hawaii and a Japanese teppanyaki restaurant slated to open later this fall.
Kai Coffee Hawaii
Kai Coffee Hawaii keeps sprouting new locations.  Just about a year after the popular brand opened its roastery on Kapahulu Avenue, a new café location opened on the first floor of the Waikiki Shopping Plaza, just steps from DFS Waikiki!  The kiosk is indoors directly facing the Kalakaua Avenue entrance to the shopping center, where Starbucks once was.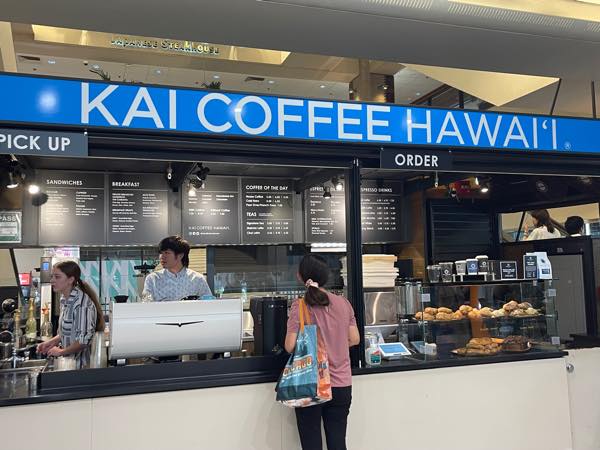 If making a trip over, consider trying the Kai Latte ($6.50), a signature drink that infuses macadamia nut flavors into the coffee via an exclusive syrup.  Creamy and delicious, the latte wafts with a nutty aroma following up with aromatic espresso notes.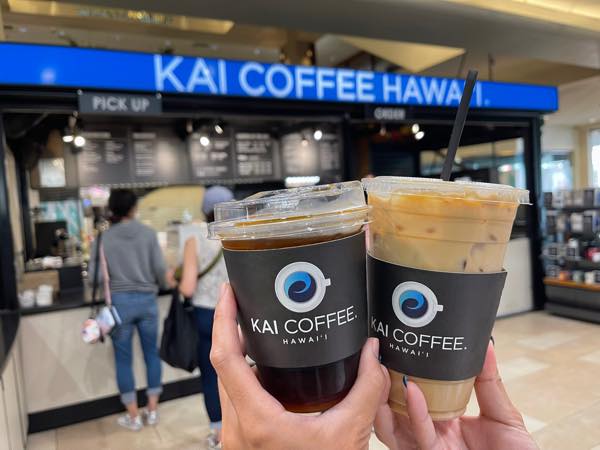 And since the kiosk is open from early in the morning until late at night, patrons may enjoy a great cup of coffee around breakfast, lunch, or dinner, or possibly as a reprieve from a day of shopping or swimming at the beach.
Kai Coffee Hawaii at Waikiki Shopping Plaza
2270 Kalākaua Ave, Honolulu, HI 96815
6:30am – 9:00pm
(808) 923-1700
https://kaicoffeehawaii.com/
Okan Teppanyaki
A highly anticipated teppanyaki restaurant, Okan Teppanyaki, is scheduled to open this fall in Waikiki! With a location in Shinjuku, Tokyo, Ocan Teppanyaki is taking a trip overseas to open its first restaurant in Hawaii.  The grillery is known for its okonomiyaki and yakisoba.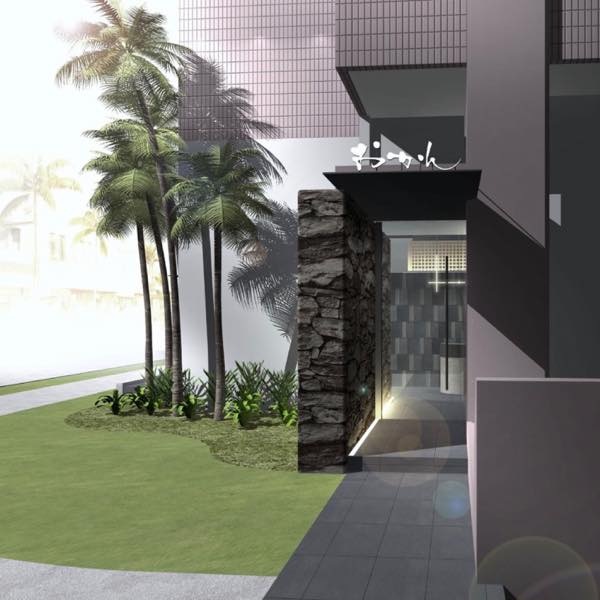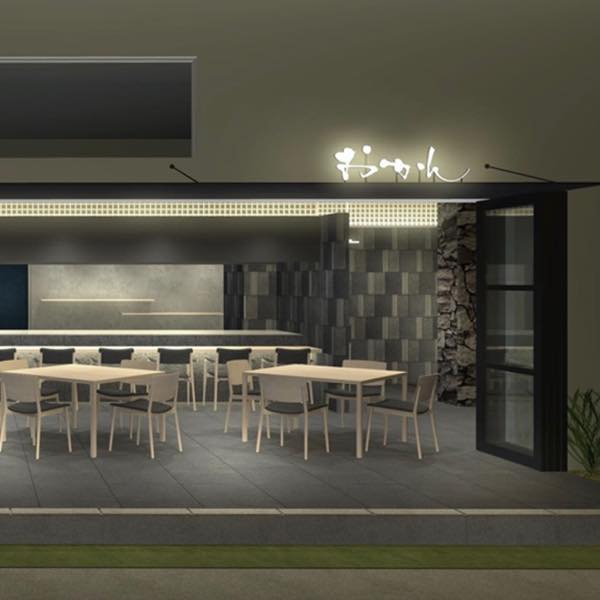 Okan Teppanyaki (scheduled to open Fall 2023)
2427 Kuhio Ave Honolulu, HI
5 pm – 10:30 pm
(808) 272-3465
https://www.ocan-waikiki.com/
[Relocation] Maguro Brothers Hawaii
Maguro Brothers, a poke and sashimi restaurant owned by Japanese brothers, moved its Waikiki location in Waikiki.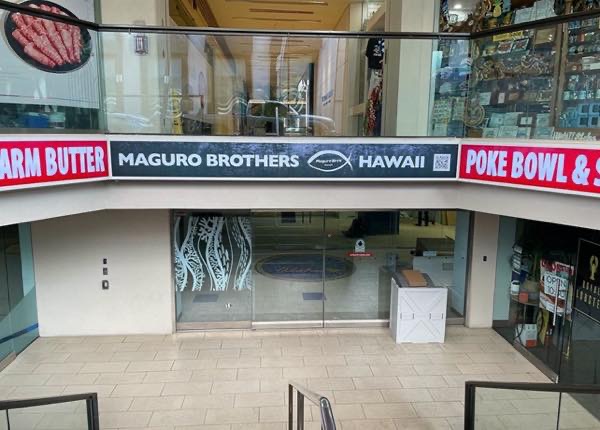 With its first location in Chinatown Honolulu, Maguro Brothers opened its Waikiki outpost on the first floor of the Pearl Hotel Waikiki on Nahua Street.  However,  due to the hotel starting its renovations, Maguro Brothers relocated that location to the lower level of the Waikiki Shopping Plaza, as a separate entity from the STIX Asia food hall.  The entrance may be tricky to find, as it is along the entrance facing Royal Hawaiian Avenue.  There may be a line to help you find the location, but when you do, you will simply relish the plush textures of fresh tuna and the aromatic qualities of the Japanese rice in their poke bowls.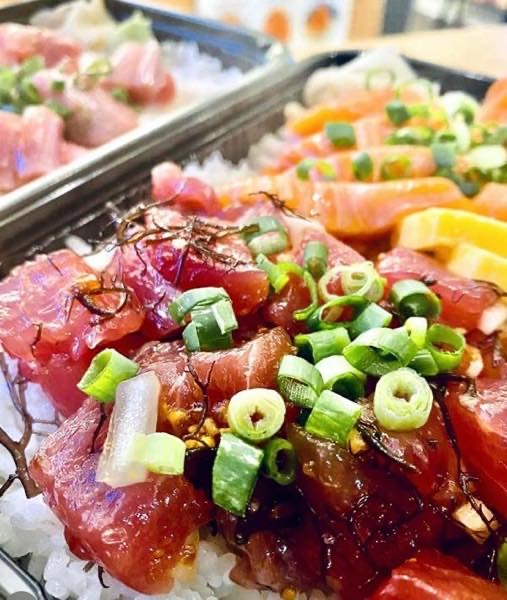 Maguro Brothers Hawaii
2250 Kalakaua Ave, Honolulu, HI
Mon-Sat 5 pm – 8 pm
(808) 230-3470
Honolulu Tacos
Honolulu Tacos is now open in the Royal Hawaiian Dining Plaza, a food court tucked away with the entrance on Royal Hawaiian Avenue, across the street from DFS Waikiki.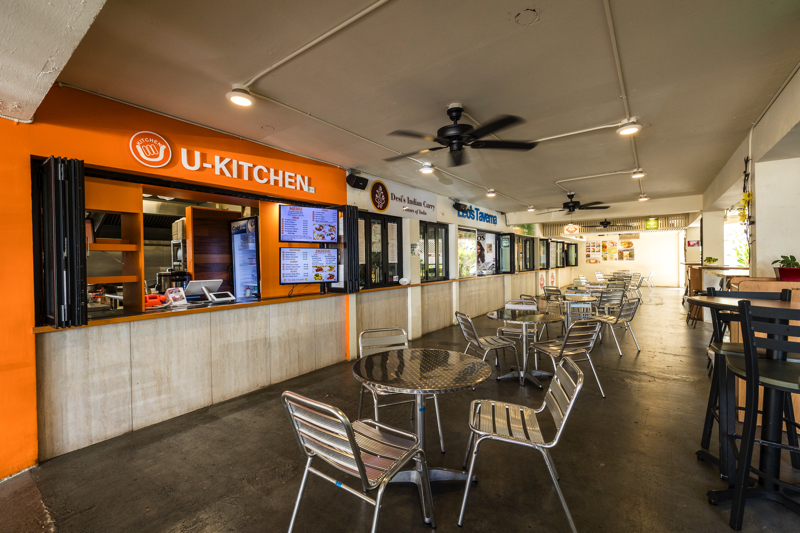 This counter combines Mexican and Korean flavors in the tacos, burritos, and other dishes.  The best part is that the tacos are just $3.50 each!  If you enjoy Korean flavors, there are more authentic dishes such as bulgogi plates, and cold noodles too.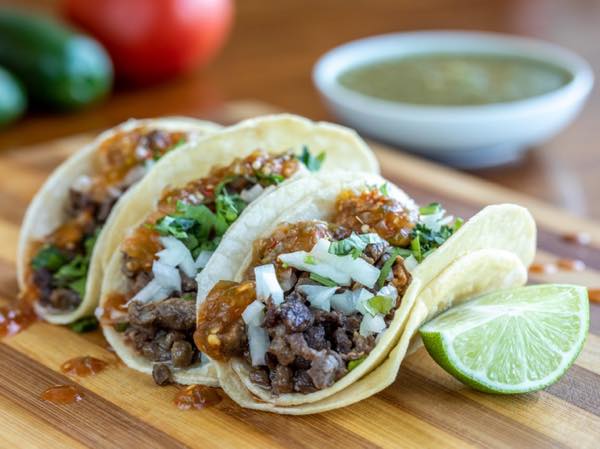 Honolulu Tacos
2239 Waikolu Way, Honolulu, HI
Carp Dori
Carp Dori is now open in the Mitsuwa Marketplace food court on the second floor of the International Market Place.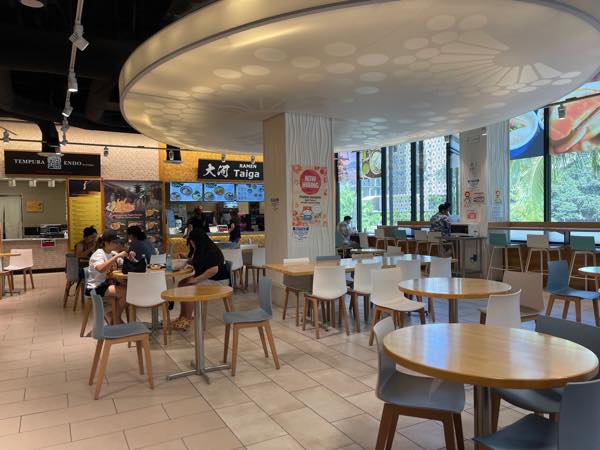 Carp Tori is an izakaya (Japanese style pub) with savory yakitori skewers and bowls of ramen, with its brick-and-mortar in Honolulu located in the McCully Shopping Center.  The new fast casual spot showcases a menu with a variety of bites including skewered chicken wings ($3.99), beef ribs ($3.99), and classic Hiroshima-style okonomiyaki ($15.99).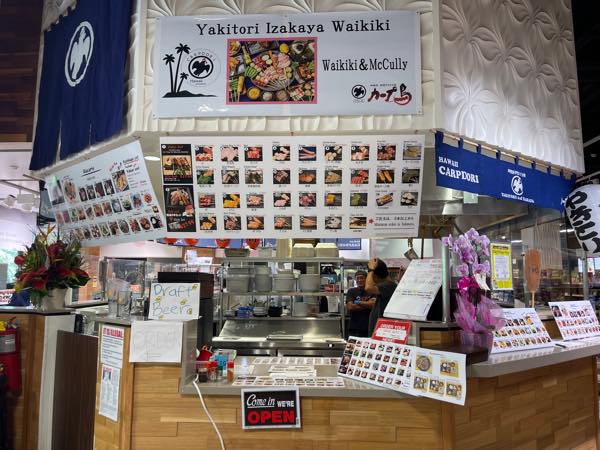 Carp Dori
2330 Kalakaua Ave, Honolulu, HI
International Market Place, 2nd floor, Mitsuwa Market
11 am – 7 pm
https://www.instagram.com/carpdori_hawaii/
Kyochon 1991
Kyochon 1991, a hugely popular Korean fried chicken restaurant out of Korea, opened in the Likelike Plaza along Keeaumoku Street near Ala Moana Center.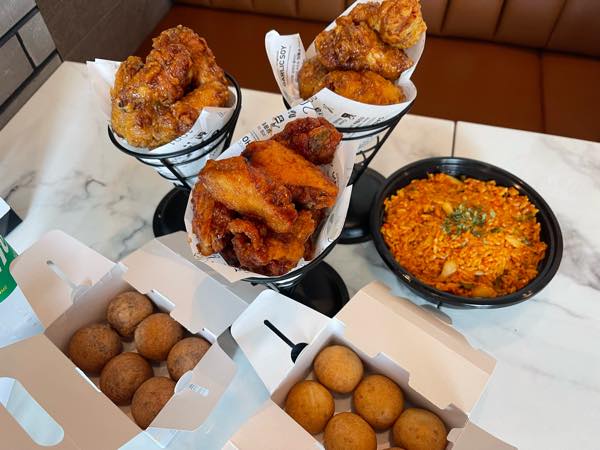 Many may be familiar with this little shopping center across Walmart because it is where the now shuttered Likelike Drive-In once operated.  Started in Gumi, South Korea in 1991, Kyochon 1991 is one of the most prominent Korean chicken outfits, serving authentic fried chicken.  Kyochon 1991 in Hawaii offers several types of chicken:  one type lacquered with a garlic soy, another called red because of its spicy pepper glaze, a third labeled honey featuring sweet and savory notes, and a rice-battered sal sal.  Side dishes include cheese balls, kimchi fried rice, and more.  Pictured is David, the owner from Korea, who some consider a hero because he opened the first location in Hawaii.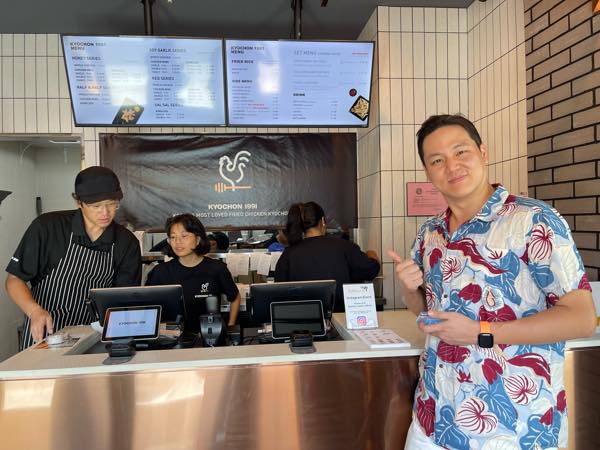 Kyochon 1991 Hawaii
735 Keeamoku St, Honolulu, HI
11 am – 7 pm
(808) 386-8951
https://www.instagram.com/kyochon_hawaii_official/
Chick-fil-A Makiki
Chick-fil-A, the iconic fast food fried chicken chain, opened a location in Makiki.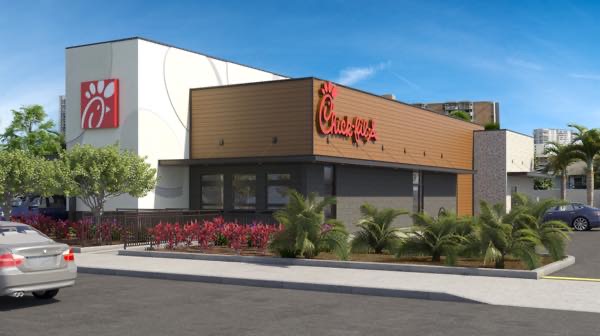 With more than 2,775 locations primarily in the United States, it is one of the largest fast food chains in the country.  This Makiki location has no dine-in; rather, it is completely drive-through based.  Each night, long lines of cars queue up to pick up popular chicken sandwiches such as the signature Chick-fil-A Chicken Sandwich ($10.29 and up).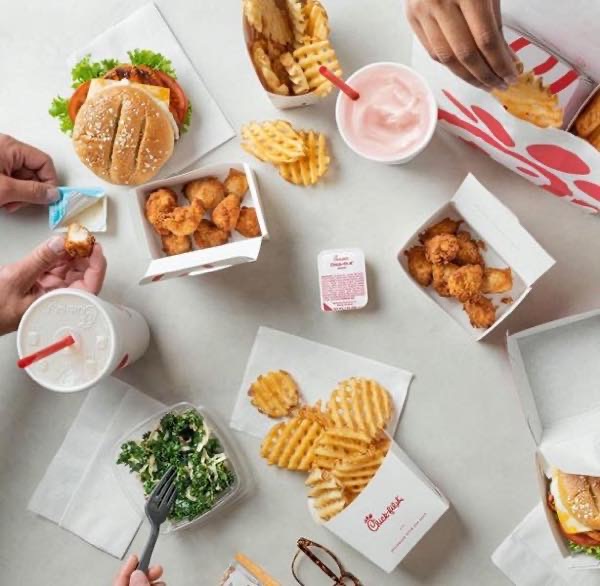 Chick-fil-A Makiki Store
1056 S. Beretania St., Honolulu, HI
Monday – Saturday 6 am – 9 pm
(808) 460-7660
https://www.instagram.com/chickfila_makiki/
Aloha Bento
Aloha Bento, a sushi and sashimi outfit, is now open on South King Street in the Tide Pool, a co-working space and café in the Central Pacific Bank located in Downtown Honolulu.   The restaurant operated by Aloha Beer, a local Hawaiian brewery, is just 25 minutes away from Waikiki via bus.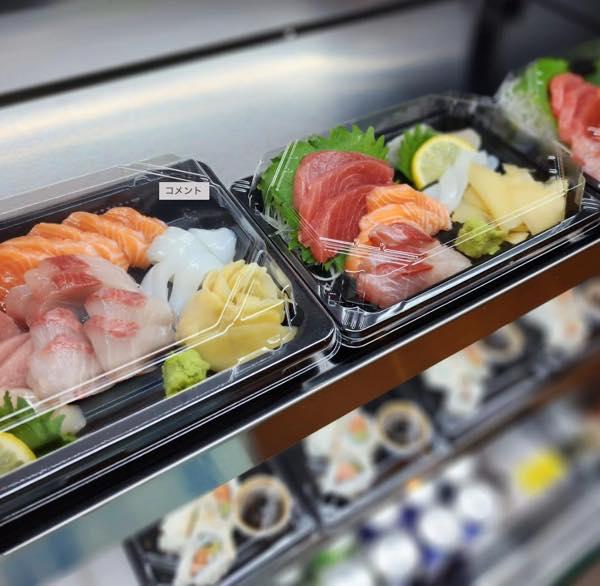 In addition to nigiri bento sets (from $13.50), sushi rolls (from $9.00), and hand-rolled sushi (from $5.00), the restaurant also carries a wide variety of Japanese sake.  After all, what goes better with sushi featuring fresh, high-quality fish than rice wine?
Aloha Bento
220 S King. Honolulu, HI
Monday-Friday 11 am-7 pm
(808) 200-2353
https://www.alohabento.com/
Minatoku Kitchen
Minatoku Kitchen, which offers authentic Japanese bentos, is now open on South King Street in Moiliili.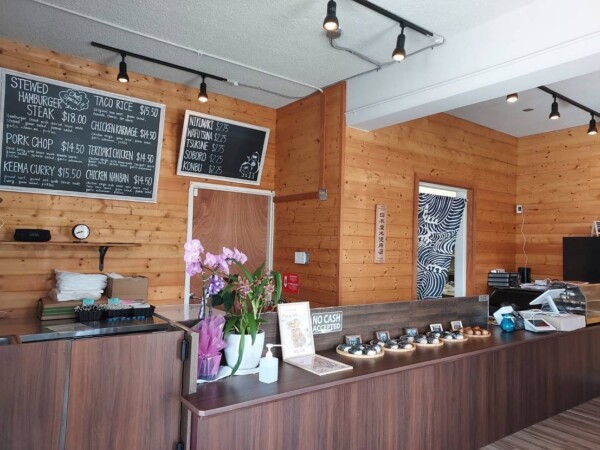 The Japanese dishes are crafted with passion, as the sauces and seasonings are made or blended by hand, demonstrating a commitment to the original recipes used.  Whether it be teriyaki, barbecue sauce, yakiniku (grilled meat) marinade, tomato sauce, or any of the others, they are incorporated with Japanese sensibilities and flavors.  The rice is also of high quality, with the Niigata Koshihikari grains coming from one of the top rice producing regions in Japan.  Every grain of rice is polished to express the optimal aromas and flavors from this freshly harvested product.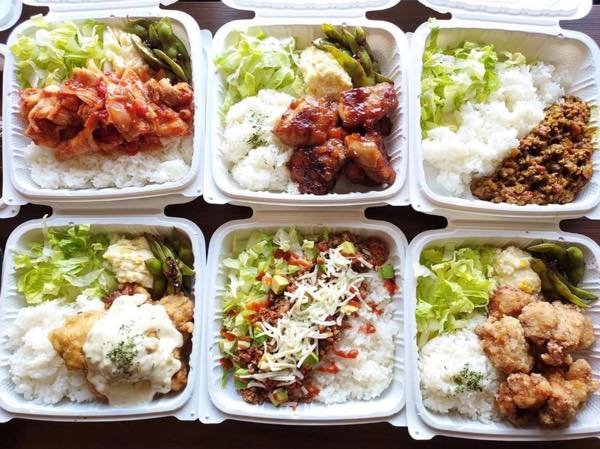 Minatoku Kitchen
2471 S King St, Honolulu, HI
8 am – 3 pm (Wed – Mon)
(808) 312-8633
https://minatoku-k.com/
Kotetsu Chaya
Kotetsu Chaya, a Japanese restaurant operated by Japanese owners, also opened up along South King Street.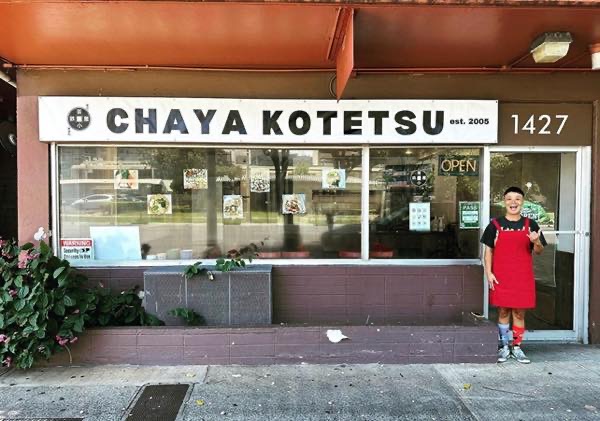 Here, patrons may enjoy Japanese dishes such as Shoga-yaki Bento ($15.00) and Soboro Bento ($15.00) in a plate lunch format.  The fried chicken is especially highly rated, as are the ramen noodles which may enjoyed from $14.00.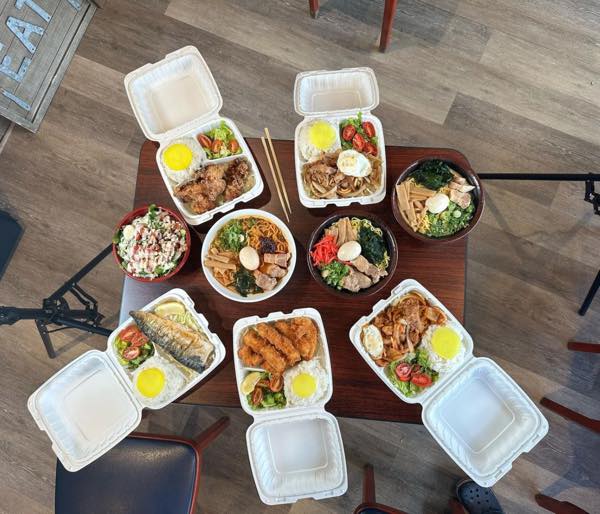 Kotetsu Chaya
1427 S King St, Honolulu, HI 96814
11 am – 2 pm / 5 pm – 8 pm
(808) 200-5859
https://www.instagram.com/kotetsu_chaya/
Local Boy Sushi
Local Boy Sushi, a popular sushi restaurant in Kaneohe, opened a second location on the Windward side, but this time in Kailua.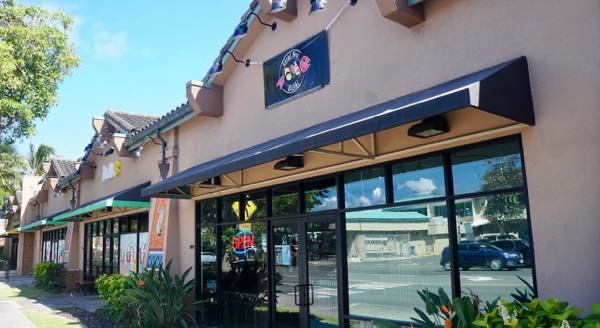 Known for the Lava Bowl ($10.50) featuring spicy ahi, shrimp tempura,  avocado, and drizzles of kabayaki and chili sauces over special Genji Mai rice, Local Boy Sushi is certainly gaining traction.  Hopefully, they open a location in town soon.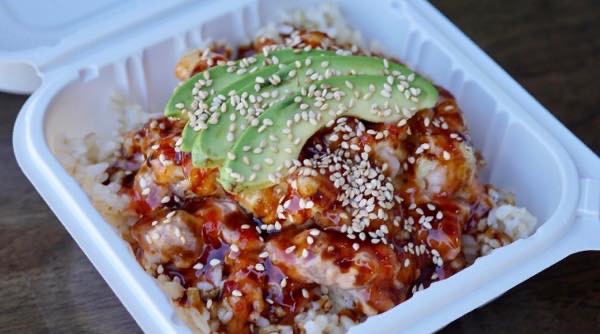 Local Boy Sushi
601 Kailua Rd. Kailua, HI
Monday – Saturday 10 am – 8 pm
(808) 491-7559
https://www.instagram.com/localboysushi/
Cino
The owners of Café Duck Butt are introducing Cino, an Italian-inspired chophouse and crudo bar, on the first floor of the 'Aali'i Shops on Queen Street, located at Ward Village.  The swank new restaurant featuring vibrant originals by Andy Warhol adds another dining option to the residential area.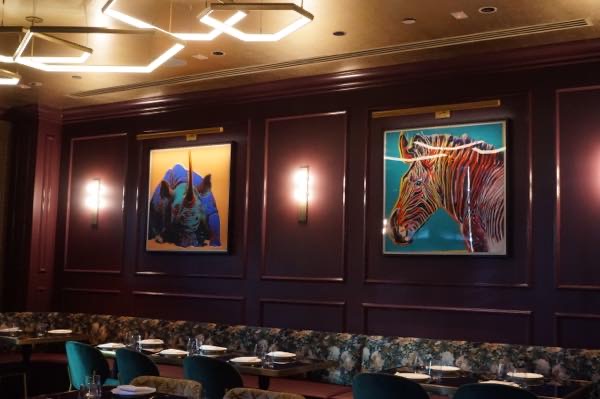 The menu captures the essence of Italy via appetizers such as traditional Italian favorites as fritto misto and a caprese salad with burrata.  A crudo bar dishes out oysters, octopus carpaccio, tuna tartare, and a chilled seafood platter—perfect complements to a bottle of Prosecco.  For larger portions, a selection of pastas tempt, with mouth-watering presentations encompassing crab spaghetti, butternut squash agnolotti, and squid ink spaghetti alla chitarra, all featuring fresh pasta made in-house.  The chophouse promise is fulfilled via a selection of pork and grass-fed beef, including a market fish with green goddess sauce.  However, do not dismiss the other entrees which include alluring discoveries as braised beef check, miso charred butterfish, house-aged half roasted duck, and more.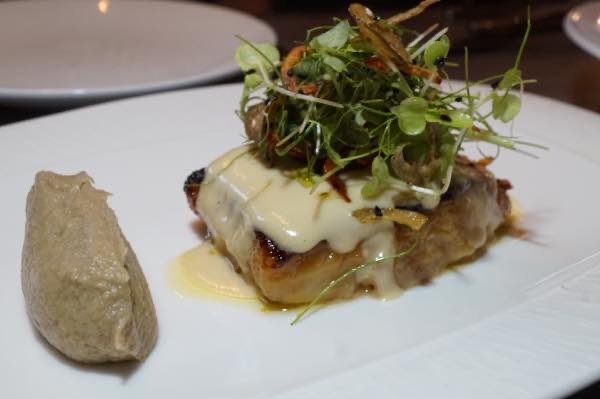 Cino
987 Queen Street, Suite 100, Honolulu, HI
Sunday – Thursday, 5 – 9 pm; Friday & Saturday, 5 – 11 pm
(808) 888-3008
https://www.cinohawaii.com/
Japanese cuisine seems to be trending in Hawaii with so many of the new spots featuring sushi or other Japanese plates.  However, the other flavors are definitely worth considering as the dining options on the island seem to be growing by an average of a dozen spots per month!