When you see long lines of cars wrapped around a Taco Bell on any given night, you know that there is something alluring about proteins wrapped or placed atop tortillas, be they soft and supple or fried hard and crunchy.  Not everyone is lucky enough to be exposed to more traditional renditions, which offer diversity in flavors and textures.  But if you are adventurous or are seeking a note of authenticity, start with a few Mexican restaurants on this list.
1) Tlaxcalli
Named after the word for "tortilla" in the ancient Nahuatl language of the Aztec people, Tlaxcalli focuses its cuisine around the homemade tortillas that serve as the base for all the dishes in Mexican cookery.  Owner/chef Julio Guittierez Santacruz is adamant in his presentation of Mexican cuisine in Hawaii, offering the most traditional regional dishes made with ingredients of uncompromised quality.  Clearing indicating that rice is not served there, Tlaxcalli features mayocoba beans, corn in the form of tortillas, and spicy chiles to transport diners to a rural kitchen in Mexico or the fishing villages of Sinaloa.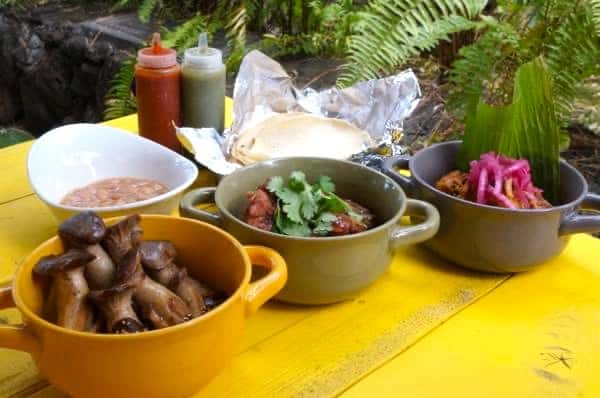 Although there is a full lineup of alluring dishes, including seafood plates of ceviche and fish chicharron, entrees of oxtail pasilla, rib tips chile verde, cochinita pibil (marinated pork shoulder), king mushroom mole, and fish adobo, many of which come with tortillas in which to wrap the amazing proteins, those with a hankering for tacos will love that there are some unorthodox–well, at least for many in Hawaii–renditions that place a regional focus on seafood.  For example, the Tacos de Marlin sautees the fish with onions, tomatoes, and Anaheim peppers before filling them in corn tortillas and grilling them crispy.  The Tacos Gobernador fill tortillas with cheese and sauteed shrimp, while the Tacos de Camaron are stuffed with shrimp and mashed potatoes before being topped with salsa fresca and avocado.  There are also the Tacos de Camaron Enchilado, Tacos de Pulpo Enchilado for those who love octopus, and Tacos Capeados Mazatlan which batters and deep-fries tacos stuffed with either shrimp or fish, topped with cabbage, chipotle aioli, and salsa fresca.  Carnivores will feel assured with the Tacos de Asada featuring carne asada, or Tacos Mar y Tierra including camaron enchilado with carne asada.  So, grab a margarita, some tacos, and enjoy your meal in the lively interior or charming back patio in true Mexican form.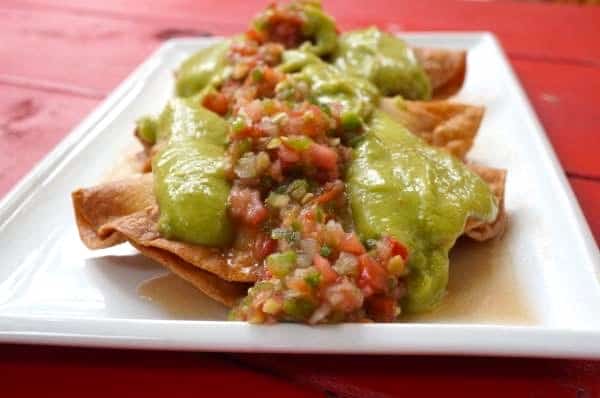 Tlaxcalli
1128 Smith Street, Honolulu, HI
(808) 888-5200
Mon, 5:00 – 8:30 pm; Tue & Wed, 11:00 am – 2:00 pm, 5:00 – 8:30 pm; Thu, 11:00 am – 2:00 pm, 5:00 – 9:00 pm; Fri & Sat, 11:00 am – 10:00 pm
2) Taqueria El Ranchero
With a name as this, it is obvious that the establishment specializes in tacos.  The Mexican taqueria features bold flavors, quality ingredients, authentic presentations, and affordable prices.  With two locations now available, the original in Wahiawa, and its new 5,000 square foot restaurant in Ka Makana Ali'i in Kapolei, owner Hector Garcia Gomez draws inspiration from growing up on a ranch (el ranchero) in Mexico and in San Francisco.  After joining the military and being stationed in Wahiawa, he discovered that there were no taquerias that met his expectations on the island.  He returned to the islands and founded his first business offering the popular street food.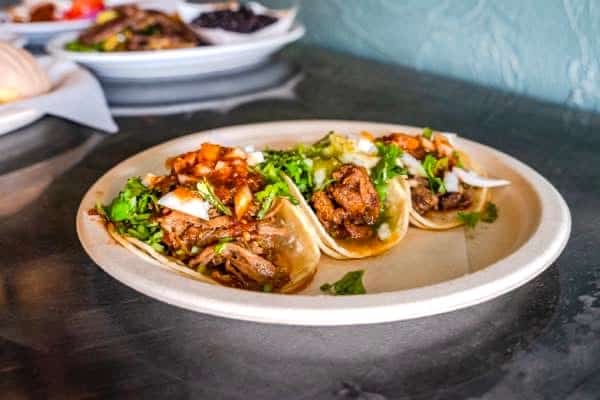 Taqueria El Ranchero's regular taco features onion, cilantro, and salsa, along with a choice of meat among an impressive roster featuring carnitas (fried pork), chorizo (Mexican sausage), pollo (grilled chicken), al pastor (marinated grilled pork), lengua (beef tongue), carne asada (grilled steak), and tripas (tripe).  A Taco Grande adds beans, cheese, and sour cream to the taco.  A Veggie Taco includes beans, cheese, lettuce, onion, cilantro, salsa, and sour cream, while a Seafood Taco offers a choice of shrimp or fish with onion, cilantro, and a Ranchero special sauce.  After 2:00 p.m. daily, definitely consider having either the Tacos de Birria or the Mulitas de Birria served with a hearty, slow-stewed dipping broth.  Or if you are an early riser, head there for the Breakfast Taco with eggs, beans, cheese, potatoes, salsa, and a choice of ham, bacon, or chorizo.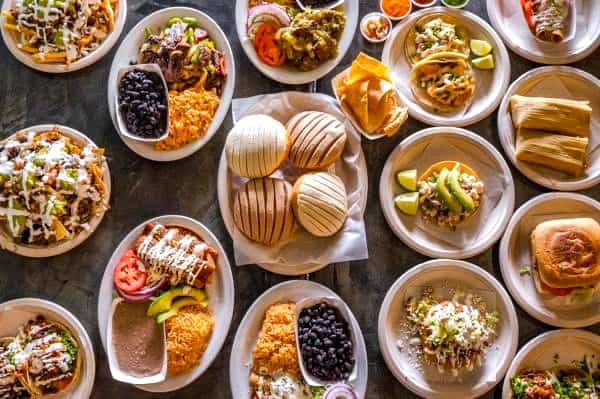 Taqueria El Ranchero
823 California Avenue, Suite A5, Wahiawa, HI
(808) 621-9000
Sun-Sat, 7:00 am – 10:00 pm
Ka Makana Ali'i, 91-5431 Kapolei Parkway, #501, Kapolei, HI
(808) 621-9000
Sun-Sat, 7:00 am – 10:00 pm
3) Alejandro's Mexican Food
Alejandro Alvarado grew up enjoying Salvadorean cuisine as prepared by his maternal grandmother, and Mexican fare crafted by his paternal grandmother.  Whether it be pupusas and enchiladas or tamales and arroz con pollo, Alejandro loved his culinary childhood.  That passion to bring people together through food translates into a menu at Alejandro's Mexican Food, which expanded from its original location in Kalihi to another in Pearl City and one on Kapahulu Avenue, right next to Leonard's Bakery.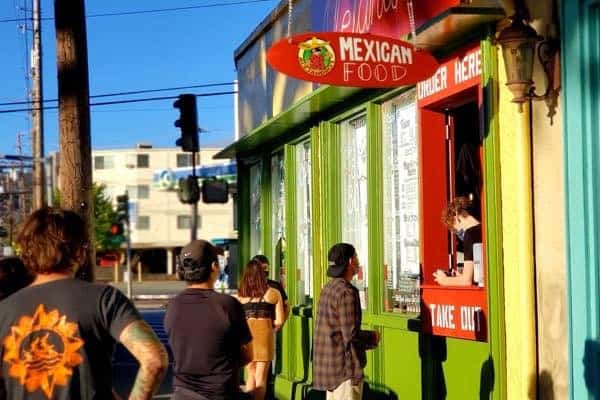 At the top of the menu are the tacos served at Alejandro's.  Whether you choose minced ground beef, carne asada (seasoned cubed steak), carnitas (slow cooked pork), or chicken seasoned with onions bell peppers, tomatoes, and garlic, the tacos on soft tortillas come ala carte or part of a combo plate with Mexican rice and refried beans.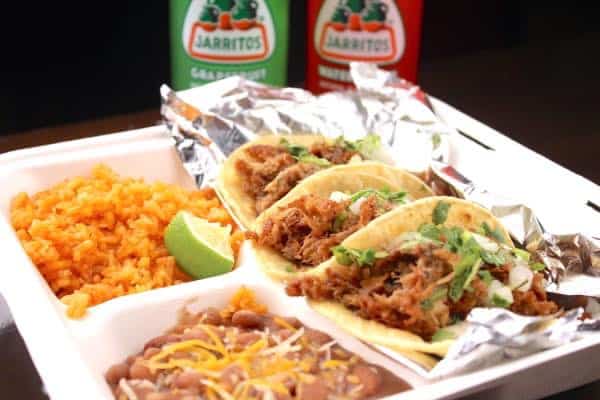 Alejandro's Mexican Food
949 Kapahulu Avenue, Honolulu, HI >> Get a special offer! *Kapahulu Location Only
(808) 888-8090
Tue-Sat, 11:00 am – 9:00 pm; Sun, 4:00 pm – 9:00 pm
2831 Kalihi Street E, Honolulu, HI 
(808) 777-0038
Sun-Fri, 11:30 am – 7:30 pm; Sat, 11:00 am – 4:00 pm
850 Kamehameha Highway, #135, Honolulu, HI
(808) 888-8855
Tue, 1:00 pm – 8:00 pm; Wed-Sat, 11:00 am – 8:00 pm
4) La Birria
A few years ago before the pandemic, birria was on everyone's minds.  It's as if people simply discovered the magic of dipping a crispy taco into a broth steeped in flavor, French dip style.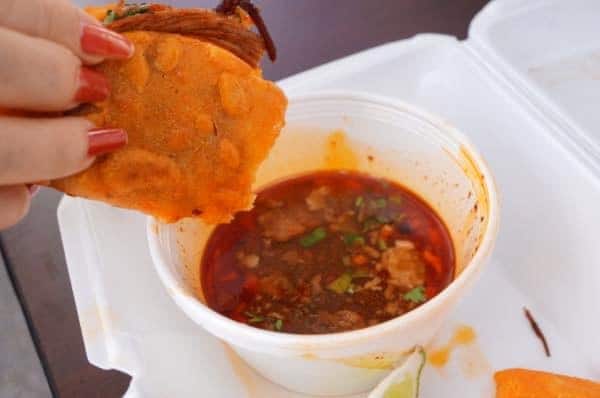 La Birria capitalized on that trend, and Chef Arturo Silva of Mexico City took pride in how he prepared his beef, which is marinated for 24 hours before being slow cooked for an additional twelve.  Crispy fried with cheese, and served with a consomme for dipping, these birria caused people to just about lose their minds as they waited in long lines for a bite of the crunchy, beefy taco dripping with savory broth.  The more adventurous opted for the Hellfire Tacos which adds a significant amount of heat to the birria experience via chiles that will cause streams of sweat to roll down the back of your neck.  But, if you love spicy, you will find it worth the pain.  And if you especially love the consomme, consider adding some ramen noodles to it and enjoy the beautiful fusion of Japanese-Mexican flavors at La Birria.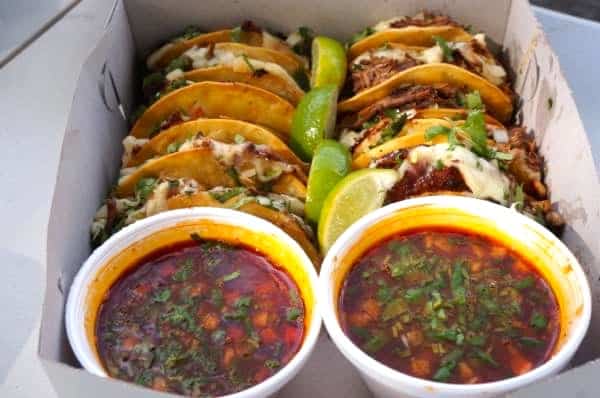 La Birria
Pearlridge Center (in the parking lot next to the Leonard's malasada truck), 98-1005 Moanalua Road, Aiea, HI
Sun-Sat, 11:00 am – 5:00 pm
Sure, Taco Bell may offer some familiar comfort in the form of a wrapped crispy taco or soft tortilla weeping with chili and cheese, consider tabling that for one day and giving one of these Mexican outfits a try.  You may find a new favorite taco spot worth visiting more frequently than your favorite watering hole offering a Taco Tuesday special.