With so many options for breakfast in Honolulu, determining where to start your day off may seem overwhelming.  However, this roundup provides you with the editor's top 10 recommendations for your first bite of the day.  Included are news about which restaurants were given the the Hale 'Aina Award (an annual restaurant award given away by HONOLULU Magazine) in the breakfast category, eateries that serve amazing cup of coffee, and popular establishments that have recently started to serve morning meals.
1) Egghead Cafe
First up is Egghead Cafe, a breakfast spot cherished by many locals.  Originally located in Kaka'ako, the restaurant relocated but now has locations in Kailua and Kalihi.  Once nicknamed "egghead," the owner always dreamed of owning an establishment where people may enjoy a nice morning meal.  His passion paid off, as Egghead Café swept the Silver Award recipient for Best Breakfast at the 2021 Hale 'Aina Awards.
Whether or not you wish to visit the Kailua or Kalihi locations will be determined by your appetite, as the menus are somewhat different based on location.  The Kailua café is really more of an espresso bar, serving a good cup of coffee and light meals, whereas the Kalihi location features a restaurant format, complete with a more extensive menu. 
For example, if you are in the mood for an amazing waffle, consider heading to Kailua for the Mochi Waffle, a chewier rendition of the traditional batter cake.  The berry waffle as pictured is $11.00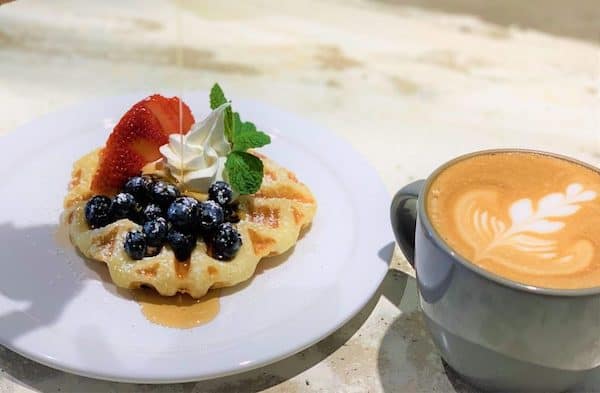 But if you prefer something heartier, make a visit to the Kalihi restaurant for a wide variety of classic breakfast dishes such as eggs benedict, French toast, and omelets.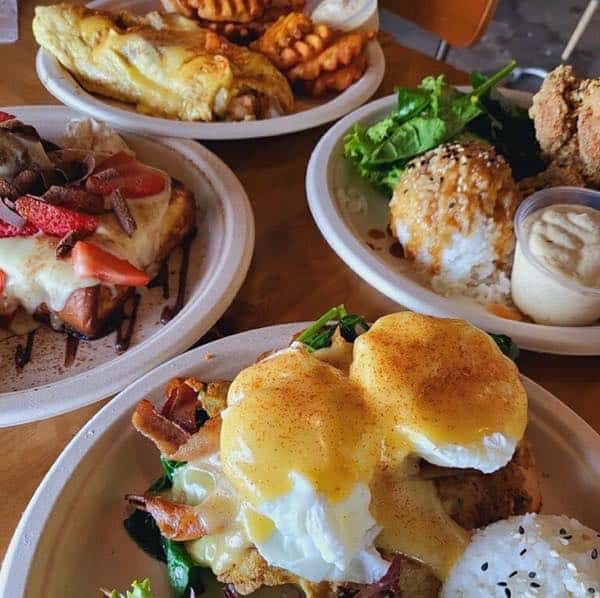 The Kailua location is open Tuesday-Friday 7:00am-1:00pm and Saturday 7:00am-2:00pm, and the Kalihi location is open Tuesday-Friday 7:00am-1:00pm and Saturday and Sunday 7:00am-2:00pm. 
Egghead Cafe Kailua
25 Maluniu Ave, Kailua, HI 96734
(808) 263-8833
Tuesday-Friday 7am-1pm, Saturday 7am-2pm
Closed Sunday & Monday
Egghead Cafe Kapalama
1210 Dillingham Blvd, Honolulu, HI
Located in Kapalama Shopping Center
(808) 888-2211
Tuesday-Friday 7am-1pm, Saturday-Sunday 7am-2pm
Closed Monday
2) Basalt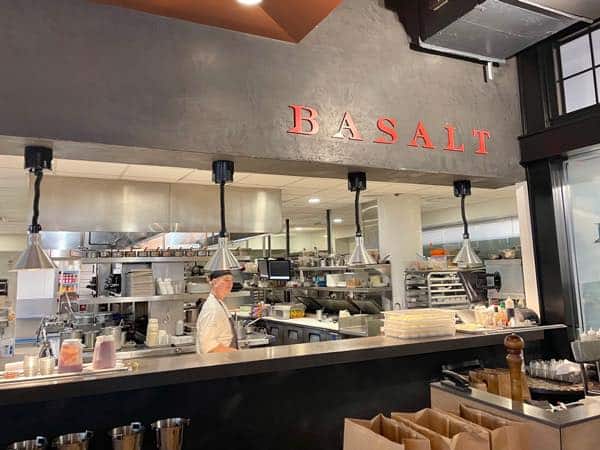 You may wonder who would ever consider ordering a stack of black pancakes, but when visiting Basalt, the Charcoal Pancakes ($20.00) are a must try.  The restaurant produced by Waikiki's most popular convenience store chain, ABC Stores, serves inky dark flapjacks with made with charcoal incorporated into the batter.  The pancakes and accompanying whipped cream are not overly sweet, and the sour berry sauce served atop creates a harmonious balance, resulting in a truly mouth-watering experience.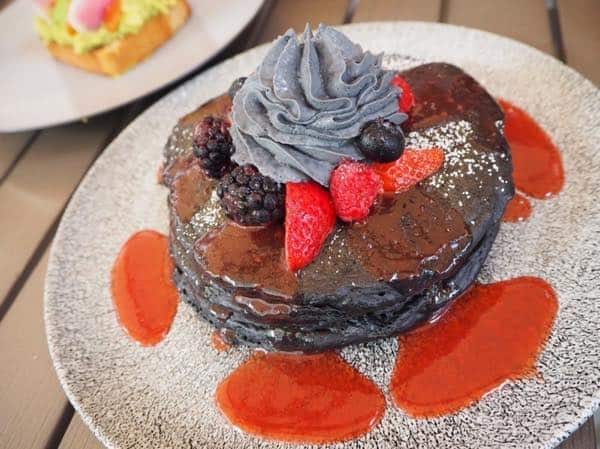 But if you prefer something more predictable, try another of Basalt's classic breakfast dishes, the Avocado Toast ($17.00)!  This rendition is sure to satisfy, with mashed avocado and sliced avocado piled on a toasted slice of whole grain bread, handmade right in the restaurant.  Its thick slice quality imparts a wonderful crispy texture that beautifully contrasts the creamy avocado.  Throw in some marinated tomatoes, pink radishes, and some edible flowers and you have an attractive dish almost too pretty to eat.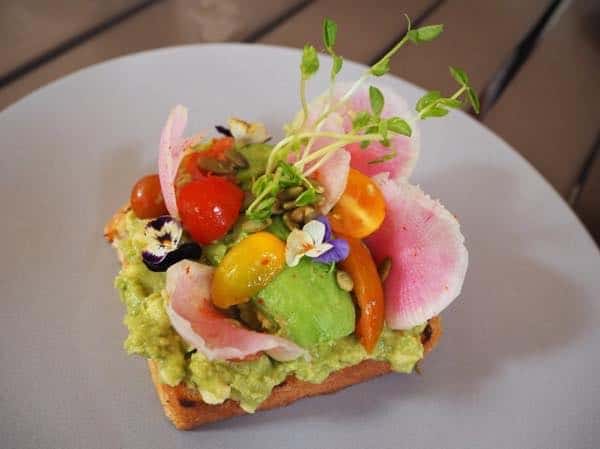 BASALT at Dukes Lane Market & Eatery
2255 Kuhio Ave, Honolulu HI
(808) 923-5689
7am – 9pm daily
3) Island Vintage Coffee
Tucked a floor above the bustling sidewalks of Waikiki is Island Vintage Coffee, located on the 2nd floor of Royal Hawaiian Center's B building.  Here, a few dishes are limited to the breakfast hours from 6:00 to 10:30 a.m., so you will have to actually wake up in the morning to enjoy them.  One of the most popular selections is their acai bowl loaded with bananas, blueberries, straweberries, and crunchy granola.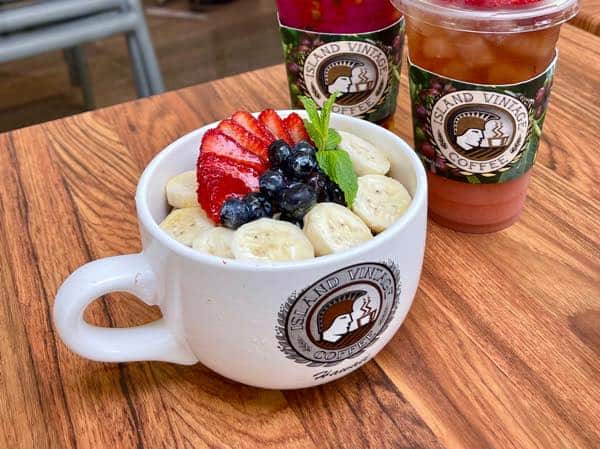 Another worthy item to try is the Strawberry Almond Butter Toast.  Sweet strawberries are slathered with homemade creamy almond butter, creating a lovely pairing of flavors.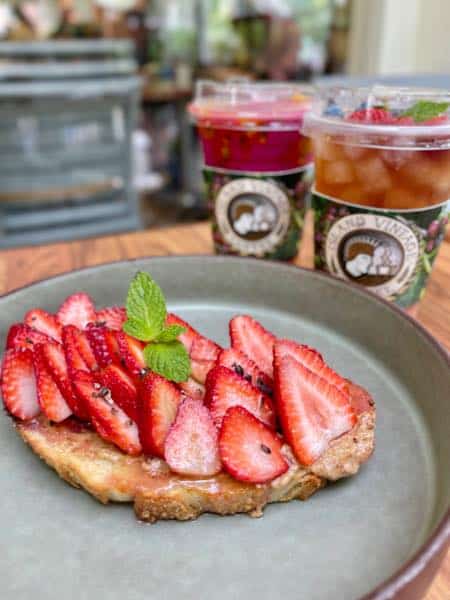 And with "coffee" in the name, you cannot go there without enjoy a cup of Hawaiian coffee from Kona or Kau on the Big Island.  After all, how will you stay awake to enjoy the meal?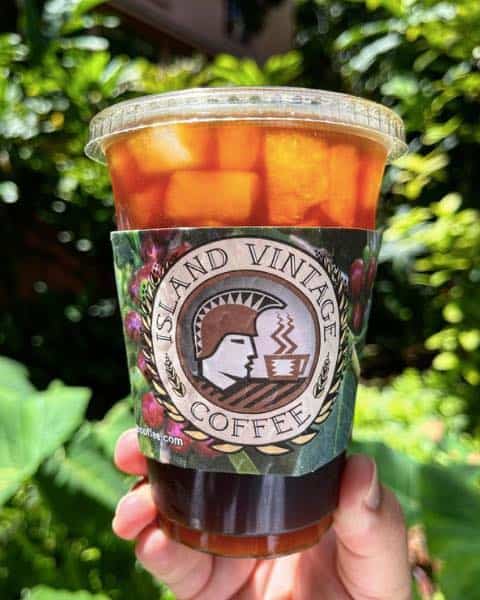 Island Vintage Coffee
2301 Kalakaua Ave. #C215, Honolulu, HI
Royal Hawaiian Center C, 2nd floor
(808) 926-5662
6:30 am – 9:15 pm
4) Il Lupino Trattoria & Wine Bar
Il Lupino Trattoria & Wine Bar is another eatery located at the Royal Hawaiian Center. This Italian restaurant also offers an considerable breakfast menu from 7:00 a.m. to 12:00 noon.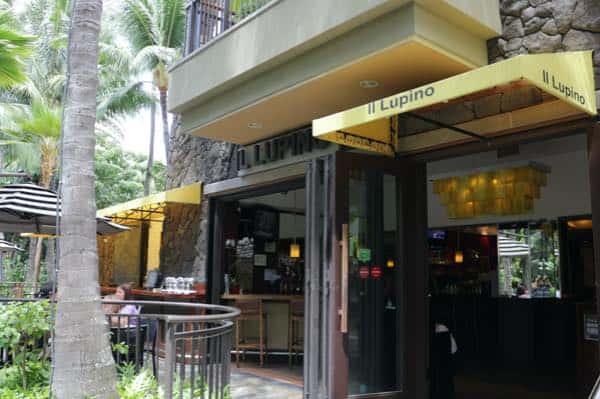 For those with a sweet tooth, the Belgian Waffle ($16.00) is perfect for you.  The crispy waffle is topped with fresh fruit and whipped cream that come alive with a drizzle of fragrant maple syrup.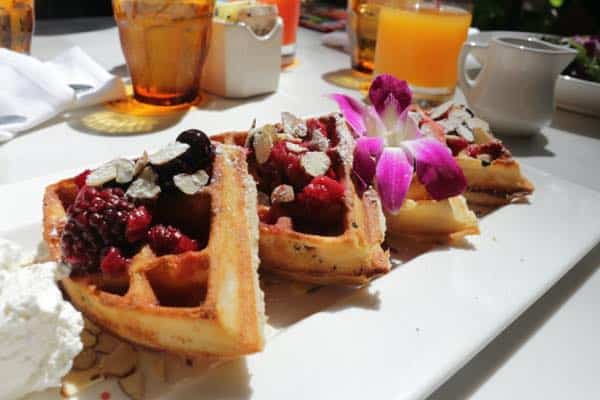 For something sweet and savory at once time, consider the Wolf Stack ($28.00), which are three buttermilk pancakes topped with a fried egg, fresh berries and fruits, and whipped cream.  Roasted potatoes are also included on the side to further temper the sweetness.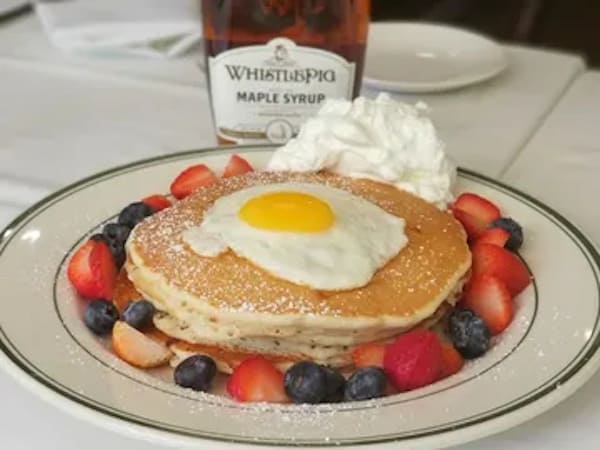 Il Lupino Trattoria & Wine Bar
2233 Kalakaua Ave., Honolulu, HI
Royal Hawaiian Center B 1st floor
(808) 922-3400
11am – 10pm daily
5) Wolfgang's Steakhouse
Wolfgang's Steakhouse recently inaugurated its breakfast menu, served daily from 7:00 to 11:00 a.m.
For some great flavors hailing from New York, you may want to try the Salmon Bagel ($16.95), a  toasted bagel topped with thinly sliced lox, cream cheese, and capers.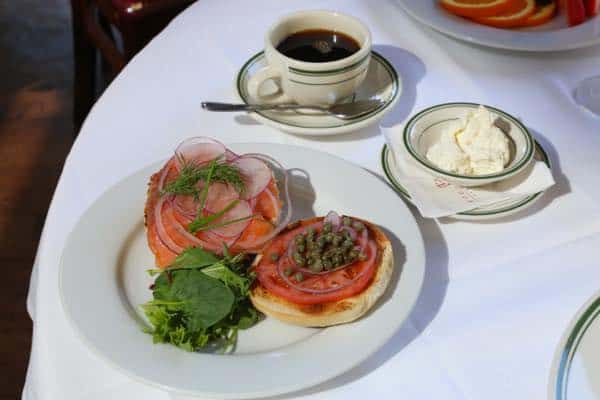 A more chaste-sounding Yogurt ($12.95) makes for a healthful meal.  The presentation is simply gorgeous with fresh fruit, chia seed, and house-made granola toppings, making for a luxurious yet nutritious way to start your day.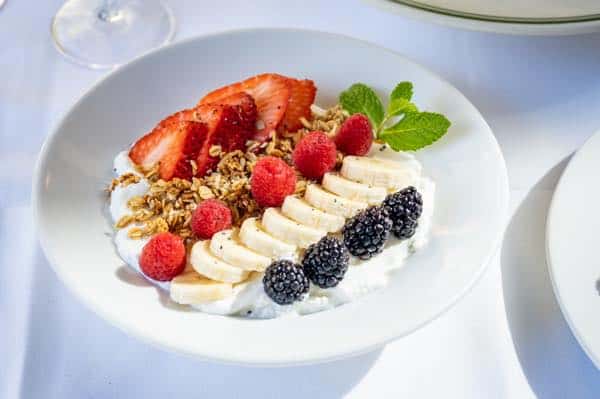 A popular lunchtime entrée, the Loco Moco ($19.95), is also available for breakfast. While we cannot promise that after eating this, you may slip into a coma, this hearty dish is addicting.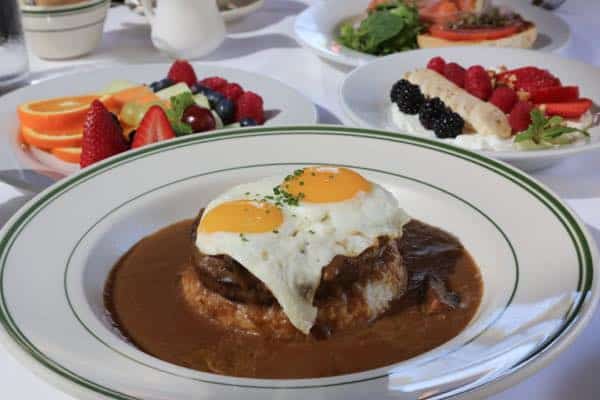 For other considerations, there are waffles with fried chicken, omelets, eggs Benedict, and of course, steak and eggs.
Wolfgang's Steakhouse
2301 Kalakaua Ave, Honolulu, HI 96815
Royal Hawaiian Center C, 3rd floor
(808) 922-3600
Breakfast 7:00-11:00 daily, Lunch & Dinner Sun-Thu 11:00-11:00, Fri-Sat 11:00-11:30
This list is enough to get you started, but stay tuned for the second half of our roundup on the best breakfasts.