The concept of having a separate stomach for dessert may be rooted in the chemicals that cause the human brain to produce feelings of pleasure when something is consumed.  So when a dessert is introduced after a series of savory bites, of which each consecutive bite generates diminishing returns in terms of pleasure, the mind may find the new flavor stimulus appealing, creating a mental impression that there is suddenly room for dessert.  Scientific or not, desserts generally bring most children some form of happiness, and that emotion continues to thrive as we age.  Here are a few stimulating desserts that will be sure to trick you brain into believing there's more stomach space:
1) Ice Monster Hawaii
Ice Monster, one of the leading shave ice establishments in Taiwan, opened its first location in Hawaii.  Designated by CNN to be among the "Best Desserts Around the World" in 2013, the dessert shop specializing in shave ice was given a rave review for its "Mango Avalanche," a frozen treat with fresh fruit, mango pudding, condensed milk, and mango sorbets piled on top.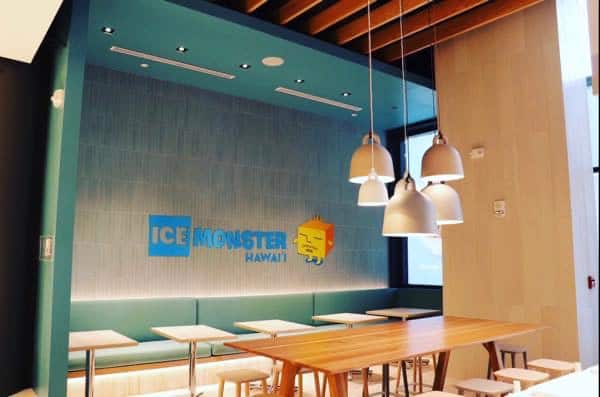 Although the "Mango Avalanche" may not be available at its Waikiki location, the Honolulu location's top seller is its close relative, the Mango Sensation, an ethereal mango shave ice dessert complemented by weightier accents of mango sorbet, panna cotta, fresh mango, and a special sauce made with even more mango.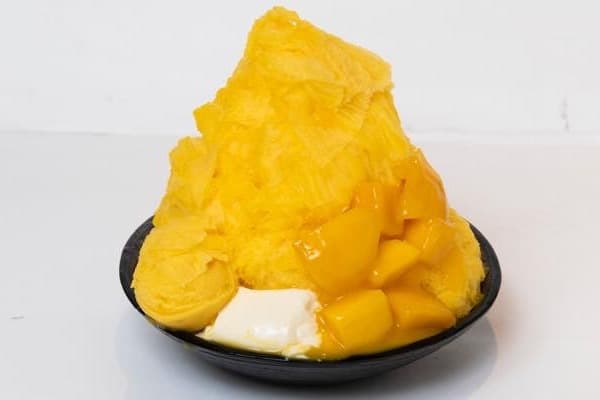 Ice Monster Hawaii >> Get a special offer!
2255 Kuhio Avenue, Honolulu, HI
(808) 762-3192
Sun-Sat, 11:00 a.m. – 10:00 p.m.
2) Tommy Bahama's Restaurant, Bar & Store
Tommy Bahama establishes the allure of the island lifestyle through its inspired artistry, exquisite craftsmanship, and hospitable service, making it easily an assimilated brand among Hawaii locals.  Located within its three story townhouse in the heart of Waikiki is its farm-to-table restaurant, along with a breezy rooftop bar and lounge where patrons may enjoy refreshing libations as they literally sink their toes into the sand.  
As if the fire pit, live music, and panoramic view of Waikiki are not enough of a draw, the cuisine is exceptional, and the desserts equally serenading.  Tommy Bahama's lives up to its reputation for indulgent desserts expressing a tropical vibrance with creations including its signature Piña Colada Cake–a four-tiered cake anointed with dark rum and layered with heavenly white chocolate mousse, crushed pineapple, and toasted coconut–and its Pineapple Crème Brulee, which loads a hollowed out pineapple with caramelized fruit and custard, all topped with a thin sugary veneer.  Here, life truly is a beach!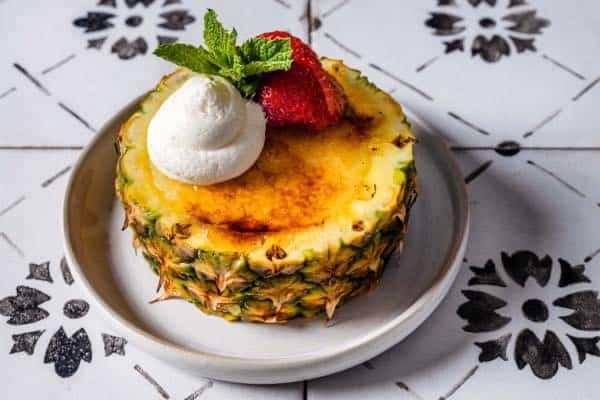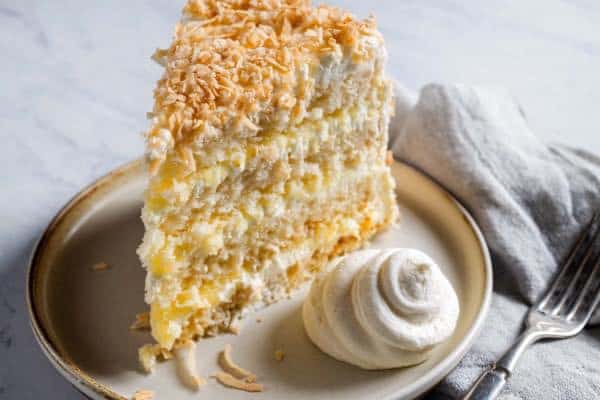 Tommy Bahama's Restaurant, Bar & Store
298 Beach Walk, Honolulu, HI
(808) 923-8785
Sun-Sat, 2:00 – 9:00 p.m.
3) Magnolia Ice Cream
Taking its inspiration from the Filipino dessert Halo Halo, which incorporates crushed ice with evaporated or coconut milk topped with tropical ingredients and a scoop of ice cream, Magnolia Ice Cream won the hearts of locals through its four locations on Oahu, while maintaining ties with those who moved to Nevada with another location in Las Vegas.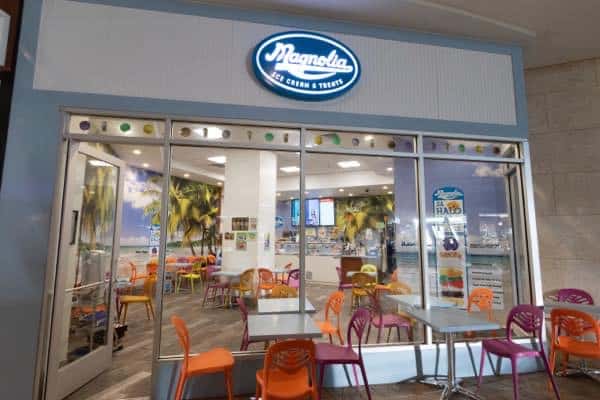 The Mahalo-Halo combines banana, coconut, sweet azuki beans, mongo beans, jackfruit, date palm jelly, and coconut gelatin with a crowning scoop of ube ice cream sprinkled with pinipig, which is crispy rice.  For those who are not familiar with the tropics and prefer more familiar fruits, consider the Strawberry Love, which places a scoop of strawberry ice cream with strawberry jelly and fruity crispy rice over banana mixed with a fruit cocktail, accented by streams of coconut meat called macapuno, coconut jelly also known as nata de coco, and pillowy mochi rice cakes.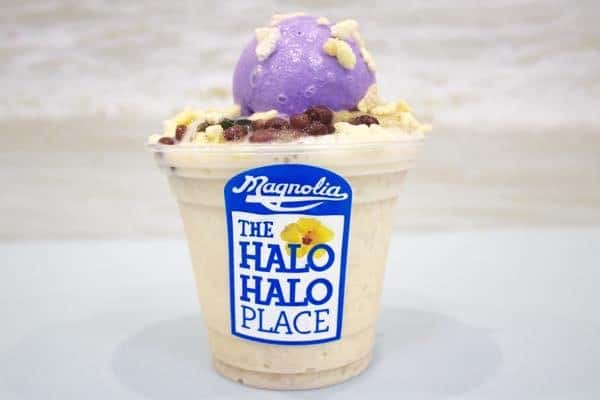 Give a tropical-inspired sundae at Magnolia Ice Cream a shot while in Hawaii.  It may make your stomach and brain want to take a farther trip to the Philippines for the real deal.
Magnolia Ice Cream >> Get a special offer!
International Market Place, 2330 Kalakaua Avenue, Honolulu, HI
(808) 489-9355
Sun-Sat, 10:00am – 10:00pm
4) Lawson Station at Moana Surfrider, A Westin Resort & Spa
Lawson Station is a convenience store franchise chain in Japan that actually originated in 1939 in Cuyahoga Falls, Ohio.  What started as a store located at founder James "J.J." Lawson's Broad Boulevard dairy plant expanded into a chain in Ohio that became known for selling grocery items such as milk, bread, eggs, orange juice, and deli products.  Eventually, Lawson's stores were sold to Consolidated Foods and then Dairy Mart, before exchanging hands again, ultimately being converted into Circle K stores.  The Lawson brand still exists in Japan as a result of a deal struck between Consolidated Foods and the Japanese retailer Daiei, which operated supermarkets in Japan.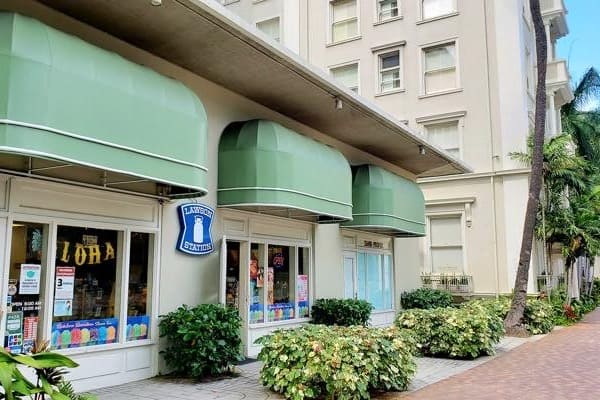 In any case, dairy seems to be an inseparable part of the soul of Lawson, so it is no surprise that the convenience store is known for its soft serve.  However, what is becoming an Instagram sensation is the double-sized Mega Soft Serve, exclusively available at Lawson Station's Moana Surfrider location.  Adding strawberry cubes and pineapple chunks over a generous swirl of Dole pineapple soft serve, the frozen treat will be able to create a brain freeze to help you sneak more dessert into your stomach.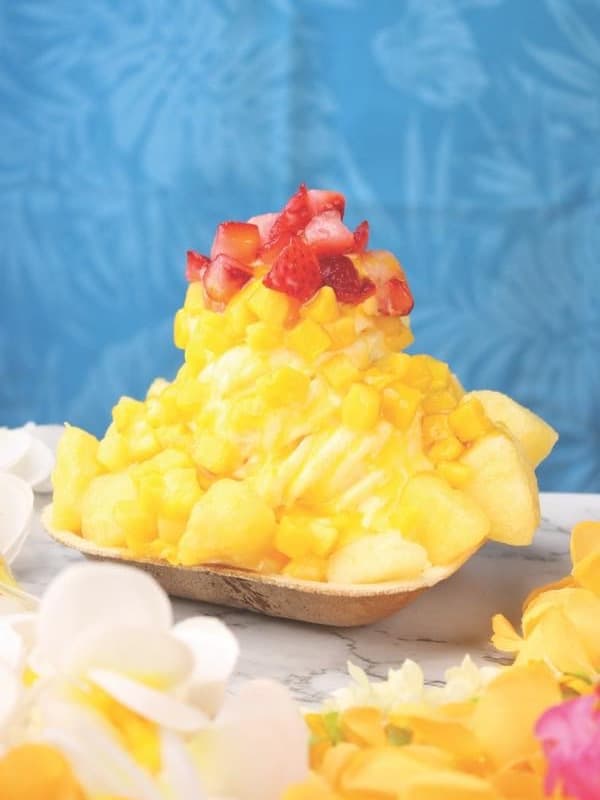 Lawson Station at Moana Surfrider, A Westin Resort & Spa >> Get a special offer!
2365 Kalakaua Avenue, Honolulu, HI
Phone:  (808) 926-1819
Sun-Sat, 9:00am – 11:00pm
5)  Haleiwa Fruit Shack Waikiki
The lush fresh fruit flavors from the popular Haleiwa Fruit Shack on the North Shore of Oahu are delivered to Honolulu at its Waikiki location.  Enjoy locally grown fruits, along with coconuts, lemonades, and smoothies at its outpost in Duke's Lane.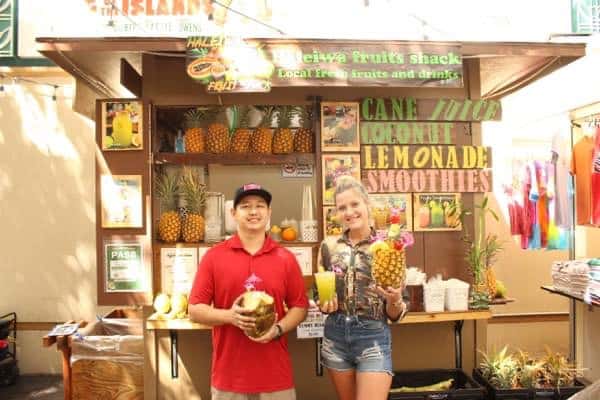 Imagine taking a sip of pineapple juice served in a hollowed out pineapple, or coconut juice right out of the shell.  Be adventurous and drink some cane juice, which is the liquid elixir extracted from pressed sugarcane.  It is a more nutritious way to enjoy sugar without the highly processed elements which enables higher retention of the nutrients found in sugarcane.  Besides, it will just fill in the cracks in your tummy.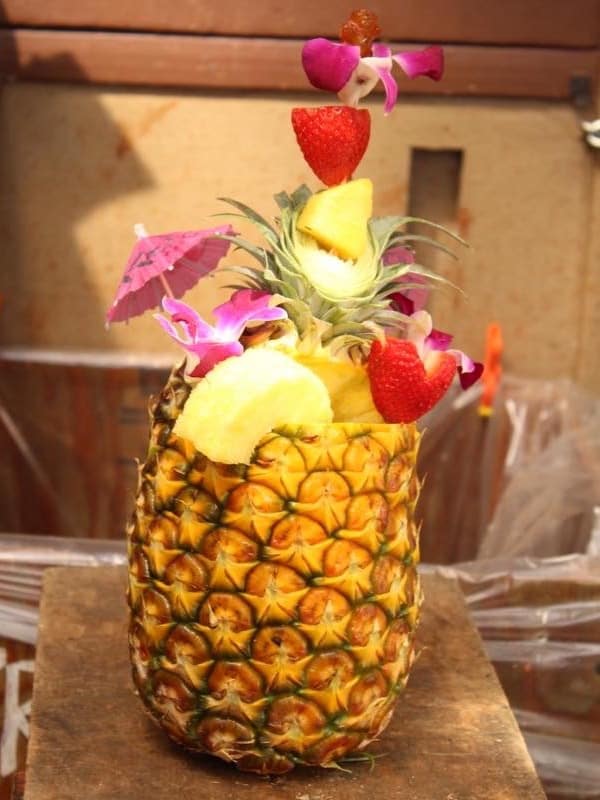 Haleiwa Fruit Shack >> Get a special offer!
Duke's Marketplace in Duke's Lane, 2290 Kalakaua Avenue, #37, Honolulu, HI
(808) 954-9774
Sun-Sat, 12:30 – 9:00 p.m.
6)  Waikiki Chocolates by Lutgarda
Perhaps chocolate is more your thing?  If so, Waikiki Chocolates by Lutgarda sells chocolate in just about every incarnation, including rocks, bars, coated macadamia nuts, and bonbons and truffles ranging the gamut of flavors such as more exotic ones as salted sakura, coconut pandan, calamansi confit/pistachio gianduja, Thai tea, and hojicha azuki bean, among others.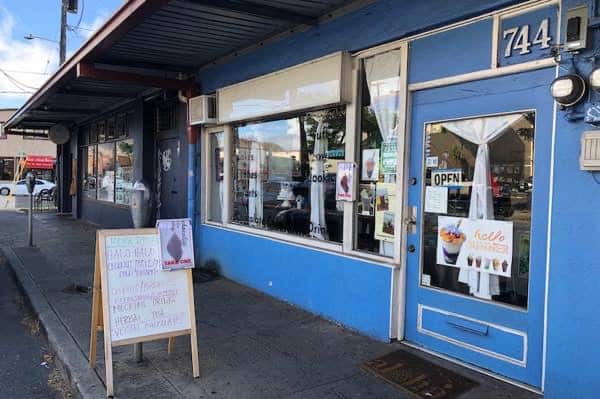 There are also a number of ooey gooey cookies available for pre-order spanning the conventional with dark chocolate chip cookies and oatmeal raisin cookies to the unorthodox with ube white chocolate cookies, miso white chocolate chip cookies, and Black Forest cookies.  But if your brain is obstinate in believing that you are truly full, maybe you can simply purchase the molded chocolates crafted and painted in the form of handbags, characters and other shapes that are just too adorable to eat.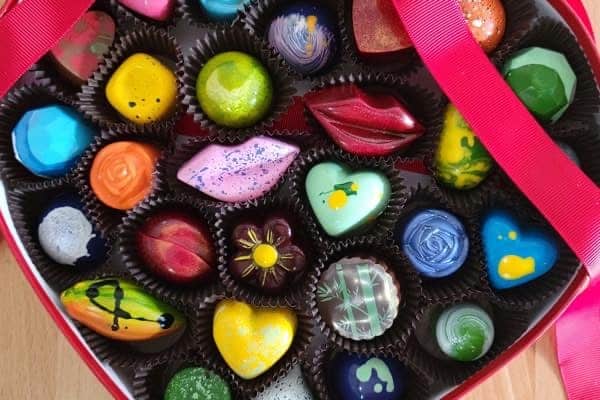 Waikiki Chocolates by Lutgarda >> Get a special offer!
744 Kapahulu Avenue
(808) 300-2472
Tue-Sat, 12:00 – 7:00 p.m.