Spring is here, and with the season associated with Christian traditional spring fertility rites comes Easter, a holiday signified by two symbols of fertility—rabbits and eggs.  However, since Hawaii foodies may be hard pressed to find rabbit dishes, we thought it would be best to spare the cute bunny and conduct our own Easter egg hunt for some of Honolulu's finest egg dishes.
Café Morey's
The casual, breezy restaurant and café at the Diamond Head end of Waikiki is popular for its breakfast plates.  The egg scrambles are simply scrumptious, with a variety of offerings.  There is a plain scramble, but other alluring options include the Italian scramble with onion, tomato, and basil slathered with a cheese sauce; a mushroom, onion, and spinach scramble; and a smoked salmon and spinach scramble.  The plates come with a salad and French fries, as well as a choice of white rice, brown rice, baguette, mini pancakes, or for an additional but nominal fee, a baguette French toast.  This is the perfect fuel food to prepare you for a hike up Diamond Head Crater.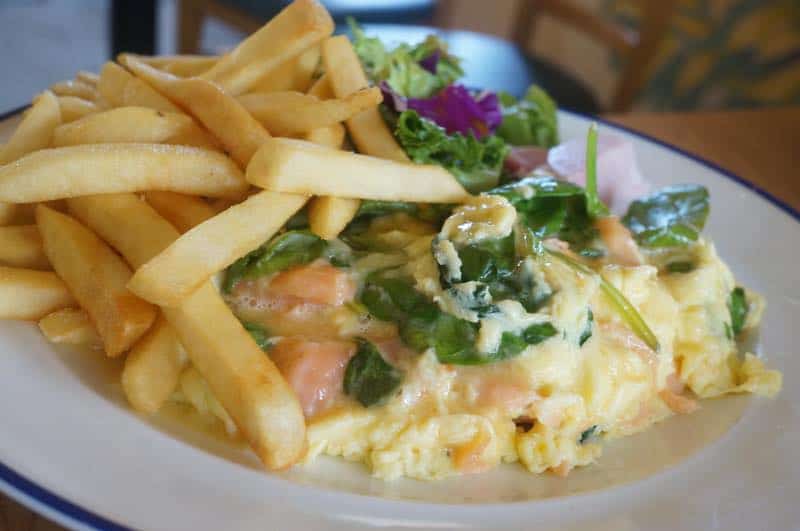 Café Morey's >> Get a coupon!
https://cafe-moreys.com/
3106 Monsarrat Avenue, Honolulu, HI
Sun-Sat, 8am – 2pm
(808)200-1995
Fresh Bites
New to the brunch scene is Fresh Bites, a small neighborhood café nestled in the heart of Moilili.  Featuring an assortment of morning plates, the café also prides itself on poke bowls, acai bowls, donburi, salads, desserts, and lattes.  There is also a wide variety of specialty mochi waffles for the gluten-intolerant, and these same chewy delights replace out the English muffins as unorthodox bases for the eatery's large selection of Eggs Benedicts.  There are more traditional flavors such as the Benedict with Canadian bacon or with smoked salmon, both of which add spinach to the poached egg and Hollandaise topping.  However, there are also less commonly found renditions such as a Kalua pork, an avocado, and a veggie Benedict, but two of the more unusual ones to consider trying are the Mochi Waffle Beef Sukiyaki Benedict and the Mochi Waffle Portuguese Sausage Benedict.  A personal favorite is the hidden menu item, a Pastrami Benedict which showcases cured pastrami over tomato and fresh spinach.  Simply ask for it and they will make it any day of the week!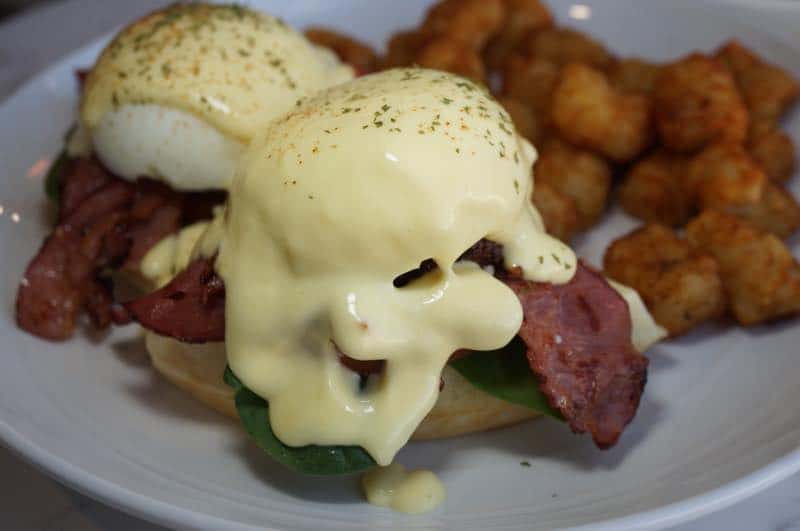 Fresh Bites >> Get a coupon!
https://www.freshbitescafehawaii.com/
2334 South King Street, Honolulu, HI
Mon-Thu, 9am – 3pm; Fri-Sun, 9am – 7pm
(808)425-4574
Scratch Kitchen & Meatery
Patrons seeking upscale Southern and Latin-inspired comfort food gravitate towards Scratch Kitchen & Meatery.  The restaurant seems to always have a crowd of people vying for a table, be it for brunch or dinner.  Those who are able to successfully land a morning reservation are often pleased with their thoughtfully crafted selections incorporating eggs.  Locals may praise the Braised Pork Belly Benny with two poached eggs, tomato, avocado spread, cabbage, cilantro, and Hollandaise over an English muffin and the Loco Moco with a choice of pork adobo or house-made chili with garlic rice (or an upgrade to Gandule rice), and two sunny side eggs, but you may want to also consider the Calentado with barbacoa, two sunny side eggs, garlic rice, and chimichurri.  Then again, there are also two personal favorites:  the Marsala Roasted Shrooms Grits with wild mushrooms, two poached eggs, arugula, parmesan, and grits, or the Creole Shrimp N' Sausage Grits featuring sauteed garlic shrimp, andouille, white hominy, onions, red eye gravy, two sunny side eggs, and grits.  The only drawback about indulging in their amazing comfort food is that your pants size may subsequently disagree.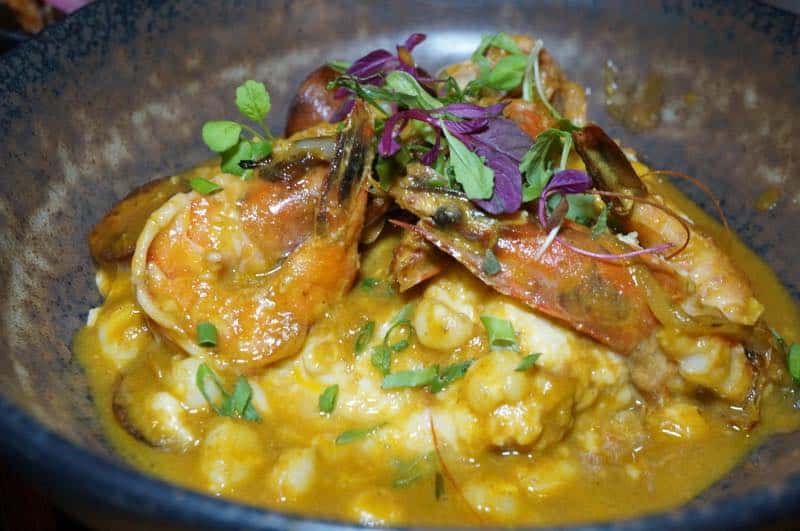 Scratch Kitchen & Meatery >> Get a coupon!
http://www.scratch-hawaii.com/
1170 Auahi Street, Honolulu, HI
Mon-Fri, 9am – 9pm; Sat & Sun, 8am – 9pm
(808)589-1669
Shingen Soba Izakaya
When thinking of egg dishes, few may consider Japanese presentations.  However, at Shingen Soba Izakaya, which moved from its Waikiki location to its new home in Moilili, there are a few soba noodle dishes topped with a soft-boiled egg revealing a custard-like yolk embedded in silken egg whites.  The Natto Bukkake comes with natto (fermented soy beans), mountain yam, shiso, chopped green onion, chiffonade of nori (laver), bonito flakes, and diced cucumbers over buckwheat noodles, while the Mixed Soba includes green onion, cucumber, nori, bonito flakes, ginger, and ground pork, both topped with the luscious egg.  The Egg Toji soba features a firmly scrambled egg veneering the soba in a flavorful broth.  While these may not be traditional brunch type dishes, the eggs certainly add a significant beautiful texture and flavor to these Japanese noodles.
Soba Shingen >> Get a coupon!
https://www.shingenhawaii.com/
2334 South King Street
Sun-Sat, 11:30am – 2pm, 5pm – 8:30pm
(808)926-0255
TsuruTonTan Udon Noodle Brasserie
The thicker handmade udon noodles at TsuruTonTan (Tsuru denoting the sound of slurping noodles, Ton referring to the sound of kneading and shaping the udon noodles, and Tan designating the sound of udon noodles being cut) do feature eggs, but they are not those of chickens.  Actually, the brasserie serves luxuriously decadent uni (sea urchin roe) and mentaiko (seasoned pollock roe) in their Uni Cream Udon, Cold Uni Udon, Mentaiko Ankake Udon, and Cream Mentaiko Udon.  The sweet yet delicately flavored uni complements the cream sauce, while the mentaiko version adds a piquant note to the tender noodles.  These eggs—not the type that you would be able to paint and hide in the bushes—certainly make for beautiful accents to Japanese udon noodles, an alternative consideration for an Easter meal.
TsuruTonTan Udon Noodle Brasserie >> Get a coupon!
https://www.tsurutontan.com/hawaii
Royal Hawaiian Center, 2233 Kalakaua Avenue B310
Sun-Sat, 11am – 2pm, 4:30pm – 9pm
(808)888-8559
With these fun lunch and brunch spots to consider for egg dishes, you can easily turn any daytime meal into your very own Easter feast.  The only thing you may end up hiding after dining at these establishments is the giant egg shaped belly.