With so many artisanal pizze now available in the islands, the variety of American pizza choices has expanded significantly beyond chains as Domino's, Papa John's, and Pizza Hut to encompass New York (including Brooklyn), New Haven, and Detroit styles.  While someone has yet to create a Chicago deep dish here in the islands, here are a few American pizze to consider trying that are not from a delivery-style business model.  Oh, and we threw in one authentic Italian spot for good measure.
1) Giovanni Pastrami
Starting with one of the chains that are not as well represented in Hawaii, specialty pizzas from Round Table Pizza are found at Giovanni Pastrami in Waikiki.  The dough is rolled fresh daily in-house, resulting in a thin crust to be topped with a three cheese blend comprised of mozzarella, cheddar, and smoked provolone.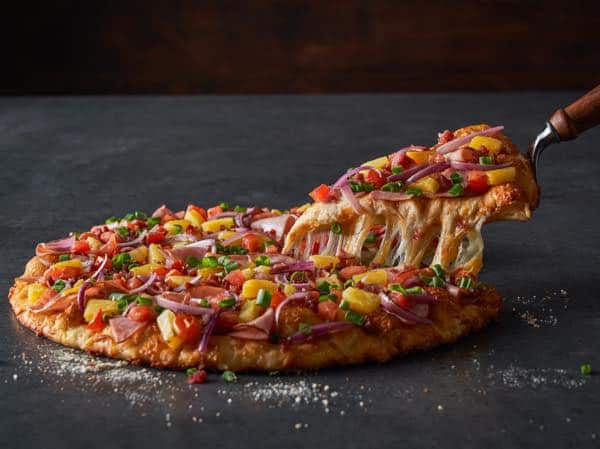 Quintessentially American in its style, Round Table combinations occasionally are named consistent with its theme, with pies such as the King Arthur Supreme (pepperoni, salami, Italian sausage, Portuguese sausage, mushrooms, green peppers, white onions, and black olives over a red tomato-based sauce), and the Guinevere's Garden (mushrooms, tomatoes, green peppers, white onions, and black olives over the classic red sauce).  
However, some of the alluring discoveries are the Italian Garlic Supreme (pepperoni, Italian sausage, mushrooms, tomatoes, green onions, and aromatic chopped garlic over a creamy garlic sauce) and Gourmet Veggie (artichoke hearts, zucchini, spinach, mushrooms, tomatoes, green and red onions, and chopped garlic over the creamy garlic sauce).  Some uniquely Hawaii-inspired renditions include the Kalua Pig Supreme (smoked kalua pork, pepperoni, Italian sausage, Portuguese sausage, tomatoes, white and green onions, chopped garlic, and the classic red sauce) and the Maui Zaui (ham, bacon, pineapple, tomatoes, red and green onions over a sweet 'n spicy Polynesian sauce).
Set in the dynamic of a bar fashioning large screen televisions broadcasting various sports games, there is never a shortage of good pizzas, fun times, and beer.
Giovanni Pastrami >> Get a coupon!
https://www.giovannipastrami.com/
227 Lewers Street, Honolulu, HI
Phone:  (808) 923-2100
Sun-Sat, 8am – 10pm
2) MOKU Kitchen
MOKU Kitchen by Peter Merriman is known to offer casual American fare that go perfectly with cocktails and beer.  Among their varied menu items are a few hand-tossed pizze selections created with a three-day aged crust baked at 700 degrees.
Fresh flavors with a focus on local ingredients are incorporated into finely crafted pizzas such as the Margherita featuring Hau'ula Farm tomatoes with fresh mozzarella, and organic local basil.  The Hamakua Wild Mushroom showcases funghi from Small Kine Farms nestled in a creamy white sauce drizzled with truffle oil, and topped with mozzarella, provolone, garlic, and fresh thyme.  The Roasted Veggie spotlights rotisserie-roasted produce scented with Big Island chèvre, basil, and a macadamia nut pesto.  The Watermelon bursts with freshness dressing slices of watermelon over white sauce with feta, mozzarella, provolone, Ma'o Farms arugula, and a splash of balsamic.  And for something heartier, the Kalua Pork & Pineapple flavors the smoked pig with a macadamia nut pesto, some roasted pineapple, and punches of jalapeño and green onions.
MOKU Kitchen >> Get a coupon!
https://www.mokukitchen.com/
660 Ala Moana Blvd., No. 145, Honolulu, HI 
Phone:  (808) 591-6658
Sun-Sat, 11am – 9pm
3) Little G Cafe by Garibaldi's
Little G Cafe by Garibaldi's pays tribute to owner Jared Brown's aunt and uncle, Frances and Carmine Garibaldi.  Brown seeks to re-create pizza experiences from his youth growing up in New York.  "In Hawaii, there's no pressure to do standard fare.  It's okay to try something new too."  Absent are the pressures of a fastidious Michelin rating system and cavillous national food critics, enabling Brown carte blanche in crafting New York-inspired round flats of his own design.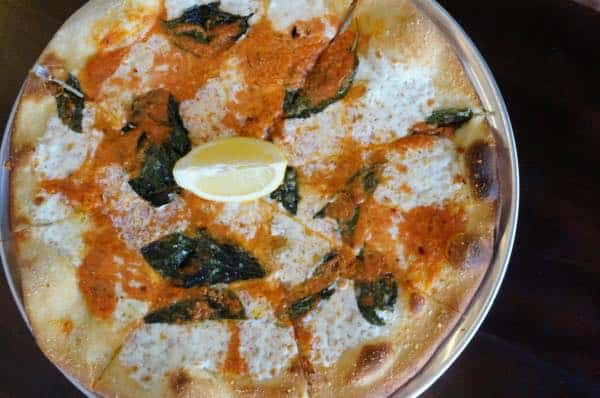 Three types of flour define his crust—whole wheat, white wheat, and some toasted flour to impart a subtle nuttiness.  Brown seeks to establish a "no flop" crust that fractures beautifully down the middle of the cornicione when a slice is folded lengthwise—a coveted achievement also characterized by a slight underlying crackle that transitions to a softer chew towards the upper dermis, firm enough to sustain the burden of toppings without buckling.
Brown uses a few different sauces—one constructed with San Marzano plum tomatoes and salt designed for simple pizze as the Margherita, another prepared by adding crushed tomatoes and garlic to a pot of reduced beef bones and onions deglazed with red wine, which would complement sausage or salumi with strokes of umami, and even a lavish white cream sauce that serves as the substratum for his aromatic clam and garlic pizza.  Ever-changing pizza combinations range from the humble cacio e pepe to the more elaborate capocollo with peperoncini, basil, and red onion.  A seductive option is the white truffle, featuring a luscious truffled cream blanketed with cheeses, earthy mushrooms, and a hint of citric acidity.  Check out the current seasonal menu on the Instagram account, @littlegcafe.
Little G Cafe by Garibaldi
808 Center, 808 Sheridan Street, 2F, Honolulu, HI
Phone:  (808) 699-9116
Wed-Sat, 3:30 – 7:30pm (hours change regularly, so best to inquire)
4) 'ili 'ili Cash & Carry 
Those who reminisce when some of Hawaii's finest wood-fired Neapolitan pizze were dispensed from a window on the side of V Lounge nightclub may be thrilled by Alejandro "Aker" Briceno's return at 'ili 'ili Cash & Carry.  The accomplished pastry chef opted to embark on his own journey, opening a take-away pizza shop utilizing the existing baking equipment from the space's previous tenant, Watanabe Bakery.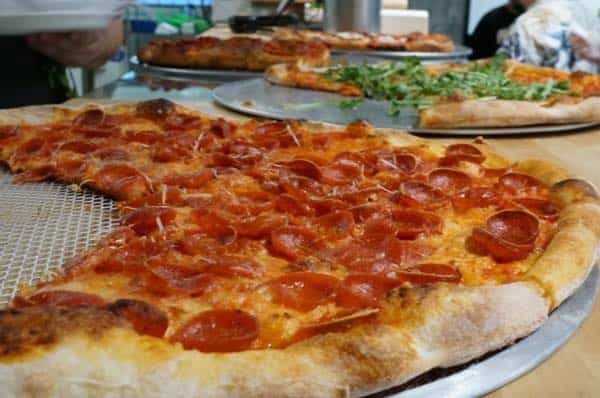 Hacking an electric oven to attain a higher temperature ceiling, he takes his inspirations from apizza, the thin-crusted New Haven approach to Neapolitan pizza, and constructs a slightly dark crust possessing a crunchy caramelized bottom and ethereal top.  To help sustain his pizza for a 30-minute transport, Aker distributes the cheese under a sauce stewed with organic Californian tomatoes, salt, and olive oil to help maintain a crunchy texture.  He also moderates the amount of sauce based on the outdoor temperature and Hawaii's volatile humidity.
While most toppings are conventional, many combinations are aroused by Aker's personal interests.  The Nduja is one of chef's favorites, with nduja in orba (handcrafted spicy salami), mozzarella, parmesan and tomato sauce.  Then there is the Off-White, a play on sneaker culture that features mozzarella and ricotta with kicks of roasted garlic and caramelized onions.  Finally, cinematic fans of the Patrick Dempsey film "Loverboy" will appreciate the tongue-in-cheek nature of this eponymous pizza delivering extra white anchovies with cherry tomatoes, red onions, oregano, thyme, and chili pepper water, ironically available only for pick-up.
'ili 'ili Cash & Carry
2065 South Beretania Street, Honolulu, HI
Phone:  (808) 367-0606
Wed-Sun, 11am – 7pm
5) Pizza Mamo (Detroit and Brooklyn-styles)
Pizza Mamo introduces two styles of pizza that may be obscure to many Hawaii locals—Detroit and Brooklyn.  The Detroit variant is a double risen pizza baked in rectangular 9" x 7" blue steel trays resembling those in automobile factories.  The duvet-like focaccia crust is punctuated by a crisply charred melted Wisconsin brick cheddar perimeter, adding resounding crunches to the contrasting pillowy flatbread.  Tomato and local herb pesto sauces are drizzled over the canopy of supple cheese so as to mitigate saturating the base with excess moisture.  There are three distinct options for the Detroit—cheese, pepperoni, or pesto and sausage to which add-ons may not be permitted, depending on whether they detrimentally impact the proper pre-tested cooking of the crust or toppings.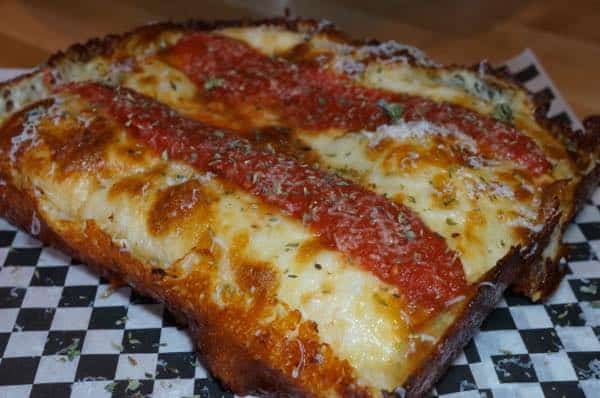 The Brooklyn is a 16-inch amalgam of New York and Napolitano styles boasting a thin, airy bottom that compels diners to corrugate each slice weeping with freshly pulled Wisconsin mozzarella, and a sauce of Napa Valley tomatoes and olive oil seasoned with salt.  Brooklyn comes with eight options—triple cheese, pepperoni, potato, mushroom, supreme, sausage and peppers (Pecorino Romano, banana peppers and fire-roasted bell peppers), and garlic bomb (garlic crema with garlic in various ways), and a farm fresh with different vegetables.  
Resich emphasizes, "Everything at Pizza Mamo is premium.  That's where the mamo bird comes in.  The mamo's yellow feathers were carefully plucked and used to create capes and hats for Hawaiian royalty, so Pizza Mamo pays homage to the islands by serving only the best ingredients sourced both locally and abroad – a pizza fit for a king, and for a community to be proud of."
Pizza Mamo
https://www.eatpizzamamo.com/
16 North Hotel Street, Honolulu, HI
Phone:  (808) 369-2445
Wed, Thu, Sun & Mon, 11am – 8pm; Fri & Sat, 11am – 10pm
6) Arancino di Mare
A popular Italian eatery in Waikiki that offers al fresco dining is Arancino di Mare.  Here, the recipes reflect Neapolitan flavors crafted from ingredients imported from Italy carefully integrated with fresh seafood and produce sourced in Hawaii.  Pizzaiolo Antonino Fotia from Italy works with his team to craft some of the finest pizza over irresistibly thin, chewy crusts exhibiting a beautiful leopard spotted cornicione.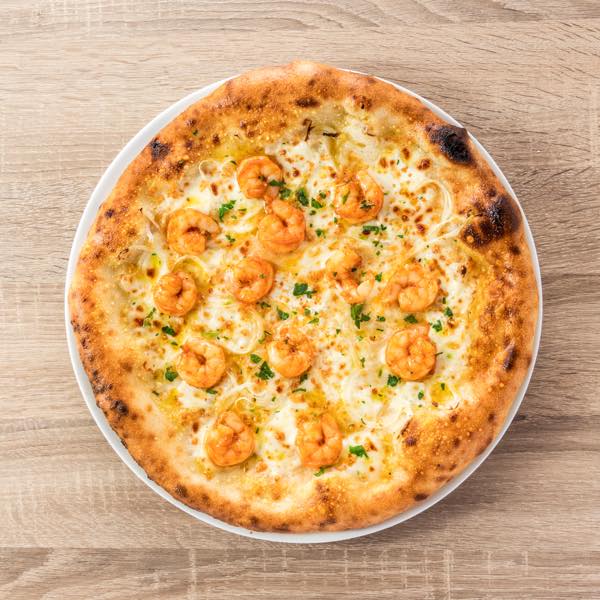 One of the restaurant's top recommendations is the Pizza Tirolese of cured and smoked Italian ham, mozzarella, gorgonzola, parmesan, and house-made tomato sauce, a personal favorite of Fotia.  The other, the Owner's Favorite Pizza is exactly what it says, with the restaurant founder Ichiro Inamura requesting this pizza being made to his specification when he first opened the original Arancino restaurant on Beachwalk.  The shrimp blends splendidly with the sweet onions, fresh mozzarella,  parmesan, and added texture of garlic chips.  

There is a topping for all pizza lovers, be it the Tre Porcellini for carnivores, the Prosciutto e Burrata for those who appreciate the cured ham with creamy cheese, Margherita for purists, and Quattro Formaggi kissed by a touch of honey for cheese lovers.  Whether patrons dine-in or take away their pizze, the authenticity of the cuisine makes Arancino a Waikiki mainstay.
Arancino di Mare
https://www.arancino.com/arancino-di-mare
Waikiki Beach Marriott, 2552 Kalakaua Avenue, Honolulu, HI
Phone:  (808) 931-6273
Sun-Sat, 5pm – 9pm
While there may be disparate directions on how the Italian invention is heading in Hawaii, each restaurant kneads in elements of authenticity, dusting it with granules of unique creativity.  The enhancements to Hawaii's pizza landscape will continue to keep us pie-eyed as we sit awaiting the next flatbread concoction.