Flapjacks.  Griddle cakes.  Hotcakes.  There are a number of words that refer to the popular breakfast confection. And while there may be discerning nuances, in Hawaii, you will pretty much find pancakes and hotcakes.  While the term is loosely interchangeable in the islands, people's preferences are not.  Some swear by their favorites, so here is our list to see where you stand.
Eggs 'n Things' Fresh Fruit Rainbow Pancakes
The iconic breakfast spot, now with locations in Waikiki and near Ala Moana Center, serves a Fresh Fruit Rainbow Pancakes that are as beautiful as they are delicious.
A multi-colored spectrum of flavors featuring chunks of strawberries, oranges, papayas, bananas, kiwis, and blueberries are loaded up on the restaurant's signature pancakes, creating a feast for the eyes and taste buds.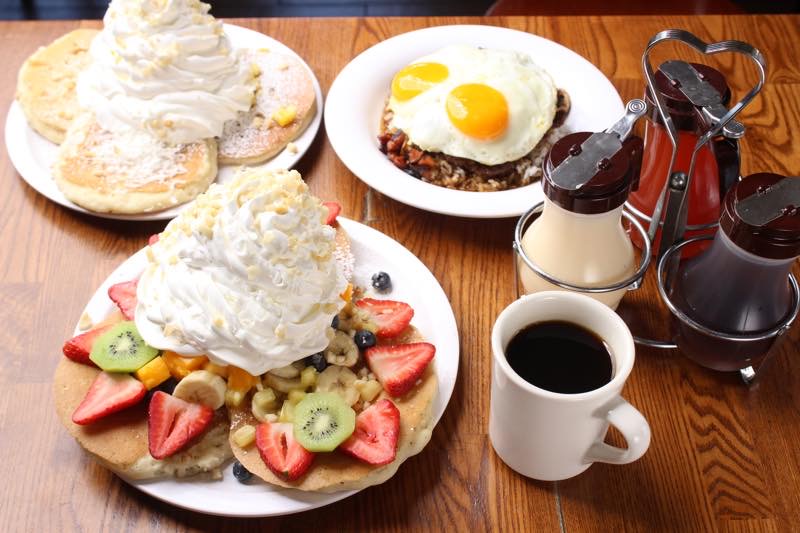 Eggs 'n Things >> Get a special offer!
Waikiki (Saratoga) Location: 339 Saratoga Rd
Hours: 7am – 2pm daily
Phone (Saratoga): (808) 923 – 3447
Waikiki (Kalakaua) Location: 2464 Kalakaua Ave.
Hours: 6am – 1pm daily
Phone (Kalakaua): (808) 926 – 3447
Ala Moana Location: 451 Pi'ikoi St. *Next to the former Nijiya Ala Moana
Hours: 7am – 2pm daily


Free parking available!
Phone (Ala Moana): (808) 538-3447
Ko'olina Location:  92-1047 Olani St.
Hours: 7am – 2pm daily
Phone (Ko'olina): (808) 312 – 3447
Westman Cafe + Lounge's Big Island Honey Souffle Pancake
One of the newer additions to Waikiki is Westman Cafe + Lounge, which serves breakfast, lunch, and dinner.
Those who rise early will want to get there for an order of the Big Island honey souffle pancakes.  Three fluffy medallions are served with some fruits, cream cheese, and maple syrup.  What takes the souffles to another level is the sauce, and two options are offered:  a pineapple mango sauce or a berry sauce.  Needless to say, both are worth considering but eating the pancakes with good old fashioned maple syrup works beautifully as well.
Westman Cafe + Lounge >> Get a special offer!
Location: 280 Beach Walk.
Hours: 7am – 2pm (Brunch), 5pm – 10pm (Dinner) daily
*Live Music: Every Sat & Sun (Check their Instagram for updates!)
Reservations:(808) 922-1500


 Available in the Bank of Hawaii building on the Beachwalk (Validation: $5 for the first 2 hours, $7 for the first 4 hours)
Podmore's Smoked Souffle Pancake
The brunch by day, cocktails by night outfit by celebrated chef Anthony Rush features a Smoked Souffle Pancake that beautifully complements its roster of egg-centric savory breakfast dishes.  Wisps of smoke dissipate to reveal a fluffy pancake encircled by fresh berries, and topped with a melted pad of salted butter.  Drizzle some hot smoked maple syrup, and feel like you are eating Cloud Nine.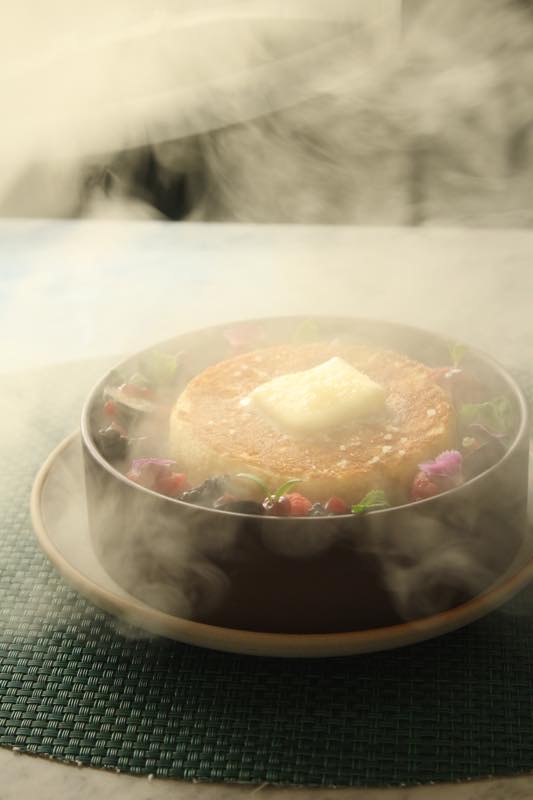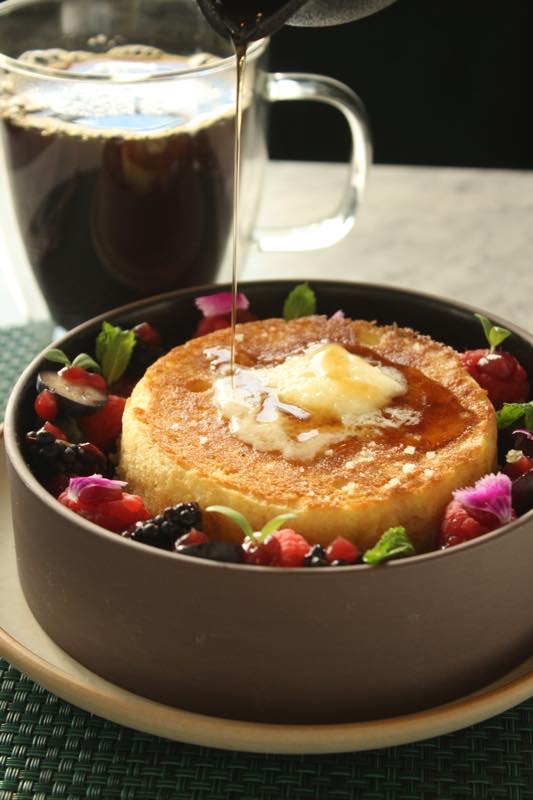 Podmore
202 Merchant Street, Honolulu, HI
Phone:  (808) 521-7367
Business hours:  Wed-Fri, 9:00am – 1:00pm, 4:30 – 11:00pm; Sat, 9:00am – 1:30pm, 5:00 – 11:00pm; Sun, 9:00am – 1:30pm, 5:00 – 10:00pm
Moke's Bread & Breakfast's Liliko'i Pancakes 
People seeking a taste of Hawaii may be drawn to the liliko'i pancakes at Moke's Bread & Breakfast.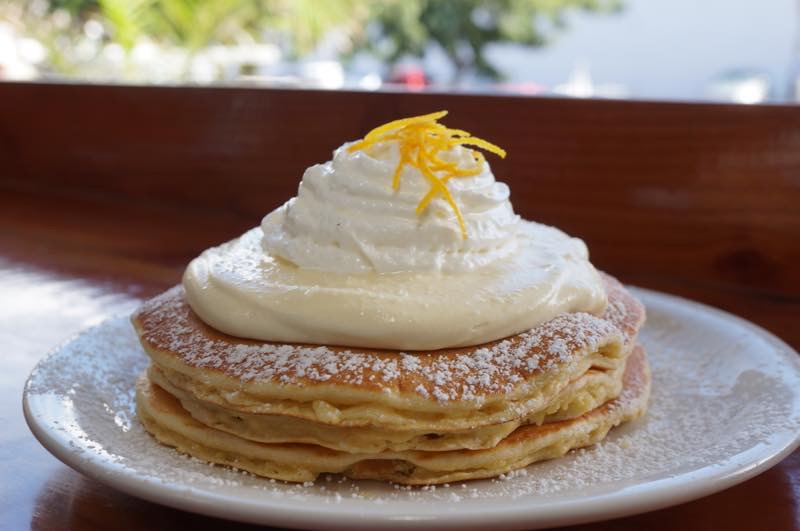 The Kailua breakfast hotspot with a convenient location in town cloaks light and fluffy pancakes with a delectable passion fruit sauce that adds bright acidity with tempered sweetness.  If you are around during mango season in the summer, you may be able to try the li hing mango pancakes which incorporates a creamy mango-scented sauce dusted with li hing powder, made from the sweet, salted, and tart preserved plums that adds an alluringly savory quality.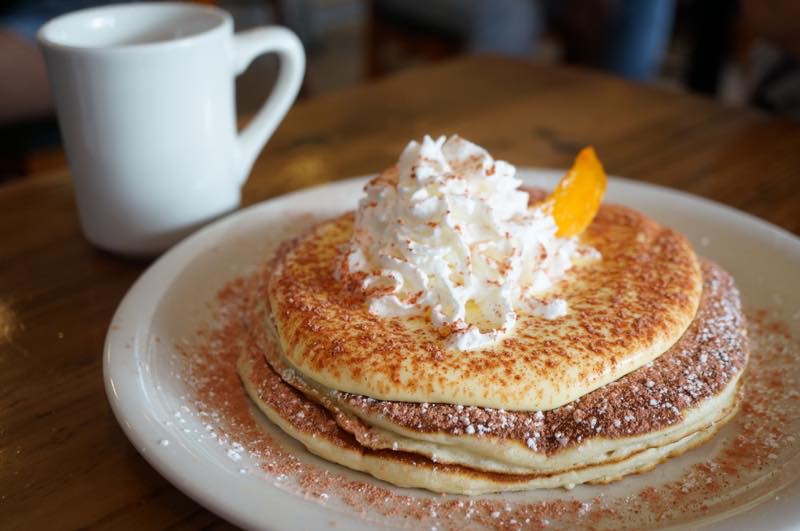 Moke's Bread & Breakfast Kaimuki
1127 11th Avenue, Honolulu, HI
Phone:  (808) 367-0571
Business hours:  Tue-Fri, 7:30am – 2:00pm; Sat & Sun, 7:00am – 2:00pm
Boots & Kimo's Homestyle Kitchen's Macadamia Nut Pancakes
Locals would line up at Boots & Kimo's Homestyle Kitchen in Kailua for a taste of the original pancakes with Kimo's macadamia nut sauce.  A creamy veneer of vanilla and macadamia flavors made this a destination for townies making their way to the eatery on the Windward side.  Now, visitors seek out this popular gem, exploring the menu of omelettes and other sweeter breakfast flavors, including the Mrs. T's French toast, banana pancakes, and blueberry pancakes, all served with Kimo's macadamia nut sauce.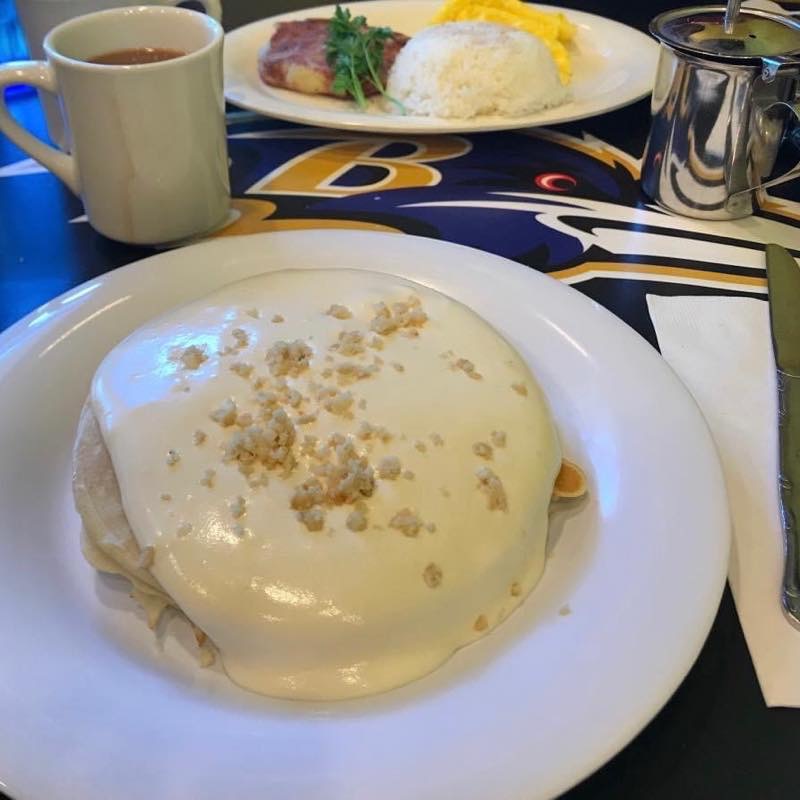 Boots & Kimo's Homestyle Kitchen
1020 Keolu Drive #D1, Kailua, HI
Phone:  (808) 263-7929
Business hours:  Mon, Wed-Fri, 8:00am – 1:00pm; Sat & Sun, 8:00am – 2:00pm
Cafe Kaila's Buttermilk Pancakes with Fruits
The charming breakfast and lunch spot in Market City Shopping Center made a name for itself with its airy buttermilk pancakes topped with a plethora of fruits, such as blueberries, strawberries, bananas, and caramelized apples, dusted with powdered sugar.  The photogenic dish with four supplemental add-ons became iconic, so much that it lured in visitors from all over the world.  While many of the other savory presentations are fresh and satisfying, the meal does not seem complete without an order of the pancakes.  At the very least, order at least one of the fruit toppings, such as the caramelized apples.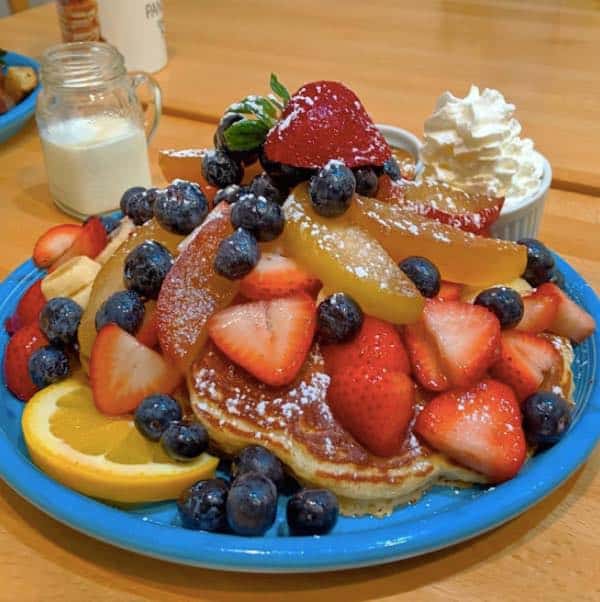 Cafe Kaila
2919 Kapiolani Blvd. #2, Honolulu, HI
Phone:  (808) 732-3330
Business hours:  Mon-Fri, 7:00am – 6:00pm; Sat & Sun, 7:00am – 3:00pm
Cinnamon's Guava Chiffon Pancakes
Another Kailua hotspot that opened a location in Honolulu is Cinnamon's Restaurant.  The restaurant known for its fresh, natural foods free of chemicals, preservatives, and additives lured in many locals for breakfast.  However, the common denominator often found at each table was the signature pancakes, particularly the guava chiffon with thick pink-hued syrup cascading down layers of griddle cakes.  The menu has since expanded and now encompasses a variety of alluring flavors, including red velvet, pistachio, cinnamon roll, cinnamon apple, and more.  With a second location on the first floor of the 'Ilikai Hotel & Luxury Suites, visitors are easily able to taste the delightful dish that made this another morning destination in Kailua.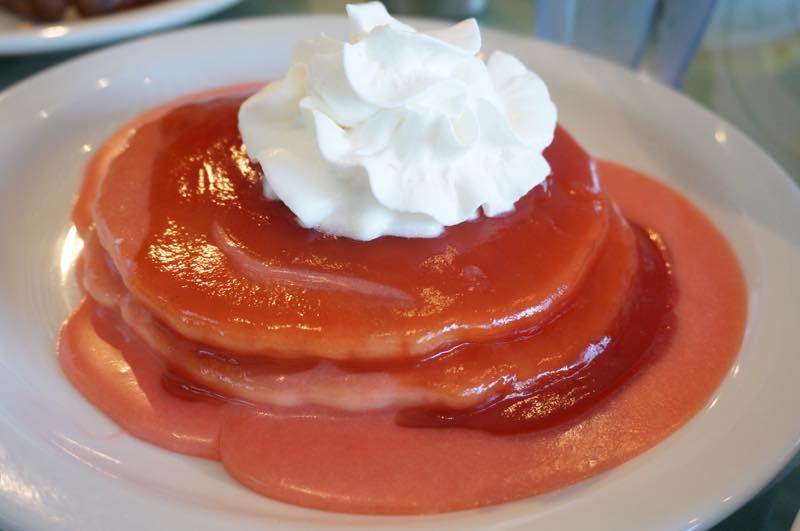 Cinnamon's at the 'Ilikai
1777 Ala Moana Blvd. #150, Honolulu, HI
Phone:  (808) 670-1915
Business hours:  Sun-Sat, 7:00am – 8:00pm
Cream Pot's Souffle Pancakes
One of the first souffle pancakes served in Honolulu was at this very spot.  Cream Pot, a charming country-style eatery tucked away in the corner of the Hawaiian Monarch Hotel, is no longer a secret hideaway for discerning breakfast goers.  With lines out the door, locals and visitors compete for a table here just to savor some of the signature souffle pancakes made with quality ingredients.  The ethereal mounds of batter with frothy egg whites is given a dollop of whipped cream and a foundation of sliced strawberries.  The ambiance certainly adds to the appeal, making this still one of Honolulu's hottest breakfast spots.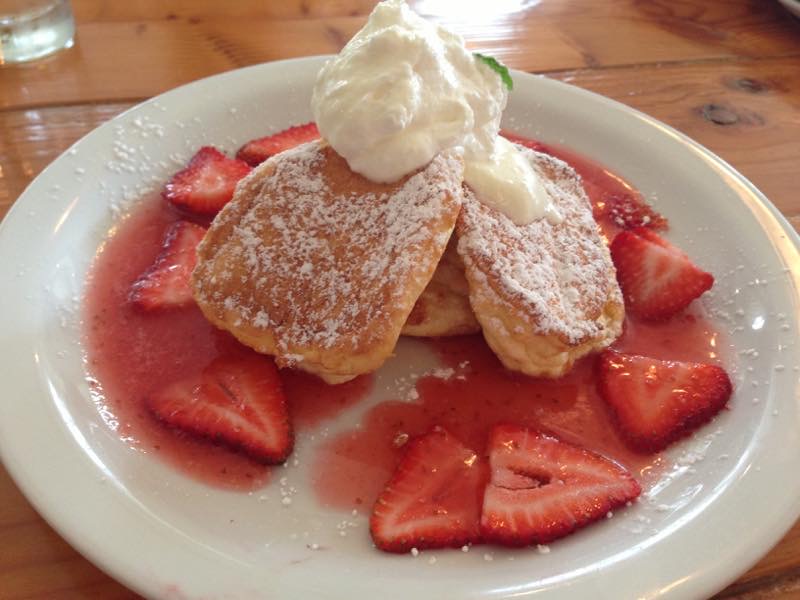 Cream Pot
444 Niu Street, Honolulu, HI
Phone:  (808) 429-0945
Business hours:  Thu-Mon, 8:00am – 2:00pm
Liliha Bakery's Hotcakes
If you prefer your flapjacks plain and simple, consider trying Liliha Bakery's hotcakes.  Although the restaurant chain has a Waikiki location, the original greasy spoon in Liliha maintains a nostalgic appeal with remnants of its 1950's ambiance.  Its fluffy pancakes are tempered in sweetness, with a lovely airy quality.  They are simply amazing with a schmear of butter and drizzle of maple syrup, but can be zhuzhed up with some bananas or blueberries cooked inside.  If you can't finish the three large discs, consider the short stack.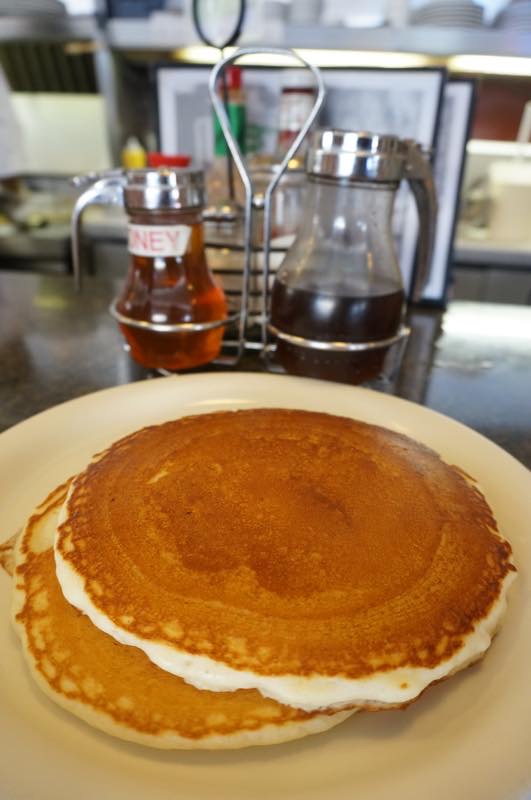 Liliha Bakery
515 North Kuakini Street, Honolulu, HI
Phone:  (808) 531-1651
Business hours:  Sun-Sat, 6:00am – 10:00pm
If pancakes are your thing, then be sure to wake up early and make it to one of these awe-inspiring breakfast spots.  If you are lucky, you won't have to wait very long.  If you are really lucky, you may be able to hit two of these locations in one morning.  That's only if you love pancakes as much as we do.