Lobster rolls are currently becoming quite ubiquitous in Hawaii, with a few specialty shops emerging among the plethora of eateries cashing in on the trend.  Here are our top picks of eateries "shellebrating" the cherished crustacean, including a modest cupcake shop that surprised many locals with its incongruous offering.
A roundup of lobster rolls in Hawaii
Some may argue that the lobster roll trend in Hawaii had its origins at E.A.R.L., a humble sandwich shop in Kaimuki that opened a second location in Kakaako.  Once available only on weekends, the sought-after sandwich is currently available only at the Kaimuki location.  Due to limited availability and irregularities in supply, check out E.A.R.L. Kaimuki's Instagram regularly for announcements.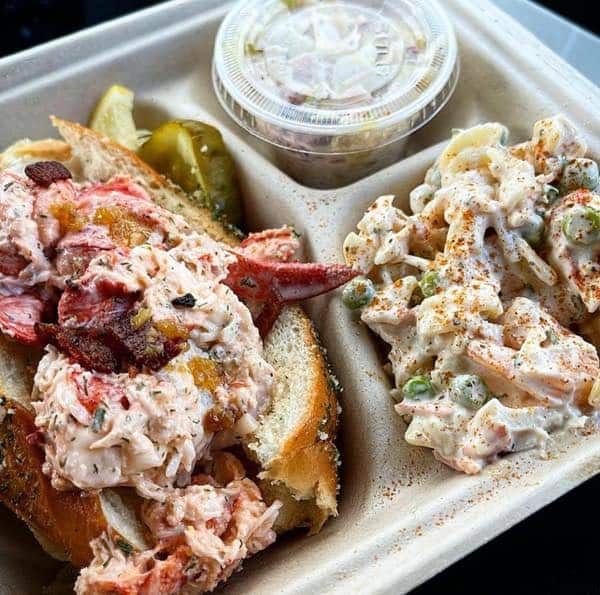 E.A.R.L 
400 Keawe St. Honolulu HI
Monday – Saturday 10am – 8pm, Sunday 10am – 4pm
(808)744-3370
http://earlhawaii.com/
2) Jolene's Market
Another lobster roll hotspot is in Jolene's Market, with locations in Chinatown, Ewa Beach, and near the Honolulu International Airport.  The quick stop features fun takes on classic sandwiches, using the finest ingredients and fresh bread baked in-house daily.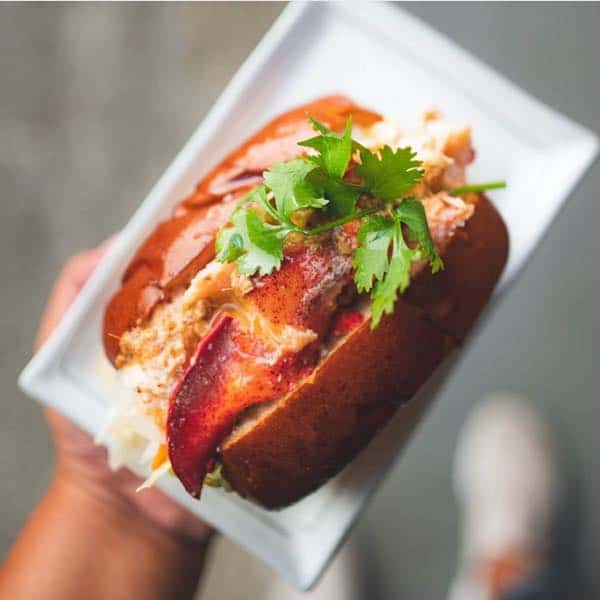 Butter Lobster Roll $20.00
The signature lobster roll features a buttery Texas toast bursting with Maine lobster drizzled with garlic butter.  For those who love cheese, the lobster melt adds layers of Munster, Havarti, and cheddar for the extra indulgence.
Jolene's Market, Chinatown
100 North Beretania St #105
Honolulu, HI
Mon 10am – 5pm, Tue-Sun 10am – 8pm
(808)540-1000
https://www.joleneshawaii.com/
3) Hau Tree
Hau Tree is an iconic restaurant in the Kaimana Beach Hotel, nestled along Sans Souci Beach at the east end of Waikiki.  Here, diners luxuriate in the shade of a sea hibiscus tree while dining al fresco.  Among the New American selections include a highly-touted lobster roll.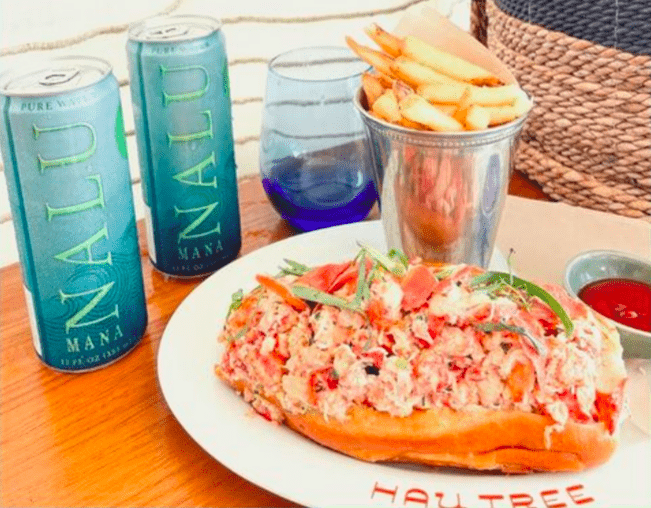 Maine Lobster Roll $32.00
Hau Tree's version of the lobster roll offers an abundance of crustacean sandwiched with crispy prosciutto, avocado, herbs, and umami aioli in a sweet brioche bun.  This sandwich, replete with a beautifully fragrant quality and lavish texture, is served with a side of French fries.
Hau Tree
2863 Kalakaua Ave. Honolulu HI
10am – 10pm, Friday to Sunday 8am – 10pm
(808)921-7066
https://www.kaimana.com/dining
One of the newest additions to the lobster roll scene, Royal Lobster is a lobster specialty spot that opened in Waikiki in September 2021.  Tucked away in the basement of Waikiki Shopping Plaza, the entrance is between Victoria's Secret and ABC Store along Royal Hawaiian Avenue.  Offering just lobster roll and a lobster salad on the food menu, owner Justin Sok seeks to find the optimal expression of the sweet crustacean without masking its naturally luscious flavor and texture.
Lobster Roll $ Market Price ($29.00 as of October 2021)
The lobster meat is flown in fresh from New England in a refrigerated state, never frozen.  The lobster rolls are seasoned sparingly with a drizzle of salted Irish butter.  Old Bay seasoning and a special house-made aioli are available as condiments, with coleslaw and chips served as sides, for which refills are complimentary.
Royal Lobster
2250 Kalakaua Ave. LL 102 Honolulu HI
Tuesday – Saturday, 11:30am – 6pm
(808)888-0332
https://www.theroyallobster.com/
5) Chocolate + Vanilla Bakery
Chocolate + Vanilla Bakery is a bakery in Kaimuki specializing in bread puddings, butter mochi, crème brulee, and other baked treats.  While it is most known for its scones and cookies, people are quickly discovering a savory side to this humble bake shop which now serves lobster rolls.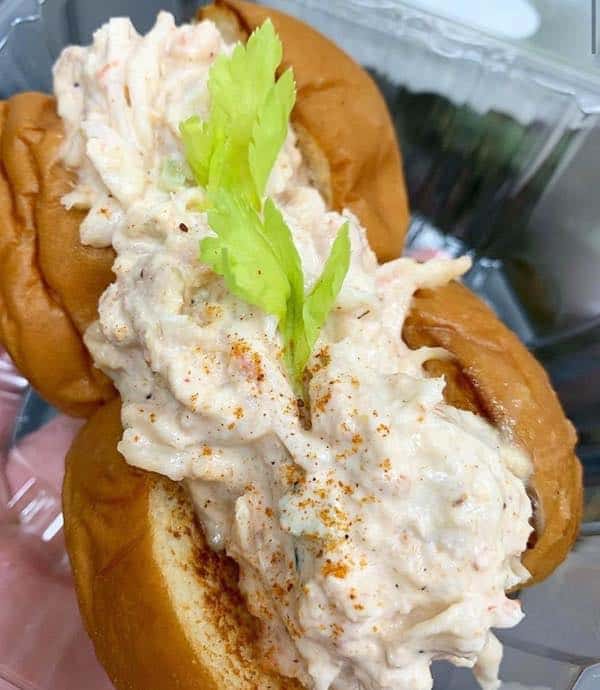 Lobster Roll $16.00
The lobster roll is served chilled, replete with shellfish coated in a mayonnaise-based sauce seasoned with a special spice blend and a hint of lemon.  The sandwich is served on sweet bread referred to there as a "sweet roll," and comes with a scone as well as some strawberry iced tea for an irresistible combination.
Chocolate + Vanilla Bakery
1115 12th Ave, Honolulu, HI
Tuesday – Saturday, 11am – 6pm
(808)737-2462
https://www.instagram.com/chocolateandvanilla808/
6) Fat Cheeks Hawaii
Formerly in the Ohana Hale Marketplace, Fat Cheeks Hawaii relocated to Ward Centre.  A take-out counter with open patio seating, the eatery specializes in lobster rolls, clam chowder, burgers, and other sandwiches featuring fruits de mer.  A variety of lobster rolls await, including a butter lobster roll, a dressed lobster roll with a light mayonnaise accent and celery, and a plain lobster roll that is seasoned simply with salt and pepper.
Click here for the detailed menu>>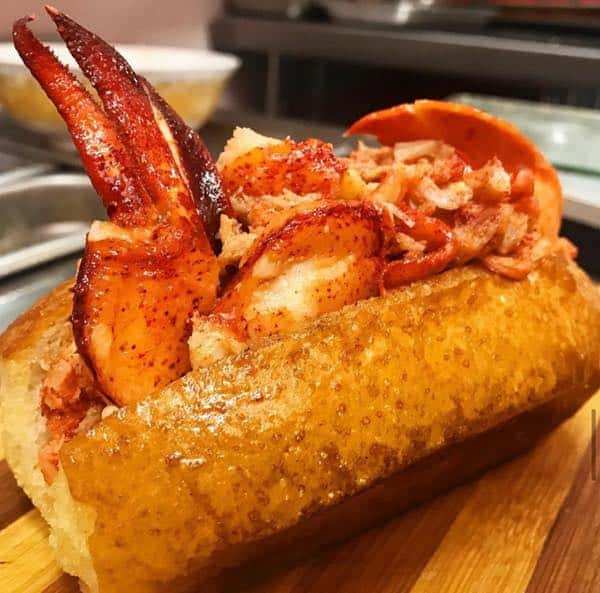 Butter Lobster Roll and Chips $16.00
Unlike other lobster roll spots, the sandwiches here feature Canadian lobster stuffed in a slice of French bread.  The butter lobster roll is fragrant with an abundance of garlic and herbs, with a visual aesthetic that is equally alluring!
Fat Cheeks Hawaii
1200 Ala Moana Blvd.
Tue-Sat 11am – 7pm, Sun 11am – 4pm *Close when sold out on all days
(808)773-4129
https://www.fatcheekshawaii.com/
7)  NEW! Wicked Maine Lobster
Wicked Maine Lobster opened its first Hawaii location within the Royal Hawaiian Center. Alex Howard and his brother Eric started the company selling their lobster rolls and clam chowder out of a pickup truck at farmers markets.  Now, with four locations in the United States, and more to come, the brand continues to source its lobsters and rolls from New England, which are included in a Maine lobster roll, a California lobster roll, lobster tacos, lobster mac n cheese, and lobster queso fries.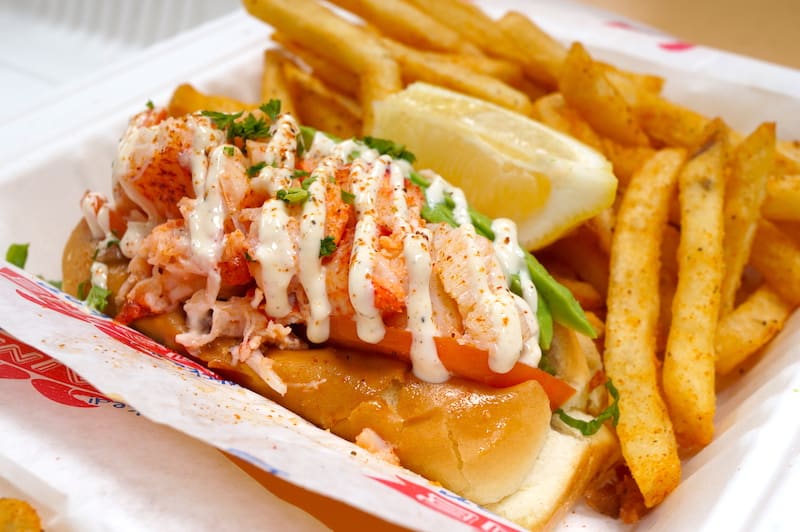 California Lobster Roll ($29.99)
Sweet lobster knuckles and claws seasoned with butter and a dash of Old Bay seasoning are sandwiched in pillowy slices of toasted bread with bits of bacon, buttery avocado, fresh lettuce, tomato, and a lemon garlic aioli.  The roll bursts with textures and flavors of freshness, and come with a side of battered French fries tossed with Old Bay seasoning.
Wicked Maine Lobster
2201 Kalakaua Ave, Honolulu, HI
11am – 9pm
(808)921-2703
https://wickedmainelobster.com/
8) Bogart's Cafe
Bogart's Café is widely known for its breakfast all day concept, as well as its wide selection of salads, sandwiches, and pasta.  The casual morning and lunchtime café recently launched its lobster rolls to great acclaim.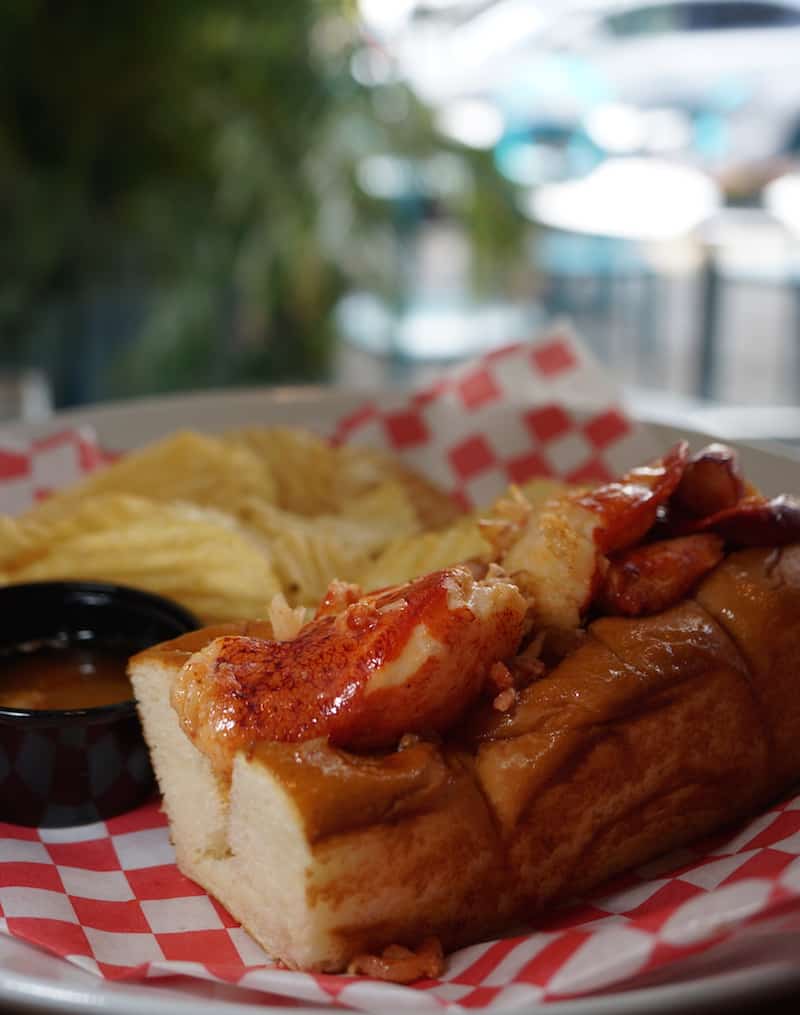 Lobster Roll $29.00
Sweet, succulent Maine lobster is sandwiched in King's Hawaiian sweet bread rolls with a dusting of Old Bay seasoning, and a drizzle of salted butter.  When available, waffle fries are the perfect accompaniments for the pillowy sandwich that still goes beautifully with crisp potato chips.
Bogart's Café
3045 Monsarrat Avenue, Ste. 9, Honolulu, HI
7am – 3pm
(808)739-0999
https://www.bogartscafe.com
9) Feast by Jon Matsubara
Local celebrity chef Jon Matsubara, formerly known for his fine gastronomy at Azure, Japengo, Forty Carrots in Bloomingdale's, and most Merriman's Honolulu, started his own eatery.  He continues to leave a his culinary mark on Hawaii with Feast by Jon Matsubara located in the quiet neighborhood of Manoa.  Offering a selection of sandwiches, salads, and elevated plate lunches, Feast currently offers its menu for take away, including lobster rolls.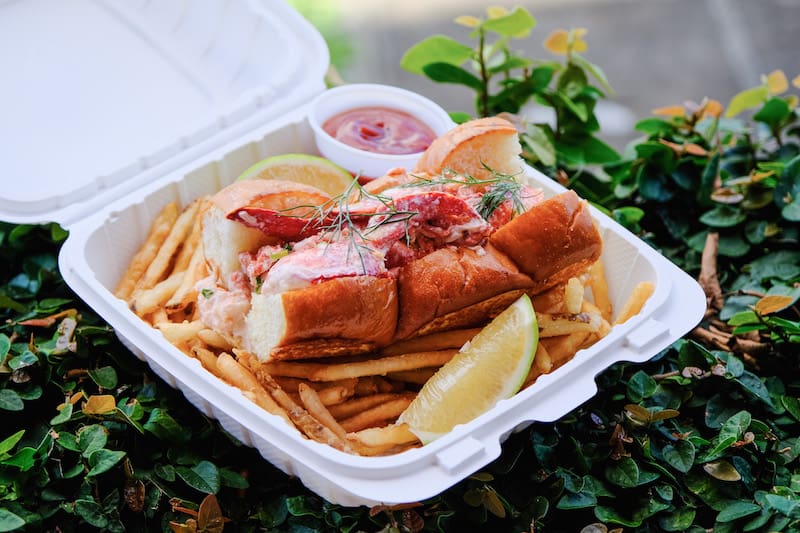 Lobster Roll + Fries  $30.00
Sweet morsels of chilled Maine lobster are cozied in the middle of pillowy, lemon buttered Hawaiian sweet bread.  A dose of umami is imparted through a special house-made aioli, scented with bonito and soy, and a splash of warm butter brings the flavors together.  And if this version is too timid, a spicy version is also available for a dollar more.
Do you have a lobster roll that you love?  What makes it special for you?  Every one of these we shared look alluring, yet they have their unique appeals.  In any case, we are sure you will find one that will have you clawing for more!