A number of hotel and resort properties in Hawaii continue to spend the doldrums of the pandemic planning for a brighter future in welcoming visitors back to the islands.   Renovations and new towers are part of the refreshed list of attractions to discover.
Outrigger Reef Waikiki Beach Resort, Halekulani, and Turtle Bay have reopened in 2021, after making modern refurbishments, while Hilton Hawaiian Village is making plans to build a new tower where Aoki Teppanyaki, formerly Benihana, is currently situated.
Outrigger Reef Waikiki Beach Resort
Guests marveled at the remodeled guest rooms when the Outrigger Reef Waikiki Beach Resort reopened for business on April 30, 2021.  Donning a different interior decor, the rooms bring the outside aesthetic in with ivory bedding and eggshell walls contrasting cerulean carpets, curtains, and upholstery infused with natural wooden elements.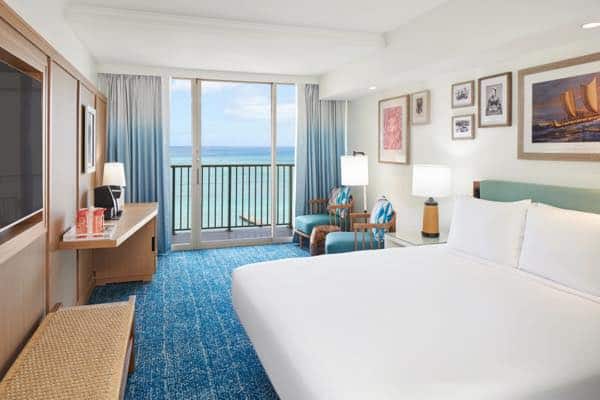 The artwork pays homage to Hawaii's history, as they are proudly displayed on the walls.  One of the most striking pieces is the painting of the Hokule'a, the voyaging canoe built in 1975 by the Polynesian Voyaging Society to reintroduce the lost art of wayfinding.  The odyssey of the double-hulled canoe is done without a compass, relying on the ocean currents, wind, and position of the stars and sun to guide the navigators safely to their destination.  The artwork encapsulates the partnership between Outrigger Hotels and the Polynesian Voyaging Society from 2014 to 2017, as the group provided accommodations, fundraising efforts in Waikiki, and other support mechanisms for the global voyages.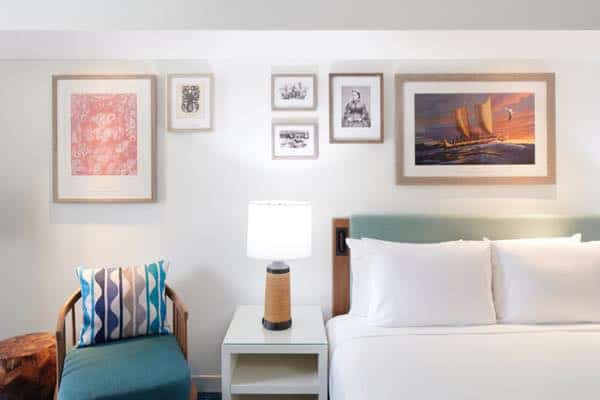 In the summer of 2022, famed Hawaii Regional Cuisine chef Peter Merriman is scheduled to open Monkeypod Kitchen on property, serving their popular pizzas, sandwiches, burgers, and other savory dishes with an oceanfront view.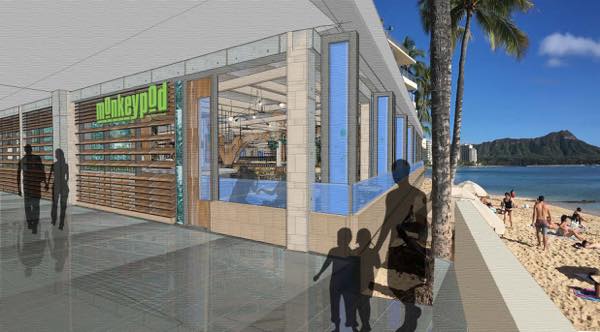 In addition, Outrigger Reef Waikiki Beach Resorts offers a variety of cultural events on a daily basis, including hula lessons, live Hawaiian music, and lei making.
Outrigger Hotels & Resorts has "Outrigger's Clean Commitment" a disinfecting and cleaning protocol that encompasses hygiene management for its properties and the team members to provide a safe environment for all visitors and guests.
The Outrigger Reef Waikiki Beach Resort's close proximity to Waikiki Beach Walk enables its guests to access a wealth of shopping and dining just a stone's throw away.  Outrigger's team continues to strive to make every visitor's stay in Hawaii comfortable and enjoyable, and with so many new attractions, there are now even more reasons to stay.
Outrigger Reef Waikiki Beach Resort
2169 Kālia Rd, Honolulu, HI
(808)923-3111
https://www.outrigger.com/hotels-resorts/hawaii/oahu/outrigger-reef-waikiki-beach-resort
Halekulani
Halekulani emerged from an extended closure on October 1, 2021, with a series of restorations.  The new guestrooms maintain Halekulani's signature design philosophy of "seven shades of white," conveying the property's signature understated elegance that inspire serenity and relaxation.  Wallpaper emulating Japanese origami express lines to create texture and depth, while the carpet, adopting a traditional Polynesian kapa bark cloth pattern, infuses a Hawaiian sense of place.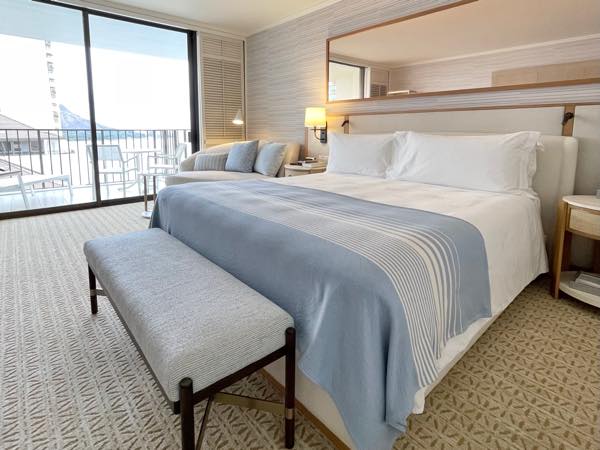 The inclusion of a minibar tower in each guestroom is an innovation that features an espresso machine and water heater to immediately satiate the guest's need for coffee or warm milk for small children.  Room service is also offered for more luxurious needs.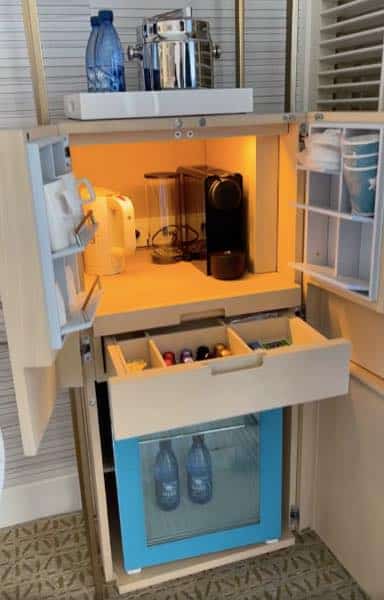 What may not be visible to the naked eye are other infrastructural refurbishments including the air conditioning and water heating systems, and upgrades to WiFi, which all ultimately enhance the quality of every guest's stay.  A welcomed amenity that is noticeable is the addition of a washlet offered in every washroom.
The housekeeping team spends about 90 minutes to clean each room.  To assure quality control, the supervisor and manager check every corner of the accommodations, all of which were part of the cleaning protocol undertaken even prior to the pandemic.  This type of attention to detail is what makes a stay at Halekulani truly exceptional.
Halekulani
2199 Kālia Rd, Honolulu, HI
(808)923-2311
https://www.halekulani.com/
Turtle Bay Resort
Turtle Bay Resort on the North Shore of Oahu has undergone a major transformation before reopening on July 1, 2021. 
The hotel's current incarnation is greatly inspired by nature, allowing for the intrinsic beauty of the islands to contribute to the overall aesthetic.  Walls are replaced by large windows that allow ambient light to fill the lobby, while offering breathtaking panoramic views of the ocean and sky.
Large-scale pieces by local artists including Nick Kuchar and Abigail Romanchak add native Hawaiian and vintage elements to the lobby's refined ambiance.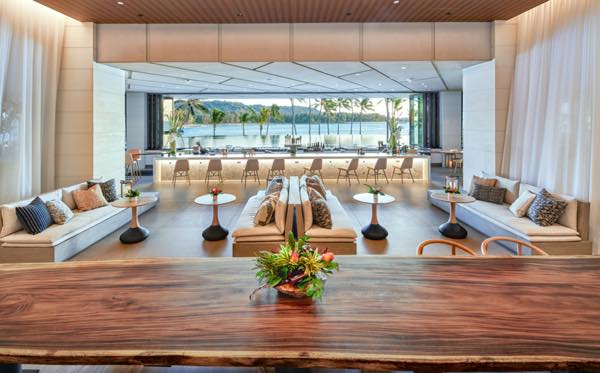 The lobby leads to a series of pools, including an infinity pool, an adults-only pool, and a family-friendly one, along with a deck that calms sunbathers with the consoling sound of ocean waves. Luxurious cabanas and Sunset, the new poolside bar, enhance the resort lifestyle.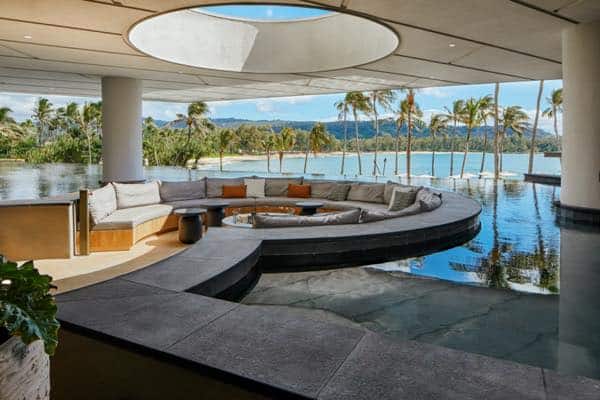 The hotel consists of three wings facing the north, east, and west, so every accommodation offers stunning views of the Pacific coastline.  The newly renovated bungalows, just steps away from the ocean, offer unparalleled views and soft breezes laced with fresh seaspray.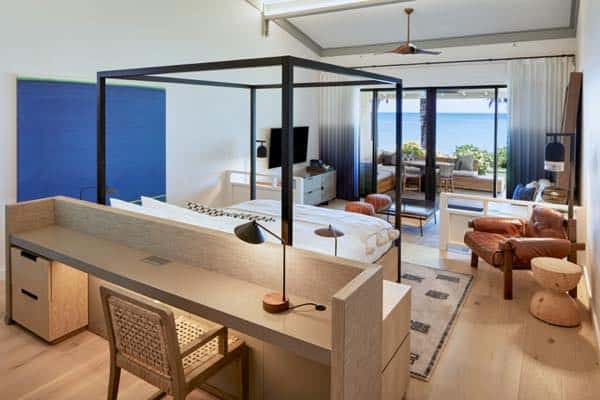 Guests relishing the seclusion of the Ocean Bungalows may also luxuriate in the Ocean Club, a private lounge with a host of exclusive amenities to make the wait for a Hawaiian vacation worthwhile.
Turtle Bay Resort
57-091 Kamehameha Highway Kahuku, HI
(833)621-0701
https://www.turtlebayresort.com/
Hilton Hawaiian Village
Park Hotels and Resorts, a leading lodging real estate investment trust boasting a diverse portfolio of iconic properties, recently announced that it plans to further develop the already expansive Hilton Hawaiian Village Waikiki Beach Resort.  Cultivating the site of the former Kobe Steak House and the venue that currently houses a car rental and Goofy Café & Dine, the new 36-story tower fronting Ala Moana Boulevard will feature 515 guestrooms, complete with a porte-cochere, lobby, stores, restaurants, bars, pool, and a gym.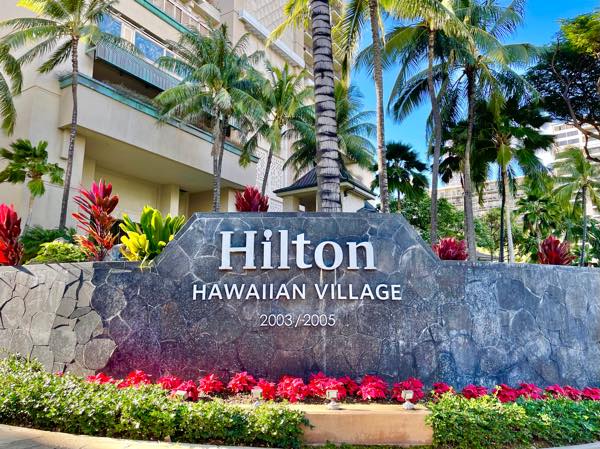 Construction is slated to commence as early as 2024, and is estimated to take about two and a half years to complete, giving more guests an opportunity to access all the extravagant amenities Hilton Hawaiian Village Waikiki Beach Resort has to offer.
Hilton Hawaiian Village Waikiki Beach Resort
2005 Kālia Rd, Honolulu, HI 96815
(808) 949-4321
https://www.hiltonhawaiianvillage.com/
With so many advancements taking place in Hawaii, the list of quality accommodations to consider for your next Oahu vacation continues to broaden.  Hopefully, this quick update serves to facilitate the selection process in finding the right property for your discerning needs.