With its idyllic setting of lush foliage and breathtaking cerulean seas, Hawaii is undoubtedly a romantic spot preferred by many for a dream wedding.  However, with the pandemic, a downturn in weddings have caused many venues to pivot in order to stay in business.  As a result, a few establishments boasting breathtaking views or refined interior spaces are now operating as restaurants and cafes open to the general public.
Here are our top three restaurant and café selections of where to dine without having to make no deeper commitments than a reservation:
1) Waikiki Leia
Located on Monsarrat Avenue, Waikiki Leia features a wedding chapel and reception space with breathtaking views of Diamond Head.  The reception area is open as a restaurant on days when no weddings are scheduled, offering breakfast, lunch, and with 48 hours advance notice, dinner.  Diners may savor French toast or souffle pancakes in the morning, pasta sets during lunch, or exquisite degustations for dinner.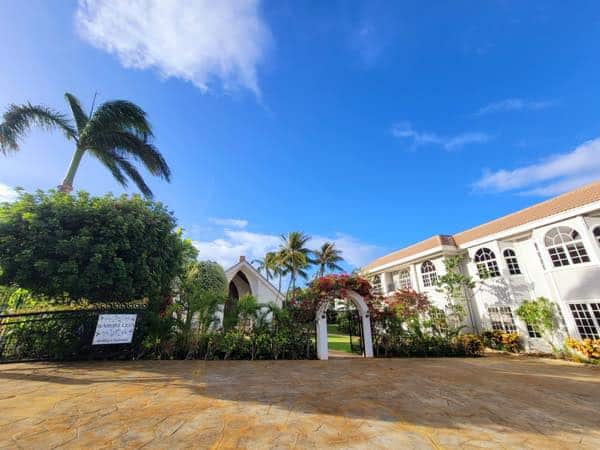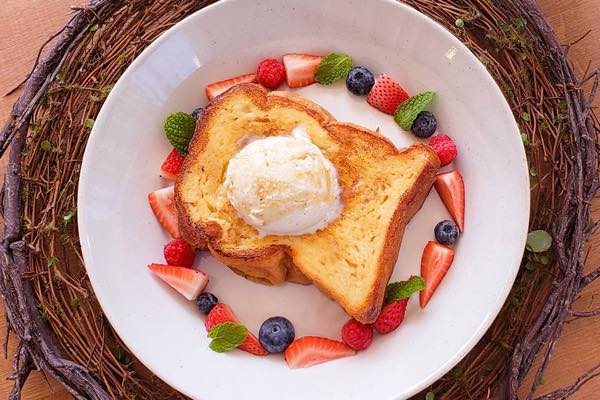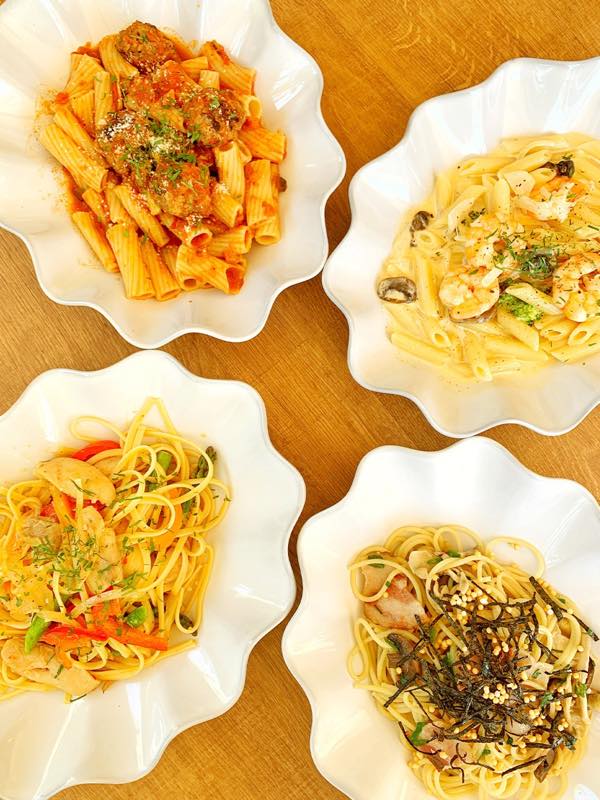 The souffle pancakes offered for breakfast are ethereal and heavenly, accompanied by a trio of sauces—maple syrup, raspberry sauce, and a macadamia nut cream).  Offered at a surprisingly affordable $12, the set meal also comes with a choice of coffee or fresh juice.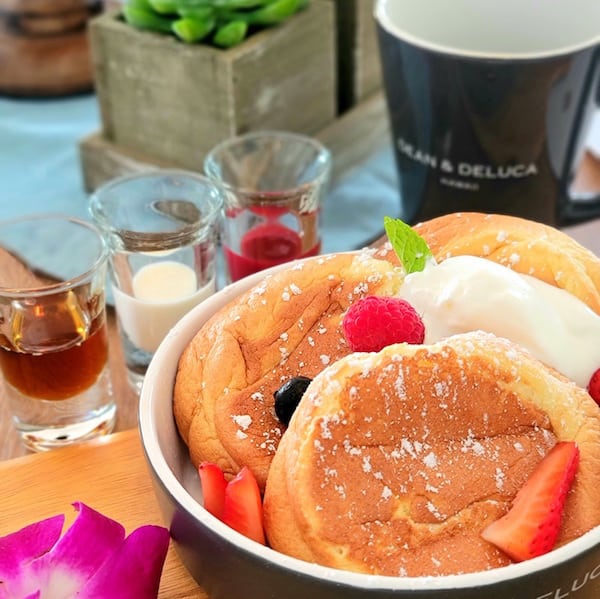 Waikiki Leia
3050 Monsarrat Ave., Honolulu, HI 
(808)735-5500
8am – 10am, 11am – 2pm, 5:30pm – 8:30pm
Closed on Tuesdays and Wednesdays
2) Pesca Waikiki Beach
A luxurious Mediterranean seafood establishment on the top floor of the Ilikai Hotel overlooking the harbor, Pesca Waikiki Beach boasts a glass-enclosed wedding chapel with a panoramic view spanning Diamond Head to Ala Moana Beach.  For those not considering tying the knot, the ambiance sets the stage for a lavish yet romantic evening.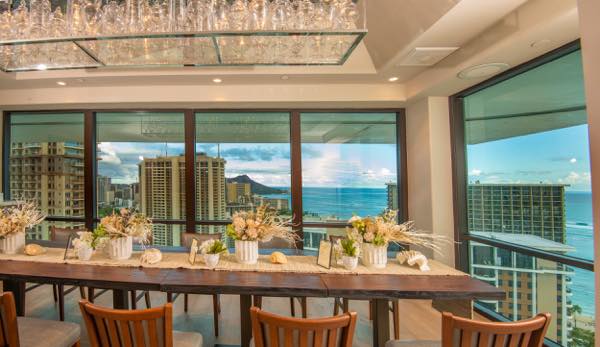 The seafood-centric menu focuses on whole fish in a variety of preparations, including grilled, sea salt-crusted, and acquapazza.  A raw bar and a variety of entrees spotlighting fruits de mer is complemented by a selection of soups, salads, pasta, steaks, and desserts to serenade discerning palates.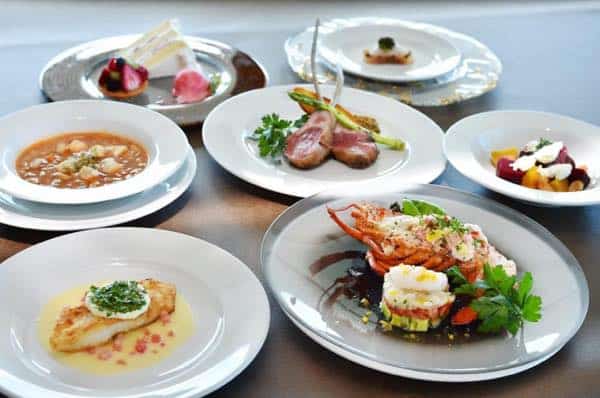 Pesca Waikiki Beach
1777 Ala Moana Blvd. 30th Floor, Ilikai Hotel, Honolulu, HI
(808)777-3100
3pm – 10:30pm daily *Happy Hour 3pm – 6pm
Lunch service 11am – 4pm will be launched soon.
3) Cafe Ko Olina Place of Joy feat. Michel's
Many familiar with oceanside restaurants on Oahu regard Michel's at the Colony Surf as a leading venue for romantic sunset dinners.  Now, Michel's new pop-up is now serving meals on the West end of the island in Ko Olina.  For a limited time, patrons may enjoy a more casual take away menu including loco moco, salads, sandwiches, and even vegan bento, all curated by the team at Michel's to be enjoyed at a seating area outside of the Ko Olina chapel or taken away, perhaps to a nearby beach.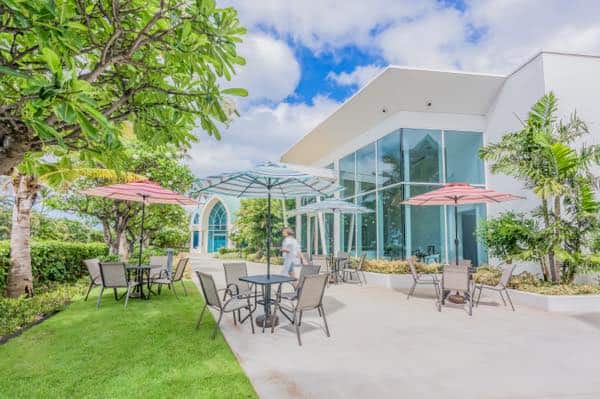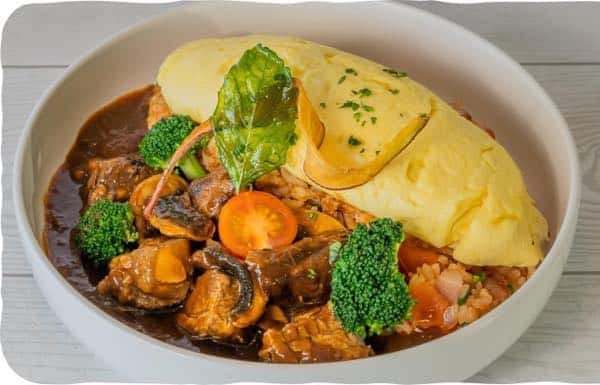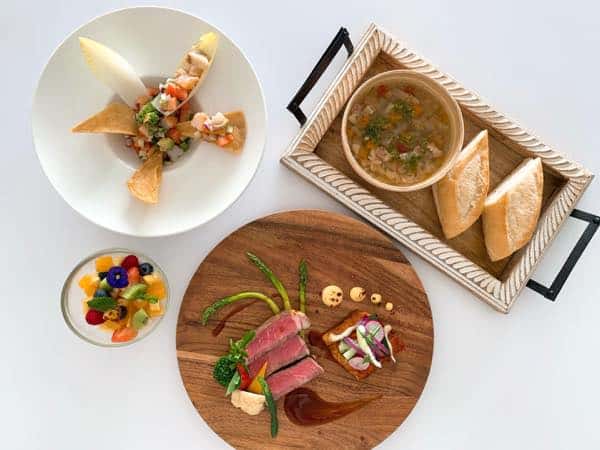 *Please check to confirm the status of its operation.
Cafe Ko Olina Place of Joy feat. Michel's
91-100 Kamoana Pl.
(808)478ー7065
11am – 7pm daily
Consider adding these three unorthodox wedding establishments to the repertoire of new restaurants.  Whether seeking a night of romance, or a festive gathering of friends and family, the refined ambiance, breathtaking views, and epicurean delights of these venues are now available for everyone to enjoy.