Now that you have a general understanding of the basic sushi terms, this second part of the guide on how to sushi will share about the different classifications of sushi.  Most are familiar with two general types of sushi, nigiri and rolls.  This first part will share the various types of nigiri and roll sushi.
Nigiri 
Among the most luxurious of sushi is the nigiri.  Nigiri are sushi that generally feature some type of neta, most often a slice of fish or some type of seafood, hand pressed over the shari which is typically an ovular bite-sized ball mound of vinegared rice.  A wide variety of neta includes fish, often served raw, but sometimes prepared in a variety of ways, including grilled, zuke (marinated in soy, predominantly maguro), aburi (seared, often by blowtorching), kobujime (preserved by curing between layers of konbu seaweed), or sujime (pickled with salt and vinegar).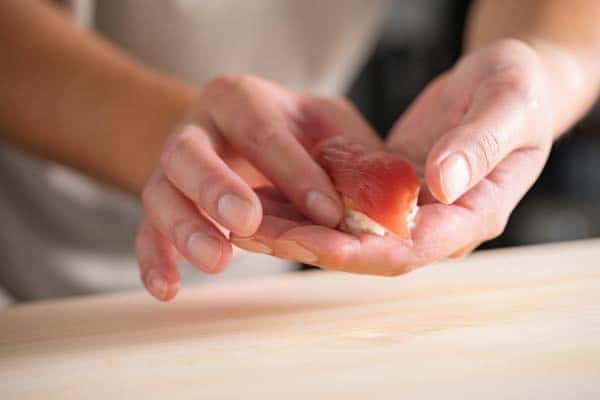 These are the most common types of fish used as neta, as found in sushi restaurants in Hawaii include:
aji (horse mackerel))

akami (lean part of the maguro or tuna that is red)

amadai (tilefish)

anago (salt water eel) 

bintoro (albacore)

buri (adult Japanese yellowtail)

hamachi (Japanese amberjack or yellowtail)

hata (grouper)

hiramasa (yellowtail kingfish that is related to hamachi and buri but less oily)

hirame (fluke)

inada (smaller, young Japanese amberjack or yellowtail)

kamasu (barracuda)

kani (crab)

kanpachi (amberjack or yellowtail that resembles hamachi but is less oily with a delicate yet buttery taste)

karei (flounder)

kawahagi (filefish)

kazunoko (herring roe)

kibinago (silver herring)

kinmedai (goldeneye snapper)

kohada (gizzard shad)

kue (longtooth grouper)

kuromutsu (blue fish)

madai (red sea bream)

maguro (bluefin tuna)

masu (trout or cherry salmon)

nodoguro (blackthroat or rosy seabass)

saba (mackerel)

sake (salmon)

sanma (Pacific saury)

sawara (Japanese Spanish mackerel)

sayori (Japanese halfbeak)

shima aji (striped jack or striped horse mackerel)

shirauo (ice fish)

shishamo (ocean smelt)

suzuki (sea bass)

tachiuo (beltfish)

tai (sea bream)

unagi (freshwater eel)
Specific parts of fish or the roe are also used as neta.  Many people are familiar with toro, the fatty cut of the tuna belly, with the more luxurious request calling out for chutoro (medium fatty cut of tuna near the belly) or otoro (fattest cut of the tuna belly), sometimes an even more lavish kamatoro (fatty neck area of the tuna which has a similar taste as chutoro or even otoro).  However, other coveted parts include: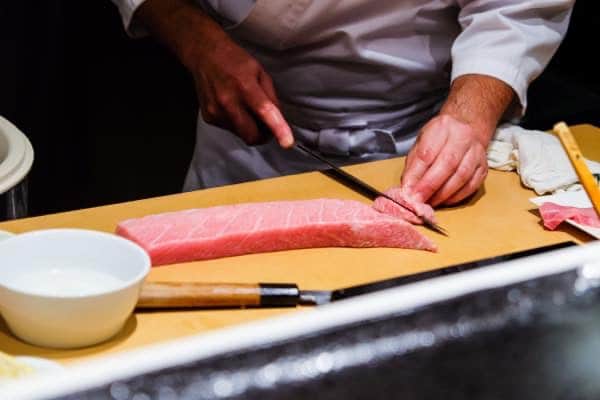 ankimo (monkfish liver)

engawa (dorsal muscle of the hirame)

ikura (salmon roe)

masago (capelin roe)

mentaiko (spicy cod roe)

shirako (milt or sperm sac of male cod)

tobiko (flying fish roe)
Not all neta are fish.  They may be a variety of shellfish or mollusks, among other treasures of the sea.  Here are the more commonly found ones:
ama ebi (spot prawn)

awabi (abalone)

botan ebi (button prawn)

ebi (tiger prawn)

hamaguri (Venus clam)

hokkigai (surf clam)

hotate (scallop)

ika (squid)

kani (crab). which could include zuwaigani (snow crab) or kegani (horse hair crab) among many others

kuruma ebi (Japanese tiger prawn)

mirugai (geoduck)

namako (sea cucumber)

tairagi (pen shell)

tako (octopus)

tsubugai (whelk or sea snail)

uni (sea urchin roe)
There are other ingredients that may top the ball of rice and be considered nigiri.  Among them are tamago (sweet egg rolled omelette), along with a variety of vegetables, such as eggplant, asparagus, and daikon among whatever creative concoctions the chef is able to craft.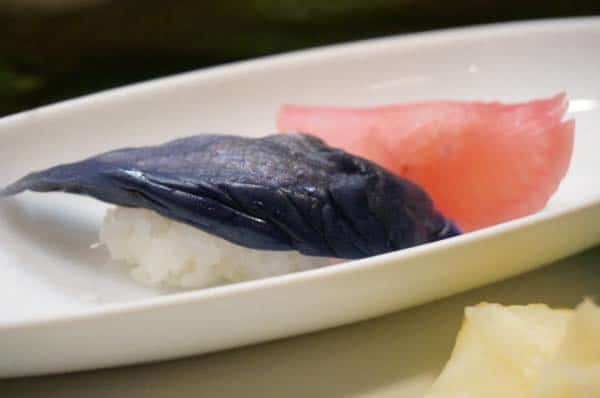 A few variations of the nigiri include nori ribbon nigiri, gunkan, and temarizushi.
Nori Ribbon Nigiri
Some neta do not easily adhere to the rice ball, so in those cases, they are given a little seat belt that fastens them together.  Nori ribbon nigiri are commonly tamago nigiri but may also be used for other seafood neta as well.
Gunkan
Gunkan, sometimes referred to as gunkan-maki, is another type of nigiri.  Translated as "battleship," these nigiri resemble little vessels because they incorporate a strip of nori wrapped around a shari topped with neta that tend to be too soft or difficult to maintain atop a rice ball, such as uni or ikura.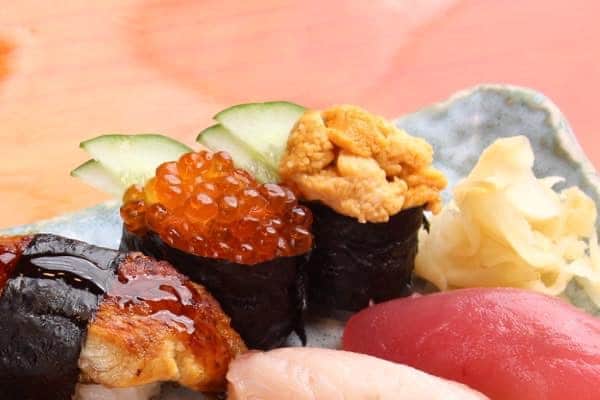 Temarizushi
A specific type of nigiri sushi called temarizushi looks like a regular nigiri but the shari is a round ball of rice. This type of sushi is usually created for special occasions such as Hinamatsuri in March. However, they may be occasionally found at restaurants.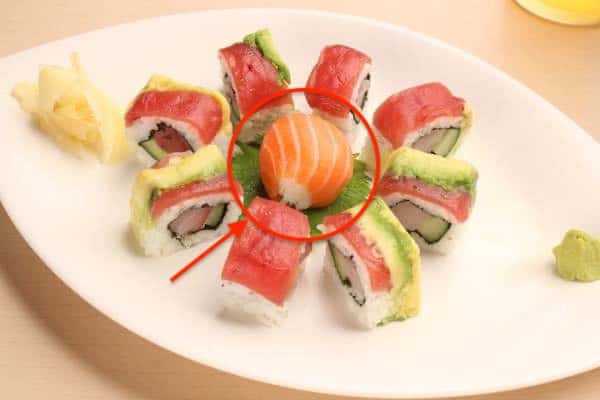 Makizushi
Makizushi are roll sushi, with the suffix "-maki" designating some type of roll.  They are most often vinegared rice wrapped around a variety of ingredients and then enveloped in a sheet of nori, rolled with a bamboo mat.  Sometimes the rolls are wrapped around a thin crepe-like omelette, soy paper, thin sheets of cucumber, shiso (perilla) leaves, or even rolled in fish roe or sesame seeds.  The long cylinder is then sliced into about six to eight pieces.
There are varying girths to makizushi.  The thinnest are the hosomaki, and among the most abundantly loaded are the futomaki.
Hosomaki
Hosomaki are thin rolls often filled with one to two ingredients, most often vegetables.  The centers usually add a nice pop of color and make for a wonderful visual aesthetic when put into bento or other plated presentations.
Common hosomaki include kappa maki (named after a Japanese imp that stole cucumbers, thus filled with a strip of Japanese cucumber), tekka maki (filled with raw tuna), takuan hosomaki (filled with pickled radish), umekyu (filled with pickled plum and cucumber), ume maki (filled with pickled plum and shiso leaf), anakyu (filled with anago and cucumber), and yamagobo maki (filled with brined burdock root, and sometimes with shiso).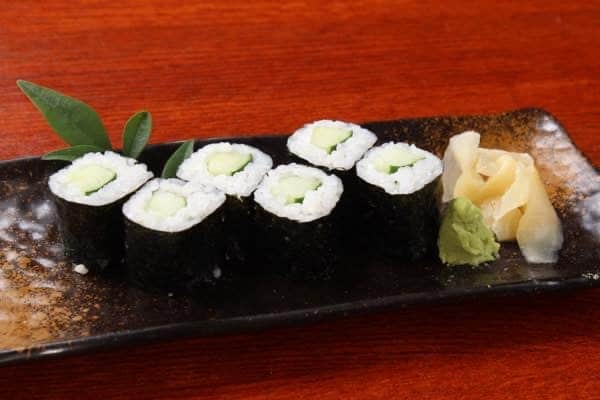 Temaki-zushi
Temaki-zushi, or temaki, are vinegared rice and toppings rolled by hand in a sheet of nori, or laver to resemble little conical flower bouquets.  They are served as individual portions as they are consumed in anywhere from one to three bites.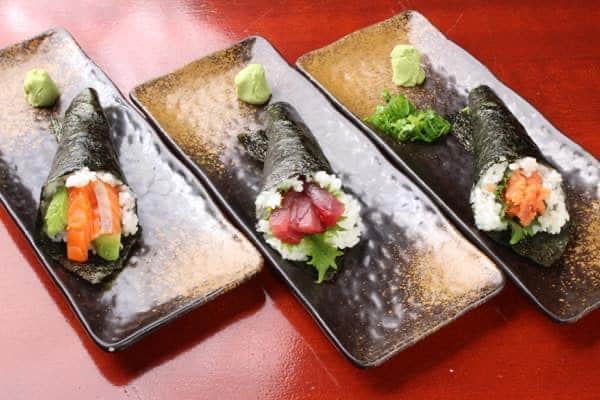 Chumaki
Chumaki are medium-sized rolls, which usually contain two to three ingredients rolled in seaweed.  These are not as often found in restaurants, but are made at home for chefs who wish to get creative combining different ingredients.
Futomaki
On the opposite end of the spectrum from hosomaki are futomaki, thick or fat rolls wrapped in nori which measure around 2 to 2.5 inches in diameter.  Futomaki are filled with a variety of ingredient combinations, usually vegetables such as gourd, mushrooms, spinach, cucumber, radish, but also with kani, ebi, unagi, anago,  tamago, and/or sakura denbu (pink-colored, sweet seasoned codfish).  Because of the abundance of ingredients that feature a variety of color, they are quite beautiful and double for decoration.
Uramaki
Uramaki are "inside out" sushi whereby the nori is wrapped around the contents which is rolled with the sushi on the outside.  The roll is sometimes sprinkled with sesame seeds or fish roe to add pops of color, texture, or flavor.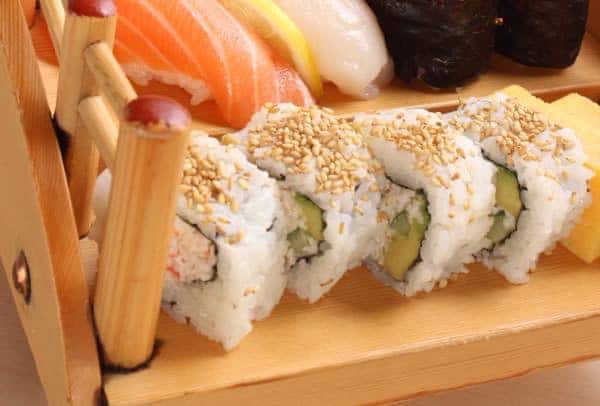 Kazarizushi 
"Kazari" is the Japanese word for "decoration" so these are clearly decorative rolls that are meant for more special occasions or celebratory events.  The large rolls, often rolled in nori or thinly cooked sheets of egg, sometimes contain a number of smaller rolls with different ingredients, and occasionally with colored rice, such that when the roll is cut, its cross-section displays a beautiful pattern.  
Nigiri and makizushi are the types of sushi most often found in restaurants.  Here are a few recommended spots to get your fill of these types of sushi:
1) Maguro-ya
Chef Goro Obara prepares the gamut of nigiri and a nice selection of makizushi.  Here, seasonal catch such as sayori or tachiuo may be found.  With advance notice, chef is also crafty in creating vegetable sushi that is worth ordering.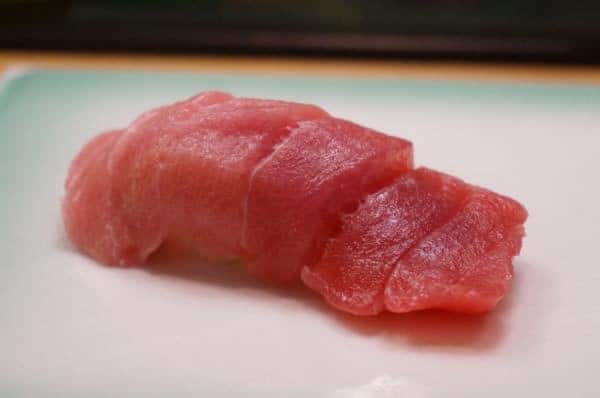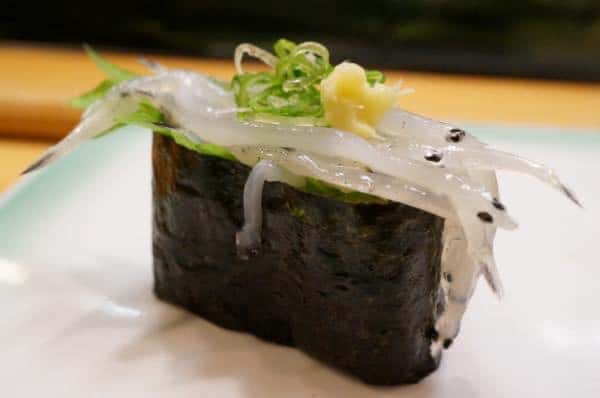 Maguro-ya
3565 Waialae Avenue, Honolulu, HI
(808) 732-3775
Tue-Sat, 11:00 – 13:00, 5:00 – 8:30pm; Sun, 5:00pm – 8:30pm
2) Sushi ii 
Chef Garrett Wong also serves a variety of treasures from the sea, including the usual suspects but also a few unorthodox finds. There you may discover a few types of squid including yari ika (arrowhead squid) and aori ika (broad fin squid), and also some lesser found crustaceans—Tenega ebi (New Zealand langoustine), aka ebi (Jumbo Argentinian red prawn), and zuwaigani (Japanese snow crab).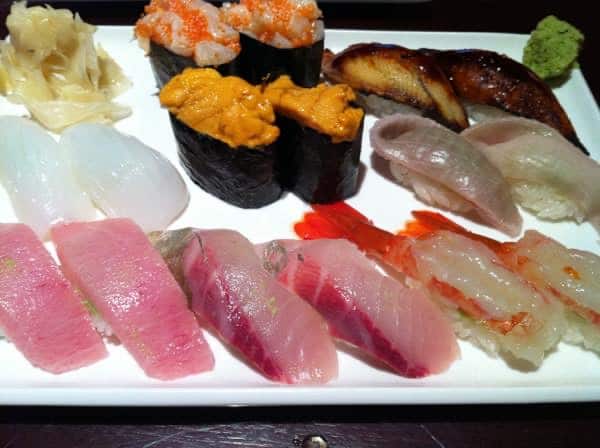 Sushi ii
655 Keeaumoku Street #109, Honolulu 96814
(809) 942-5350
Sun, 5:00 – 10:00pm; Mon, 5:30 – 10:15pm; Tue-Sat, 11:00am – 1:15, 5:30 – 10:15pm
3) Akira Japanese Restaurant
Chef Taiki Kawai and his team prepare some wonderful nigiri sushi also with treasured finds as nodoguro, kinmedai, kamasu, and kohada.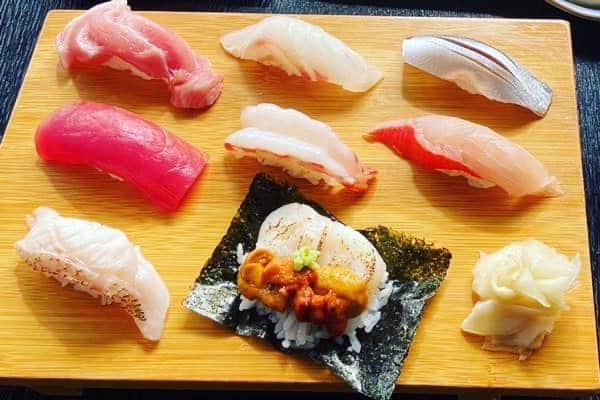 In addition, they get creative with fun rolls as the Rainbow Roll, Spicy Hamachi Roll, Salmon Avocado Roll, Saba Shiso Ginger Roll, Vegetable Roll, and Caviar Roll with a variety of roe including uni, ikura, mentaiko, and tobiko.  If you want hosomaki, consider the Mentai Nagaimo Roll, Kanpyo Roll, Ume Shiso Roll, or Tuna Natto (fermented soybeans) Roll.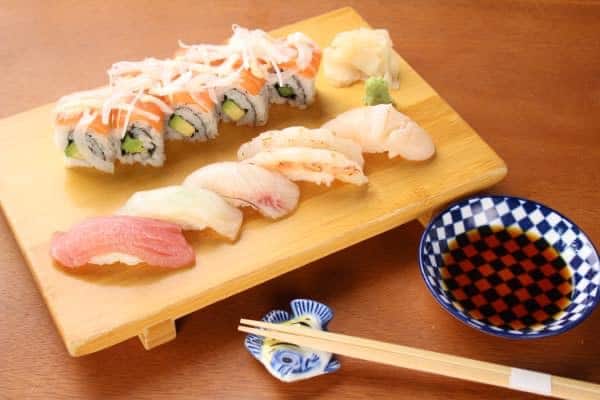 Akira Japanese Restaurant >> Get a special offer!
1150 S. King Street, Honolulu, HI
(808) 376-0928
Mon-Fri, 11:45am – 2:00pm, 4:30 – 10:00pm; Sat, 4:30 – 10:00pm
4) Sansei Seafood Restaurant & Sushi Bar
Hawaii celebrity chef D.K. Kodama started serving his contemporary style of sushi along with innovative fusion seafood on Maui, earning him numerous local and national awards and accolades.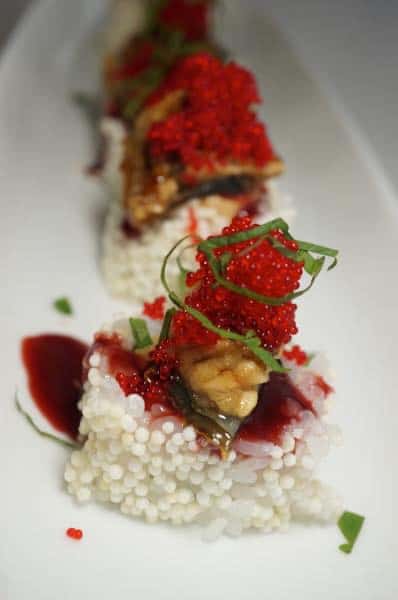 His expansion to the Waikiki Beach Marriott maintains the lineup of fresh nigiri sushi including shime saba (cured mackerel), yaki hotategai (baked scallop), and more, but the restaurant is also known for its modern makizushi, including rolls as the Bagel Roll with smoked salmon, cucumber, Maui onions and cream cheese, the Lobster and Asparagus Roll, Paia Maki with local greens, avocado, asparagus, kaiware sprouts, cucumber, and pine nuts, and also the Takah Roll, and uramaki with shrimp, ahi, crab, avocado, and cucumber rolled inside-out and crusted with masago.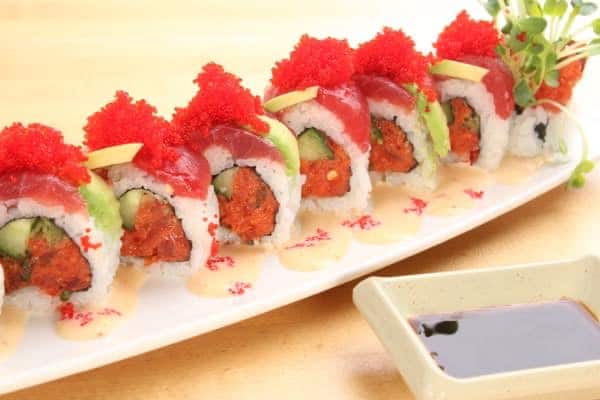 A lineup of hosomaki includes asparagus maki, ume shiso maki, and even a kanpyo maki, among others.  If you prefer something cooked, there are hot sushi rolls such as the Shrimp Tempura Roll with veggies, masago aioli and unagi glaze to accent the deep-fried shrimp, the Kapalua "Butterfry" Roll with salmon, crab, fresh shiromi (white meat fish), and veggies in a crisp-fried panko crusted sushi roll served with ponzu sauce.
Sansei Seafood Restaurant & Sushi Bar >> Get a special offer!
2552 Kalakaua Avenue 3F, Honolulu, HI 96815
(808) 931-6286
Sun-Sat, 5:30 – 9:30pm
Head out to these restaurants serving sushi and taste the variety of seafood available.  Try some raw, and others seared or cooked, to better acquaint yourself with the incredible spectrum of nigiri textures and flavors that go beyond maguro and ebi, and makizushi beyond the common California Roll.